You can hardly call Brad Pitt and Angelina Jolie's break up amicable.
Nearly two years after their split, the former couple is no closer to finalising their divorce, and insiders say it's all because of an ongoing bitter custody battle over their six kids.
According to court documents obtained by Daily Mail, the 43-year-old actress has been ordered to give her 54-year-old ex more access to kids Maddox, 16, Pax, 14, Zahara, 13, Shiloh, 12, and twins Knox and Vivienne, nine.
Angelina currently has primary physical custody of the children, but she has been told by a judge she must allow Brad to see the kids on a regular basis while she films Maleficent 2 in London during the European summer.
Brad is based in Los Angeles.
"He's not OK with his kids being away for months. He feels that Los Angeles is their home base and this is where it is best for them to be," a source told E! News, as reported by Daily Mail.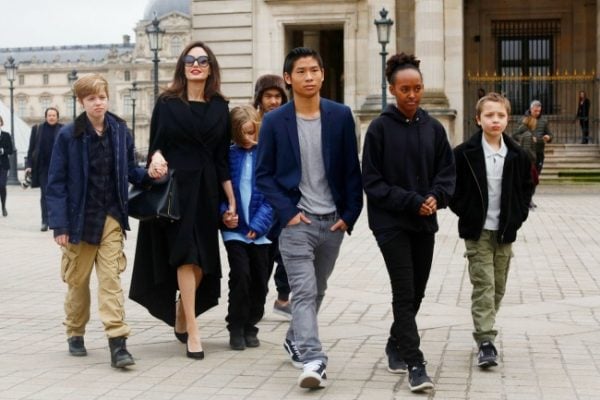 According to documents issued by the Superior Court of Los Angeles County, "not having a relationship with their father" would be "harmful" to the children.
Although the couple split in September 2016 amid allegations of child abuse on Brad's behalf following an incident on a private plane, the actor was cleared of any wrongdoing, and the court has since come to the conclusion the children are safe with their father.
While Maddox - because of his age - will be able to decide how much time he wants to spend with both parents, the court claims it is critical for all of the children to have strong bonds with both Brad and Angelina.
Furthermore, Angelina must also provide Brad with the mobile phone numbers of all of the children, so that he can text or call them whenever he likes.
The former couple were ordered to work out a summer schedule with their kids over the phone, while two psychologists listened in and helped them come to an agreement.
Brad has been given access to the younger children in London for 10 days this month, where he can spend four hours a day with one or two of them at a time.
From June 27 until July 1, he will have access to them for 10 hours a day, and from July 8 until July 14, he will have access to them again for four hours a day.
He will have the children for a week from July 21 until July 29 in Los Angeles, but then he must make arrangements - and foot the bill - for their return to Angelina in London on July 29.
In addition to all of this, a psychologist must be present while he visits the kids in London, and he must ensure they see their therapists and doctors while they are with him in LA.
He will also be given custody of the kids on August 11 until the couple's next court hearing on August 13.
Angelina is only allowed to call the kids once a day while they are in Brad's custody, and the court says there will be repercussions if she does not comply with the guidelines that have been set out.
"If the minor children remain closed down to their father and depending on the circumstances surrounding this condition, it may result in a reduction of the time they spend with [Jolie] and may result in the Court ordering primary physical custody to [Pitt]," the order reads, as reported by Daily Mail.
Apparently it took the couple months to arrive at some sort of an arrangement that would allow Angelina to take the children to London with her while she filmed Maleficent 2.
"Brad will be filming in LA for the summer and wants to see the kids on his regular custody schedule," a source told E! News at the time, as reported by Daily Mail.
Angry such intimate details of their custody arrangement had been leaked, Angelina last week issued a statement to the media, claiming some of the details were "misleading".
"This misleading leak is not in the best interests of the children. From the start, Angelina has been focused only on their health and needs, which is why it was so important that this last court hearing be conducted privately," her spokesperson said, as reported by Daily Mail.
"It's deplorable that someone, for their own selfish reasons, leaked selective portions of the confidential and sealed court record to create an inaccurate and unfair picture of what is really happening."