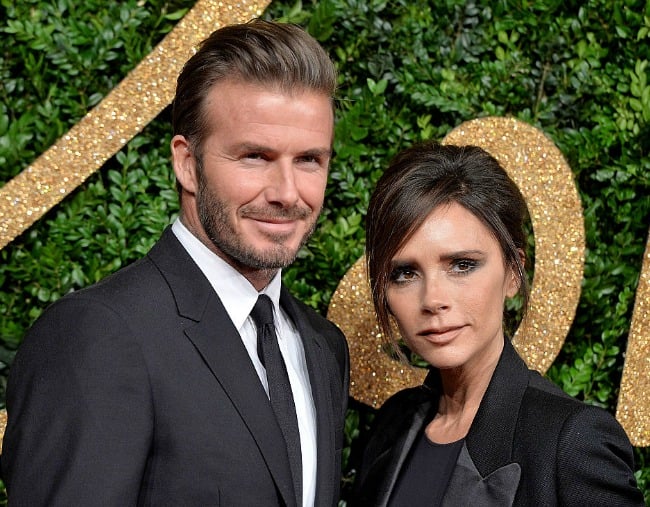 It's the story building traction and momentum despite the relentless attempts to quash it: No thanks, they say, Posh and Becks are just fine.
On Friday, Twitter exploded with rumours of a Victoria and David Beckham split, with British radio and TV presenter Jonny Gould tweeting ominously that the couple would be "trending later".
For clarity's sake, here are the rumours:
Harper (the couples 6-year-old daughter's) teacher has been fired for being pregnant with David's baby.
Alternatively, the couple is getting a divorce, and the school teacher has already HAD the baby, and Victoria will be discussing the split in the August edition of Vogue.
Victoria Beckham is about to drop this info. Imminently.
In the wake of this story, representatives of the couple have come out with a fierce defence.
"There is no impending statement, has been no statement and there is no divorce," Victoria's rep told Us Weekly in a statement. "What nonsense. Fake news fuelled by social media. Embarrassing for the sloppy outlets who have chosen to write such rubbish."
It was decisive, cutting and acerbic. The message, too, loud and clear: They're still together, don't argue with us.
David Beckham has resumed normal Instagram activity while on a working holiday in Miami, Victoria, meanwhile, has kept up the appearance of family back home.
"Morning cuddles x So much love. We love and miss u @davidbeckham," she wrote on Instagram with daughter Harper on Friday.
"Fun dinner x kisses from us all," she wrote on Saturday.
And while the story could well be one the world deems mindless gossip for mindless folk, the rumour is too strong for us to consider it just – as they say – 'fake news'.
First up, betting agencies don't just suspend betting without hunches of their own.
In a statement to The Sun, a spokesman Paddy Power said: "We've decided to suspend betting on the separation between Posh and Becks."
Added to this is the line of thought that the rumour broke loose because Victoria has sold the story to a magazine – perhaps having done the interview already – and therefore cannot comment on the rumour until the story is published.
And then, well, there's history to consider.
Namely, the couple's response to early reports of his affair with assistant Rebecca Loos 14 years ago.
"During the past few months I have become accustomed to reading more and more ludicrous stories about my private life," David Beckham said in a statement responding to early rumours in 2004. "What appeared this morning is just one further example. The simple truth is that I am very happily married. I have a wonderful wife and two very special kids. There is nothing any third party can do to change these facts."
Unfortunately for the couple, soon after that statement, Loos sold her story and confirmed the affair.
At least two more women have claimed to have slept with David, and in 2005, a former nanny told News of the Day the couple's marriage was a sham.
In an interview in W magazine in 2007, Victoria admitted, "there have been bumps along the road".
"No one said marriage was going to be easy," she said. "But the fact is we've come out of everything we've been through stronger and happier."
Of course, naturally, the two may be trying to stick it out. We shouldn't immediately and wholly discredit a statement they've issued regarding the status of their relationship.
After all, they have four children, Brooklyn, 19, Romeo, 15, Cruz, 13 and Harper, 6, and have been married since 1999.
It's just that when it comes to the Beckhams, history shows smoke and fire have had a pretty strong correlation. To dismiss the rumour as merely rumour is to forget the controversy that has surrounded them for over a decade.
It's more than possible that this "fake news" isn't fake at all. But for now, only time will tell.