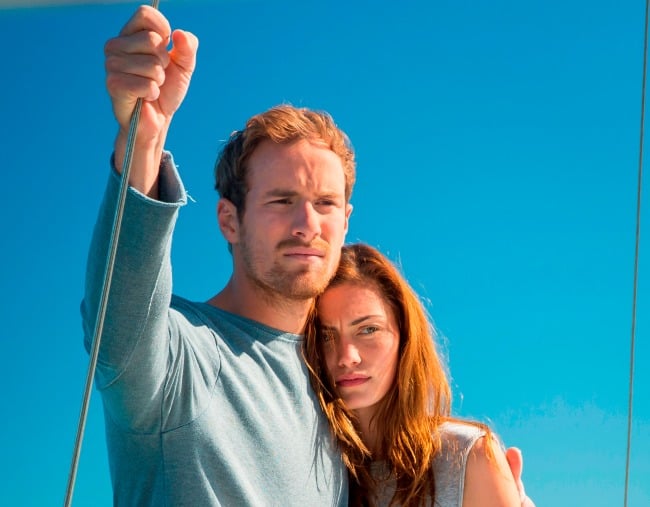 The very best TV shows are the ones that continue to turn over and over in your head, with the storylines still taking up space in your mind long after the screen has faded to black.
Safe Harbour, a new four-part drama series airing on SBS, is one such show.
The story kicks off with five Australians enjoying themselves on a sailing holiday aboard a yacht to Indonesia, when they come across a fishing boat with a broken motor packed full of hungry, ill and desperate asylum seekers.
After a tense discussion between the group of friends, they decide to tow the nearly-sinking boat to the safety of Australian shores. But in the middle of the night, the boat mysteriously disappears.
Many years later, the yacht's owner Ryan (Ewen Leslie) is accidentally reunited with Ismail (Hazem Shammas), one of the refugees from the ill-fated boat who was making his way to Australia with his brother, wife, son and his very sick daughter.
Delighted to see him again, Ryan invites Ismail to a BBQ with his wife Bree (Leeanna Walsman), his sister Olivia (Phoebe Tonkin) and their friend Helen (Jacqueline McKenzie) all of whom were on the boat, and whose lives have been drastically effected by the events that took place there.
During the lunch, tensions flair when Ismail's wife Zahra (Nicole Chamoun), unable to contain her rage and sorrow, lashes out at the group of Australians for leaving the asylum seekers to die in the middle of the ocean.
And that's when the truth is really spoken, for the very first time.
Someone cut the rope between the two boats, and the consequences were beyond tragic.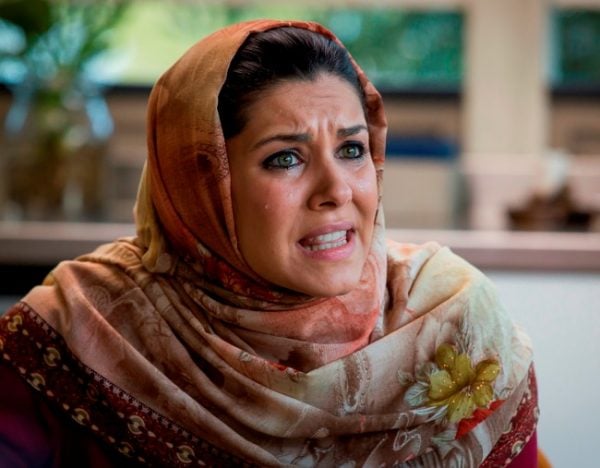 What comes next is a gripping, slow-burn look at what really happened that fateful night out on the water and how those actions have now ricocheted through the lives of everyone involved.
Ryan and Bree's marriage and former happy family life begins to disintegrate as police start to question what took place on the boat, while Helen's high profile law career is placed in jeopardy as the investigation and tensions between the two groups reaches boiling point.
Olivia, depicted as a vibrant young woman at the start of the series, has become withdrawn and broken since the events of the sailing trip.
In the present day, she is equally as thrown by the investigation into the deaths at sea as she is by the return of her ex-boyfriend Damien (Joel Jackson), who left her with no explanation all those years ago, after their interaction with the asylum seekers.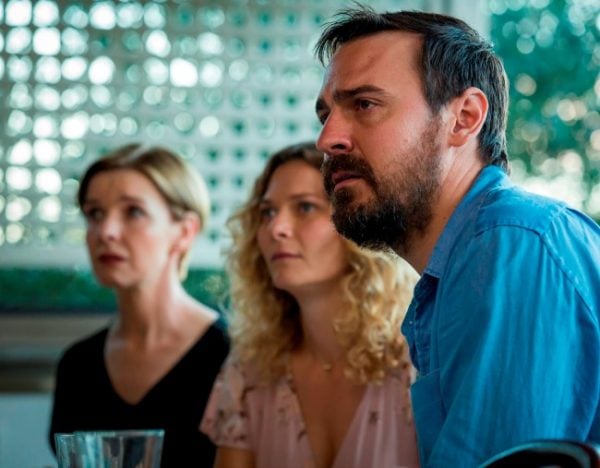 The mystery around what happened that night, and who really cut the rope and why, is a tantalizing thread that weaves through this entire story and keeps you hanging on right until the very end.
But it's not the only element at play here, as there are many other layers of storytelling that make themselves known as the events of Safe Harbour unfold on screen.
At it's heart, Safe Harbour is a look at the intricacies of family life, along with the bond that develops between friends who endure a life changing moment in time together. And how quickly that bond can be shattered into a million pieces once the truth around past events is found out.
While this series does touch on hot-button topics surrounding refugees and the right to seek asylum in Australia, the message does not feel overly political or grandstanding. Instead, the show quickly dives directly to the core of what is fundamentally a human rights issue.
The struggle of Ismail and his family, both the hardships they faced during their boat journey and the obstacles they must overcome while trying to live with their heartbreak and build a new life in Australia, place a sobering spotlight on the struggles facing hundreds of real people in Australia right now.
From the moment I pressed play on the first episode of Safe Harbour, I was so instantly transfixed by this brilliant and gripping Australian drama that I watched the entire series in one go.
That night, when I tried to go to sleep, I found myself unable to close my eyes and drift off. Instead, I lay awake in bed for hours, unable to stop my mind from endlessly churning over the story I'd just lived through.
Because that's what this series leaves you with once the credits have rolled. There's just one nagging question that you'll keep asking yourself over and over again.
And that is... if you were on that boat, in that situation, feeling a sense of danger and uncertainty around so many things that could go wrong... what would you do?
Safe Harbour, which was filmed against the backdrop of Brisbane, is an excellent example of the groundbreaking genre of drama we need more of in Australia.
Directed by Glendyn Ivin (Seven Types of Ambiguity, The Beautiful Lie) and executive produced by SBS's Sue Masters (The Principal, Deep Water, The Family Law) Safe Harbour is in no way a comforting slice of television to sit back and indulge in, but your life will be enriched from experiencing it.
Safe Harbour is a four-part drama series that will premiere on SBS at 8.30pm Wednesday 7 March and will air weekly. Episodes will also be available to watch on SBS On Demand. 
For more TV and film reviews, you can follow Mamamia Entertainment Editor Laura Brodnik on Facebook.