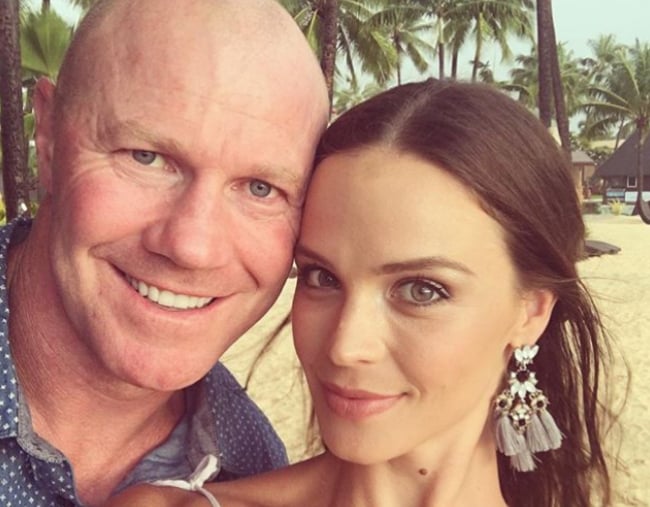 Barry Hall has apologised for the vile comments he made about fellow commentator Leigh Montagna's pregnant wife on Triple M last night, saying it was "a silly thing to say".
Speaking to News Corp Australia, Hall apologised to anyone he may have offended.
"It is not a reflection of who I am or what my views are," Hall said.
"I am a proud father and dedicated partner and have nothing but respect for women."
Hall also apologised directly to the Montagna family: "I wish them all the best with the exciting arrival of their baby".
"I am sorry, I should not have said such an inappropriate comment on air and hope I can be forgiven and move forward from here."
Read more: How Barry Hall's "inappropriate" and vile on-air comment resulted in his immediate sacking.
Read more: How Australia is reacting to Barry Hall's "utterly disgraceful" on-air comment.
Hall's wife, ex-Hi-5 performer Lauren Brant also spoke with News Corp Australia in her husband's defence, speaking about his character.
"I want people to know that Barry has an absolute heart of gold," she said.
"He is the most adoring partner and loving and proud father and would never want to offend any person, especially women. I say that as an empowered female myself."
Since Hall's comments on air last night, Brant has received an onslaught of horrible comments on her Instagram page, which have since been removed.
Hall was sacked shortly after making an excessively sexual comment on air about the impending birth of Montagna's child.
Hall suggested that Montagna's obstetrician ought to touch her in order to stimulate the birth.
Read more: Thank you, Triple M, for sacking Barry Hall. But we need to talk about Wayne Carey.
"Tonight on Triple M Football, there were unacceptable and inappropriate comments made by a member of the commentary team," head of content Mike Fitzpatrick said in a statement.
Considered one of the best forwards of the modern era, the 41-year-old played 289 games for Saints, Sydney and the Bulldogs, kicking 746 goals.
He also captained the Swans to their 2005 premiership.