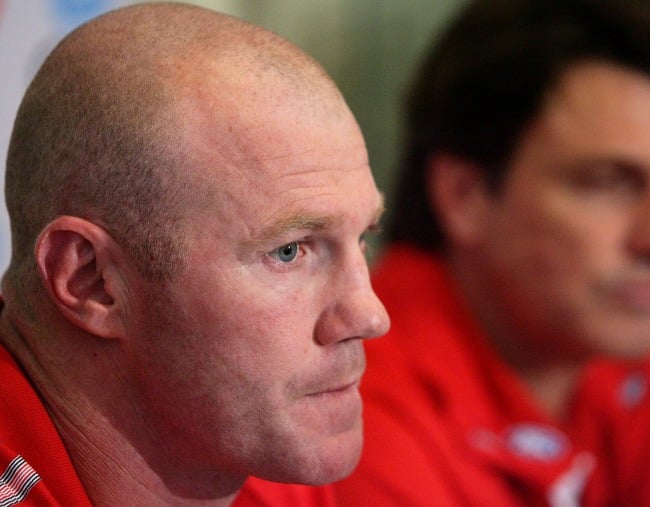 With AAP.
AFL great Barry Hall has been sacked by FM radio network Triple M after making a vulgar on-air comment.
At the time, Hall was speaking to former St Kilda player and co-commentator Leigh Montagna during a pre-game chat at Friday night's clash between the Western Bulldogs and Geelong at Etihad Stadium.
Hall commented on the impending birth of Montagna's child, suggesting her obstetrician ought to touch her in order to stimulate the birth. The remark was excessively sexual.
Mamamia has heard the segment, and has chosen not to publish the exact contents of Hall's comment at this time as it may be distressing for some readers.
If you do wish to hear the segment, you can listen here.
Montagna's wife Erin is due to give birth to the couple's first baby next week.
"Tonight on Triple M Football, there were unacceptable and inappropriate comments made by a member of the commentary team," head of content Mike Fitzpatrick said in a statement.
"The commentator was removed immediately from the broadcast and an apology was issued on air afterwards.
"Immediate action was taken with the termination of employment for one team member."
Journalists and listeners responded to Hall's comment and termination on social media.
Triple M have sacked Barry Hall. Was filling in on tonight's match when he made an inappropriate comment in a pre-match chat. Was told not to finish his shift and now has been sacked by the station.

— Jon Ralph (@RalphyHeraldSun) June 29, 2018
Just heard what ex AFL player, Barry Hall said on radio.

What an utterly disgraceful, obscene, inappropriate thing to say at any time, to anyone, about anyone.

AFL can have all Respect Women Matches they want, but they have to realise they have a misogynistic cultural problem.

— Dean Rosario (@DeanRosario) June 29, 2018
@triplemfooty been a listener for 15 years. That comment by Barry Hall was the most outrageously offensive thing I've heard in a pre-game in a long time. Shameful. Embarrassing. Wrong.

— Marcel White (@MarcelRufus) June 29, 2018
Seriously Barry Hall are you kidding me…all you had to do was turn up and talk footy. You made me physically ill and infuriated at the same time…disgusting! #marngrook

— Shelley Ware (@ShelleyWare) June 29, 2018
I just heard what Barry Hall said. Wow. I'm speechless. Good on TripleM for sacking him on the spot. There wasn't really any choice.

— Mark Gottlieb (@MarkGottliebFOX) June 29, 2018
Hall was said to be filling in for Chris Judd during the broadcast.
Some of the other commentators on the panel laughed at Hall's inappropriate remarks.
Hall was on the panel with fellow AFL great Nathan Brown, journalist Damien Barrett and commentator Mark Howard.
Considered one of the best forwards of the modern era, the 41-year-old played 289 games for Saints, Sydney and the Bulldogs, kicking 746 goals.
He also captained the Swans to their 2005 premiership.
Hall retired from AFL in 2011, becoming a television and radio commentator. He appeared on the 2015 season of I'm a Celebrity… Get Me Out of Here! alongside former High 5 member, Lauren Brant. Following the series, the pair developed a relationship, and in May 2017 Hall and Brant announced the birth of their son, Miller Hall.
Lauren Brant is currently in Bali with the couple's son, Miller, unable to leave because of a volcanic eruption.
Read more: 
How Australia is reacting to Barry Hall's "utterly disgraceful" on-air comment.