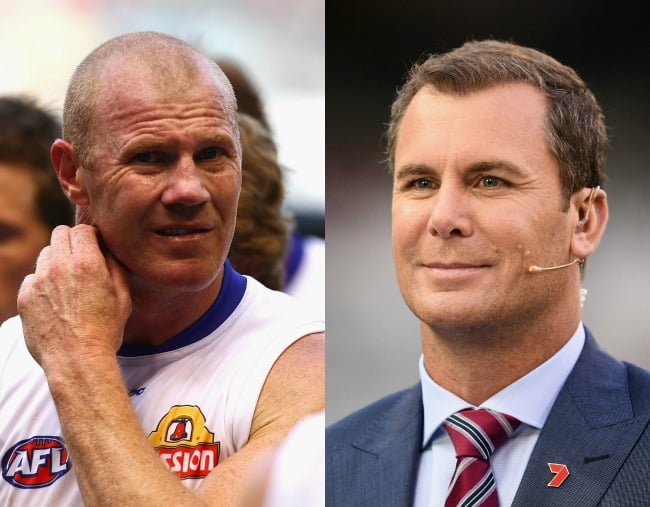 Last night, AFL great Barry Hall was fired from Triple M's AFL commentary team just hours into the broadcast.
Hall and his co-commentators should have been talking about football.
They should have been discussing the night's upcoming AFL game between the Western Bulldogs and Geelong.
Instead, Hall made a crude, vile, and utterly obscene comment which had no place in last night's broadcast.
A comment which ultimately sexualised the pregnancy of a woman – the pregnancy of one of Hall's co-commentators wives, Leigh Montagna's wife Erin.
Hall made a rape joke, insinuating that Erin's obstetrician acted in a sexually inappropriate way.
His co-commentators, fellow AFL great Nathan Brown, journalist Damien Barrett and commentator Mark Howard laughed along with the 'joke'.
Hall was sacked virtually immediately from Triple M and an apology was issued on air.
He did not finish his shift.
Read more: How Barry Hall's "inappropriate" and vile on-air comment resulted in his immediate sacking.
But although we commend Triple M for their swift action in sacking Hall, it comes with a slice of hypocrisy.
For there is a man in AFL commentary who has done much more than just make inappropriate comments.
A man with a history of sexual assault.
A man with a history of domestic violence.
A man who once kicked a policewoman in the mouth.
And yet no one blinks an eye.
That man is Wayne Carey.
Many people remember Wayne Carey for his affair.
The former North Melbourne and Adelaide AFL player slept with his teammate and best friend's wife in 2002 before running away to Las Vegas.