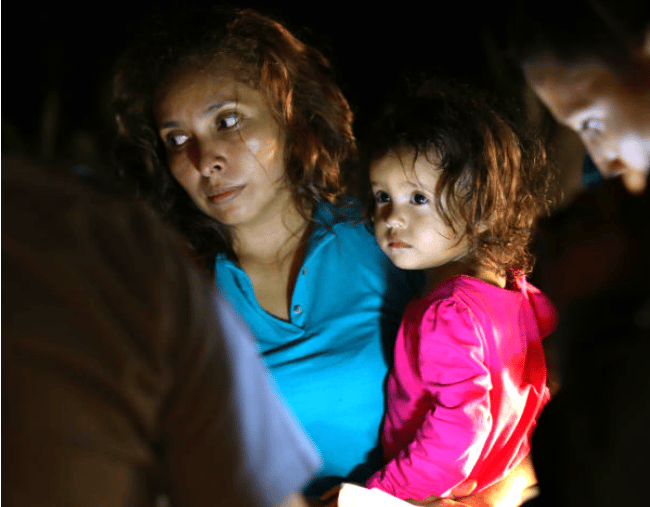 What does a little boy do when he's been separated from his dad and is surrounded by strangers? He cries out for him, over and over.
"Papa! Papa! Papa!"
This little boy has been crying out for a long time. You can hear it in his sobs, those gasping sobs that children make when they've worn themselves out with tears. But the boy keeps crying, because he's all on his own, and frightened.
"Papa! Papa! Papa!"
He just wants his dad to rush in and pick him up in his big strong arms and make everything okay again. But that's not going to happen.
The unidentified little boy is believed to be one of 10 Central American children separated from their parents at the US/Mexico border last week. The investigative website ProPublica has published a recording of the children's voices, which they say was secretly made at a detention facility when the children had been separated from their parents for less than 24 hours.
They say the recording was made by someone who heard the crying and was "devastated" by it.
Since April, more than 2000 children have been separated from their parents at the border. That's when Donald Trump began enforcing the "zero tolerance" policy. If any adult, even an asylum seeker, crosses the border illegally with a child, the adult is sent to jail and the child is put into government care.
The little boy crying out for his dad sounds very young. Maybe he doesn't know many words apart from "papa". Other children are also wailing, or calling out, "Mami!"
An official can be heard joking, "Well, we have an orchestra here. What's missing is a conductor."
Some of the children are a bit older. One little girl is determined to speak to her aunt, and recites her aunt's phone number to officials.
ProPublica say they called the number in the recording, and spoke to the girl's aunt. The aunt said she received the call from the six-year-old, and it was the hardest moment in her life.
"She's crying and begging me to go get her. She says, 'I promise I'll behave, but please get me out of here. I'm all alone.'"