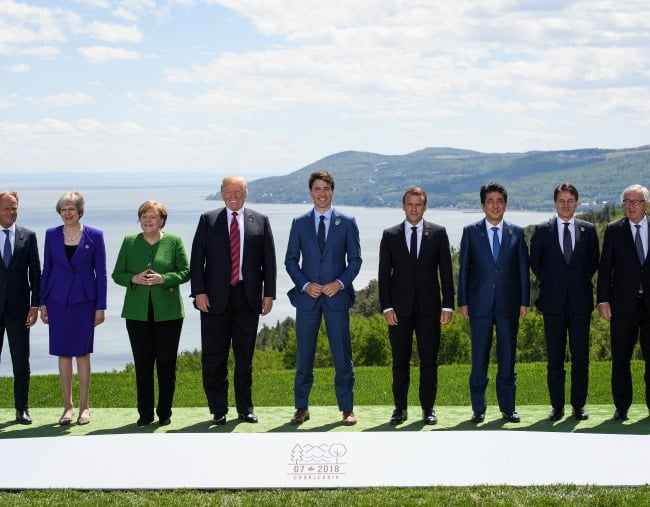 We're all probably a teeny bit unclear on precisely how tall we each stand. Because for the most part, it really doesn't matter all that much. My employer isn't about to fire me just because I'm not actually 5″4 (… please don't).
But when you're the President of the United States, it's a whole other story. Your height is literally one of the many factors that help decide whether or not you're fit for office.
And in an uncomfortable turn of events, Donald Trump may have just been caught fibbing about his height as he innocently stood next to Canada's Prime Minister Justin Trudeau.
This photo taken during the G7 summit in Quebec has, unfortunately for Trump, gone viral. And when you stop ogling at Trudeau, you might just see why.
Donald Trump claims he's 6'3″

If that's true, why is he shorter than 6'2″ Justin Trudeau? pic.twitter.com/JYGeT6DpkP

— Edward Hardy (@EdwardTHardy) June 11, 2018
Trudeau, you see, is standing taller than Trump. Which is difficult to explain when Trudeau is 6″2, and Trump claims to be 6″3. At least, that figure is according to Trump's physical exam results which were released in January this year by the White House doctor. Other than his lack of exercise, love of junk food and obsession with Diet Coke, Trump was declared to be overall in "excellent health".