When I poked my feet through the leg holes, I wasn't optimistic. Pants never fit me. They just don't.
Normally it's when I go to pull the waistband up over my bum that things come unstuck. Or more accurately, stuck. But this time, they didn't.
The soft but sturdy material slid over my thighs. It didn't squeeze me. The seams didn't buckle. Nothing.
It wasn't until I was fully buttoned up and zipped in that I built up the courage to look at myself in the mirror.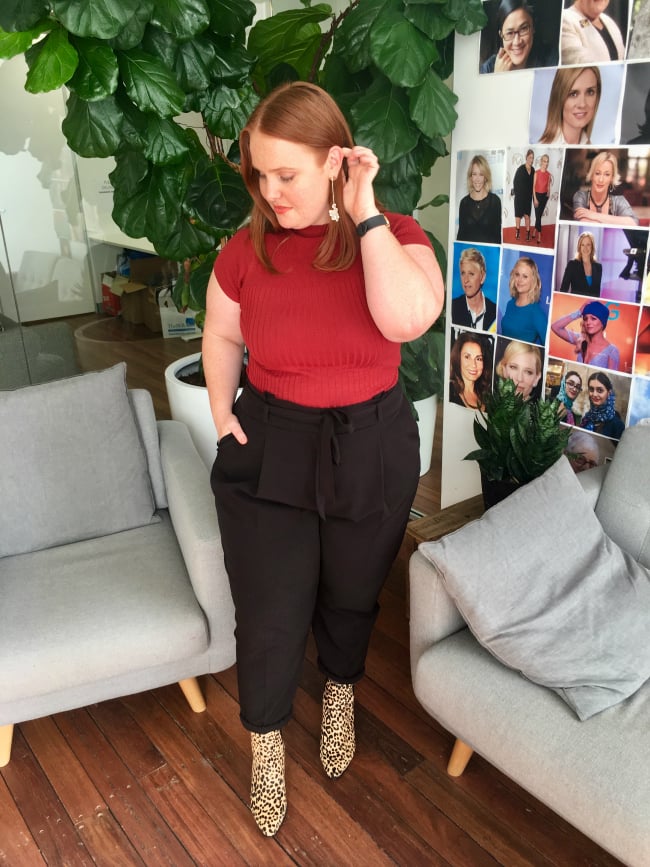 Pants have always been an item of clothing I just couldn't wear.
No one told me that. Well, except for unregulated and unpredictable sizing standards, that is. But when you've tried on that many pairs that don't fit, you get to a point where enough is enough.
Every time I'd add a pair to my cart in the past, I'd always end up feeling deeply crap about my body. Particularly my legs.
Why are my legs so stubby? Why do the pants gape at the waist but pull and stretch over my thighs? It must be me, I'm the one that needs to change, not the pants.
But recently I realised some of my clothes are now fitting a bit too snug for me to wear them and go about my day without yanking at the arms or the waistband pressing on my skin.
A simple guide to the very complex task of not feeling bad about your body. Post continues after audio.
I've put on some weight, but rather than wait 'til I inevitably lose it like I've told myself in the past, I decided to do something I've never done before.
I opened up a fresh tab on my browser in the late hours of the evening and searched for 'plus size pants'.
That's when I came across these black pants, the only pair of pants I've ever bought online that fit me. Just the way I am right at this moment.
They're the New Look Curve Tailored Pant from ASOS. They cost me $46 and I bought a size 18 (they come in sizes 18-28).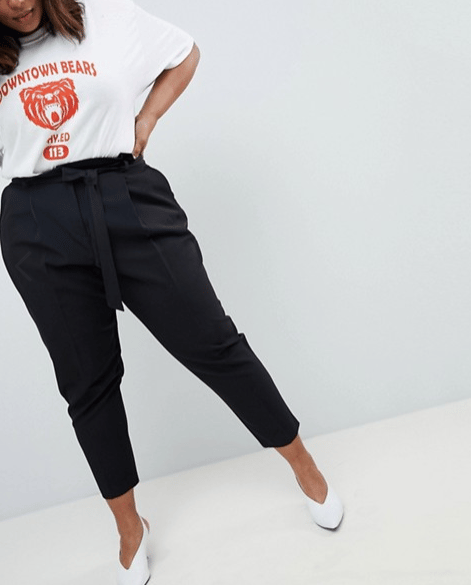 These pants are great for so many reasons.
The Paper Boy fit - pleated cinched in waist with ample room around the thighs and bum, tapering down to a slim fit around the ankle - is flattering. Particularly if like me you are bigger on the bottom than the top.
The waist tie draws in my waist - 'high rise, just like your standards' the product description reads. The material is smooth, silky and stretchy, but also thick enough to feel secure.
Side note - the Warehouse Paper Bag Peg Pants (ASOS, $65) are a very similar version that come in sizes 6-16.
They're black, so go with everything. I've worn them twice this week - once with an oversized shirt and heels, and also with a tight fitting knit t-shirt and boots (as pictured).
The simplicity of these pants lend themselves to being worn casually with sneakers and a t shirt, with a shirt or blouse for a corporate finish, or with clashing colours and prints if you please.
And the fact I got change from a $50 was nice too.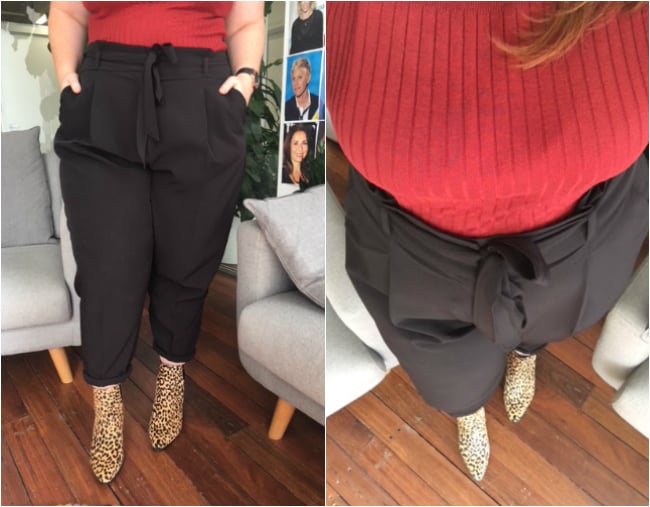 These pants make me feel seen and included. Like I don't have to sit on the sideline in a skirt, my thighs chaffing from rubbing together while everyone else is having fun in pants.
They work with the body I've got right now, not against it.
If you've ever felt like you can't wear something because of your size or shape, you'll understand why I'm so emotional over a bloody pair of pants.
And why I'll be requesting to be buried in them.
Want to win some skin care goodies? Like to have your opinion heard? Take our short survey now for your chance to a win a skin care pack.
Shout out to all Dads! Here at Mamamia we are always looking for ways to make Mamamia even better. Dads, we need you to help us do that by filling out this quick 15 min survey for us. Click the button below for your say.