When I poked my feet through the leg holes, I wasn't optimistic. Pants never fit me. They just don't.
Normally it's when I go to pull the waistband up over my bum that things come unstuck. Or more accurately, stuck. But this time, they didn't.
The soft but sturdy material slid over my thighs. It didn't squeeze me. The seams didn't buckle. Nothing.
It wasn't until I was fully buttoned up and zipped in that I built up the courage to look at myself in the mirror.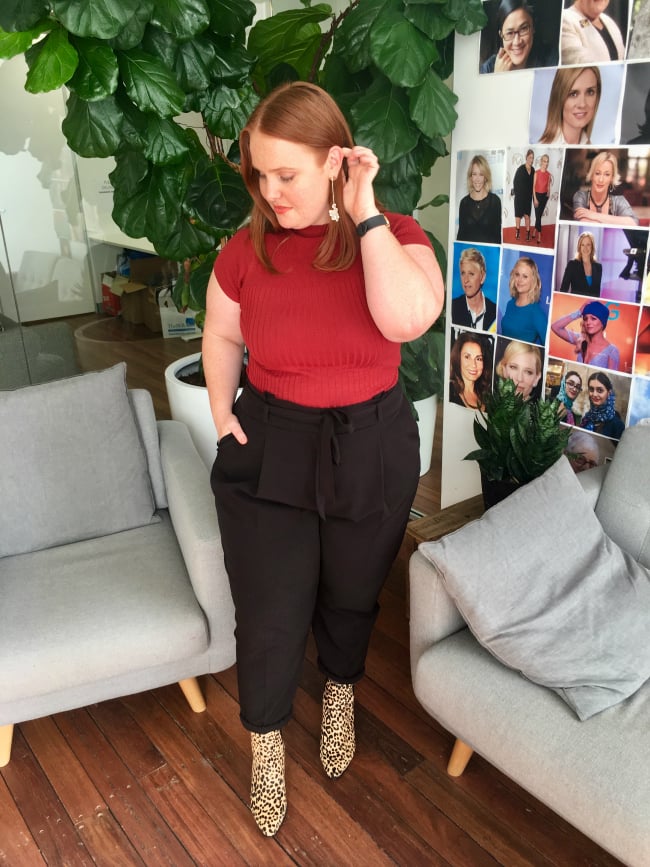 Pants have always been an item of clothing I just couldn't wear.
No one told me that. Well, except for unregulated and unpredictable sizing standards, that is. But when you've tried on that many pairs that don't fit, you get to a point where enough is enough.
Every time I'd add a pair to my cart in the past, I'd always end up feeling deeply crap about my body. Particularly my legs.
Why are my legs so stubby? Why do the pants gape at the waist but pull and stretch over my thighs? It must be me, I'm the one that needs to change, not the pants.
But recently I realised some of my clothes are now fitting a bit too snug for me to wear them and go about my day without yanking at the arms or the waistband pressing on my skin.