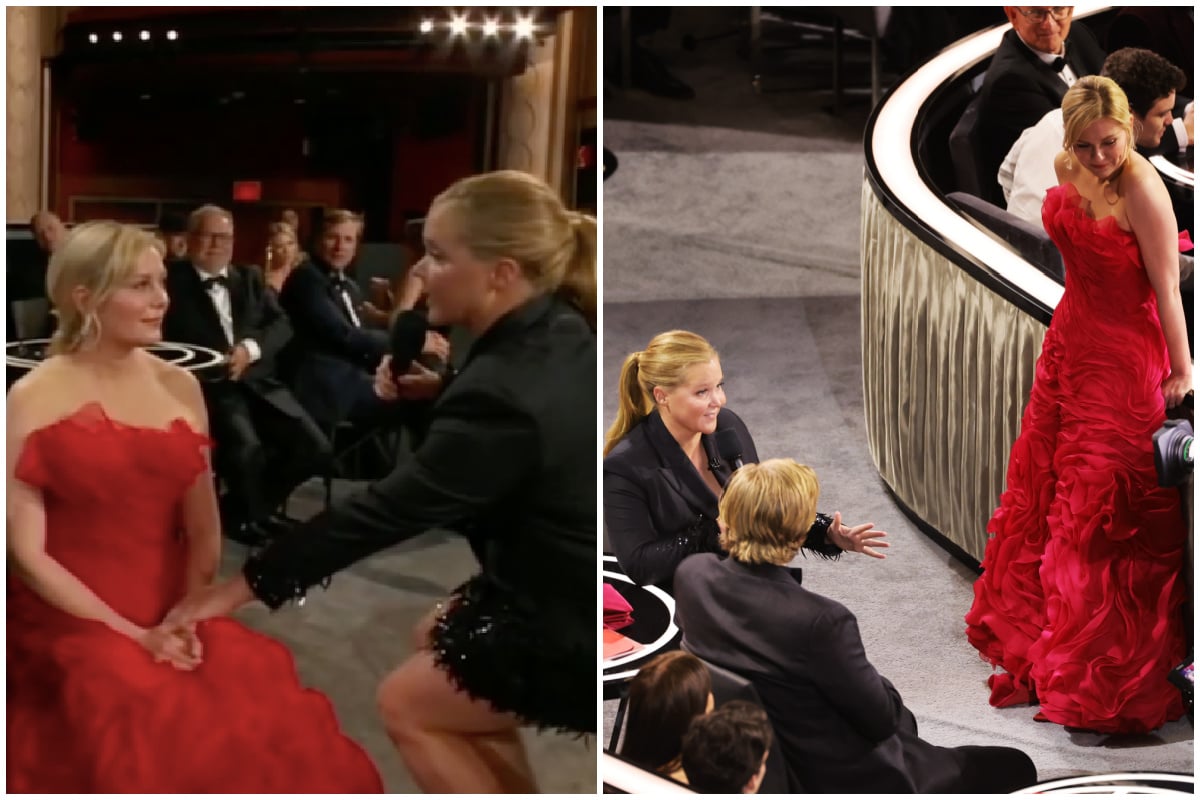 At the 2022 Oscars, a man stood on stage and told a below-the-belt joke about a woman's alopecia. 
Then another man stood up from his seat and slapped that man in the face.
But according to some, the real villain of the night wasn't either of them. Not the one who used a medical condition as a punchline, and not the one who reacted with physical assault on live, prime time, international television. 
No. If you want to talk about bad behaviour, apparently you need to look no further than Amy Schumer.
The 40-year-old comedian co-hosted the Oscars, with jokes about how hiring three women to host the show was probably cheaper than hiring one man, the fact we now have a movie about the Williams sisters'... dad, and the awkward moment where she was fairly certain she "missed something". 
But it was a bit about Kirsten Dunst that led some Twitter commentators to argue Schumer had displayed "the most offensive behaviour out of anyone" at the 94th Academy Awards.
Watch the moment Amy Schumer jokes with Kirsten Dunst and Jesse Plemons. Post continues after video.
During the show, Schumer approached Dunst who was sitting beside her partner and Power of the Dog co-star, Jesse Plemons.
Schumer began by explaining that it takes nearly 3,000 people to put on the Oscars, and every job is important, giving a special shout out to the 'seat fillers' - volunteers whose purpose is to fill out the theatre when the camera pans the audience.
"Here's a seat filler," she said, gesturing towards Oscar nominee Kirsten Dunst. "Honey, do you want to go to the bathroom?"
Schumer then took Dunst by the wrist to lead her out of her seat and sat down opposite Plemons. Gushing over the actor, she said she was a huge fan, before Plemons responded, "you know that was my wife?"
"That seat filler?" Schumer asked, feigning confusion. "That's weird."
Nevermind the fact that Kirsten Dunst is an incredibly recognisable actor, who has been a fixture in Hollywood since she was a child. Nevermind her ubiquity as a pop culture icon, after starring in cult films like Drop Dead Gorgeous, Bring It On, Spider-Man and Mona Lisa Smile. Nevermind that. Because a loud group on the internet had decided: