Live updates
3:37am

3:32am

3:24am

3:07am
Latest posts
The behind-the-scene photo everyone is talking about.
Well, we're done. The trio of hosts (who I think have done a fantastic job) are in their pyjamas and ready for bed. Same.
It was an awards show with very few shocks in terms of winners and some truly spectacular moments courtesy of CODA. But alas, the entire show has been overshadowed by Will Smith and Chris Rock's surprising drama.
Before I sign off, here is a truly wild photo from the Vanity Fair after party as some very famous guests try to figure out WTF is going on.
Meanwhile, this is everybody at my table at the @vanityfair Oscar dinner manically googling wtf Will Smith just said to Chris Rock 🤷🏻‍♂️🍿 pic.twitter.com/rJBz4LCboW

— Derek Blasberg (@DerekBlasberg) March 28, 2022
For a full explainer, my colleague Keryn has (very speedily!) put together everything you need to know: "Keep my wife's name out of your f***ing mouth." What just happened between Will Smith and Chris Rock at the Oscars.
Thanks for following along - I'm off to watch CODA for the umpteenth time.
Hope to see you next week for the Grammy Awards. Who do we think will be fighting on that stage?
CODA wins Best Picture.
The legendary Liza Minnelli and Lady Gaga are on stage to present the night's final and biggest award, Best Picture. I mean, Wanda Sykes did promise us a very gay show!
The winner is CODA, and the theatre erupts into the biggest cheer of the night.
Applause for CODA's win for Best Picture at the 94th #Oscars.https://t.co/EViXaQY1NZ pic.twitter.com/F7RngKVpb1

— Good Morning America (@GMA) March 28, 2022
These are the 10 Best Picture nominees:
Belfast
CODA
Don't Look Up
Drive My Car
Dune
King Richard
Licorice Pizza
Nightmare Alley
The Power of the Dog
West Side Story
Jessica Chastain wins Best Actress.
Sir Anthony Hopkins is here to present Best Actress, and he opens with "I think Will Smith said it all".
THIS NIGHT HAS TAKEN SUCH A WEIRD TURN.
This year's Best Actress is... Jessica Chastain for The Eyes of Tammy Faye.
She uses her speech to share love to the Queer community and others facing bigotry and discrimination.
"You are unconditionally loved for the uniqueness that is you," she says.
Best actress nominees:
Jessica Chastain, The Eyes of Tammy Faye
Olivia Colman, The Lost Daughter
Penelope Cruz, Parallel Mothers
Nicole Kidman, Being the Ricardos
Kristen Stewart, Spencer
"I look like the crazy father." Will Smith wins Best Actor.
The cast of Pulp Fiction are here to present Best Actor.
After lots of dancing courtesy of John Travolta and Uma Thurman, the winner is announced as...
Will Smith for King Richard
Smith is back on stage, this time in tears.
"Richard Williams was a fierce defender of his family," he says, in reference to his earlier defence of Jada Pinkett Smith.
He explained what Denzel Washington had told him just after that event.
"At your highest moment, be careful, that's when the devil comes to you."
March 28, 2022
He apologised to the Academy and his fellow nominees, before thanking the cast and crew of King Richard, including Venus and Serena Williams.
"Art imitates life: I look like the crazy father, just like they said about Richard Williams. But love will make you do crazy things."
The nominees:
Javier Bardem, Being the Ricardos
Benedict Cumberbatch, The Power of the Dog
Andrew Garfield, tick, tick...BOOM!
Will Smith, King Richard
Denzel Washington, The Tragedy of Macbeth
Well, today certainly turned out a little more dramatic than expected!
We're on the home stretch: just two awards to go.
Jane Campion wins Best Director.
Jane Campion has won Best Picture.
The New Zealander takes out the award for The Power of The Dog.
Jane Campion — the first woman to ever be nominated twice for Best Director — has won the Oscar for The Power of the Dog pic.twitter.com/LHyC4aPUde

— Netflix (@netflix) March 28, 2022
She was first nominated for the award in 1994 for The Piano, making her the first woman to be nominated more than once.
In 1994, she won the Academy Award for Best Original Screenplay.
Billie Eilish wins Best Original Song.
HUGE.
Billie Eilish and brother Finneas have won Best Original Song for their James Bond theme 'No Time To Die', beating out Beyonce and Lin-Manuel Miranda's chance at an EGOT.
"I could scream!" she says.
She's followed in some pretty major Bond footsteps here: Adele won for her Bond song 'Skyfall' in 2013, and Sam Smith also for 'Spectre' in 2016.
They performed the song earlier:
March 28, 2022
Will Smith and Chris Rock's on stage fight.
In the night's first 'is this real or a bit?' moment, Will Smith launched on stage to smack Chris Rock after he made a joke about Jada Pinkett Smith.
Rock said he was "looking forward to GI Jane 2", presumably in reference to her shaved head.
Pinkett Smith gave a MAJOR eye roll, and Smith then jumped up on stage and smacked Rock. When he sat back down, Smith was heard yelling expletives at Rock who honestly, seemed visibly confused and rattled.
The audio feed cut out for most of us viewing, muffling Smith's words. But Japanese TV had an uncensored version, which showed Smith yelling "keep my wife's name out your f***ing mouth" twice.
Will Smith socked Chris Rock at the #Oscars?? pic.twitter.com/yzYV89f9Jg

— philip lewis (@Phil_Lewis_) March 28, 2022
VIA JAPANESE TELEVISION: The uncensored exchange between Will Smith and Chris Rock pic.twitter.com/j0Z184ZyXa

— Timothy Burke (@bubbaprog) March 28, 2022
Video from after the event show Denzel Washington and Tyler Perry pulling Smith aside, as he appears to wipe his eyes and sits back down with his wife.
During the commercial break, Will Smith is pulled aside and comforted by Denzel Washington and Tyler Perry, who motion for him to brush it off. Will appears to wipe tears from his eyes as he sits back down with Jada, with Denzel comforting Jada and Will's rep by his side. pic.twitter.com/uDGVnWrSS2

— Scott Feinberg (@ScottFeinberg) March 28, 2022
For what its worth, Rock was presenting Best Documentary Feature - which was won by Questlove for Summer of Soul.
Kim Kardashian's advice for Dame Judy Dench.
In a brief break from awards, Regina Hall and Wanda Sykes were on hand to offer the stars some advice.
The most important?
"We got an inspirational quote for you, because you didn't win tonight," Hall says. "It's from Kim Kardashian. 'Work harder'.
"You gotta move that ass, Dame."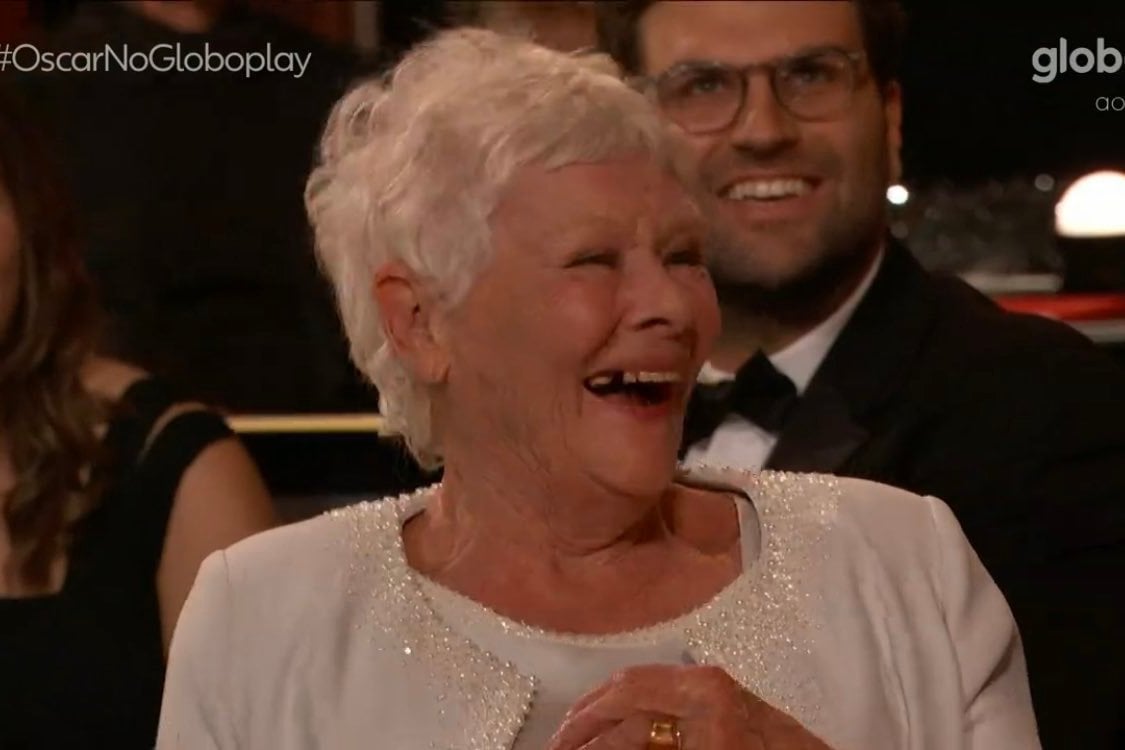 Dench CACKLED.
CODA's Sian Heder wins Best Adapted Screenplay.
Okay, we're really powering through the awards now!
Shawn Mendes and Tracee Ellis Ross (what a duo?!) are here to present Best Adapted Screenplay.
The Oscar goes to... Sian Heder for CODA.
She says CODA was "incredibly hard" to get made, and thanks those who helped get them to this moment.
This is a great sign for CODA's Best Picture chances...
The nominees:
CODA - Sian Heder
Drive My Car - Ryusuke Hamaguchi, Takamasa Oe
Dune - Jon Spaihts, Denis Villeneuve, Eric Roth
The Lost Daughter - Maggie Gyllenhaal
The Power of the Dog - Jane Campion
Belfast's Kenneth Branagh wins Best Original Screenplay.
The cast of Juno - Jennifer Garner, Elliot Page and J.K Simmons - are on stage to present Best Original Screenplay.
(Side note: it's been 15 YEARS since Juno won this award. What in the world!!!)
Kenneth Branagh wins for Belfast, which he wrote based on his own childhood growing up during the Troubles.
Also, I'm sorry for this, but:
you're telling me that gilderoy lockhart, five time winner of Witch Weekly's Most Charming Smile Award, just won an oscar???!!!#Oscars pic.twitter.com/kuYJHszG4M

— Isha Bassi (@Isha_Bassi) March 28, 2022
The nominees:
Belfast - Kenneth Branagh
Don't Look Up - Adam McKay and David Sirota
King Richard - Zach Baylin
Licorice Pizza - Paul Thomas Anderson
The Worst Person in the World - Eskil Vogt and Joachim Trier
An acknowledgement of Ukraine.
Following a performance of Best Song nominee 'Somehow You Do' from Four Good Days, the Academy acknowledged the people of Ukraine.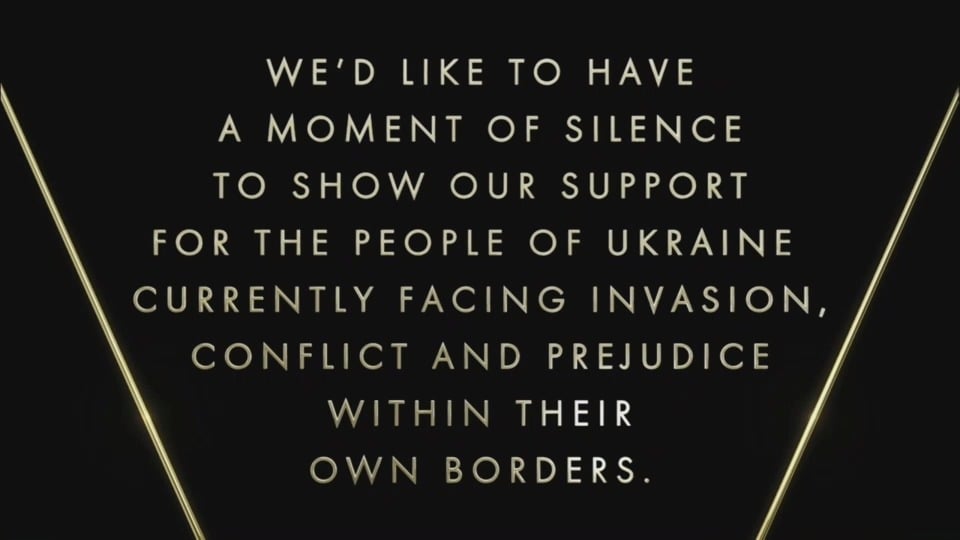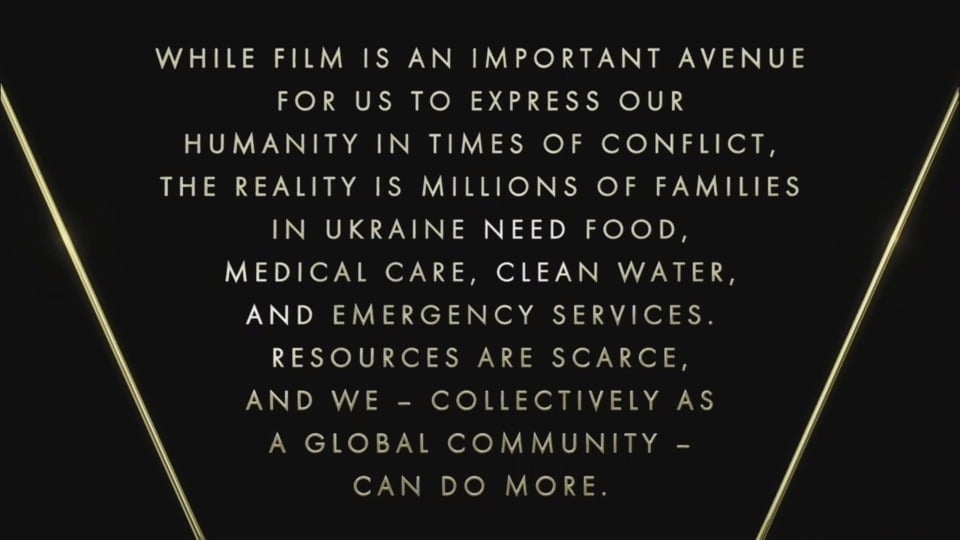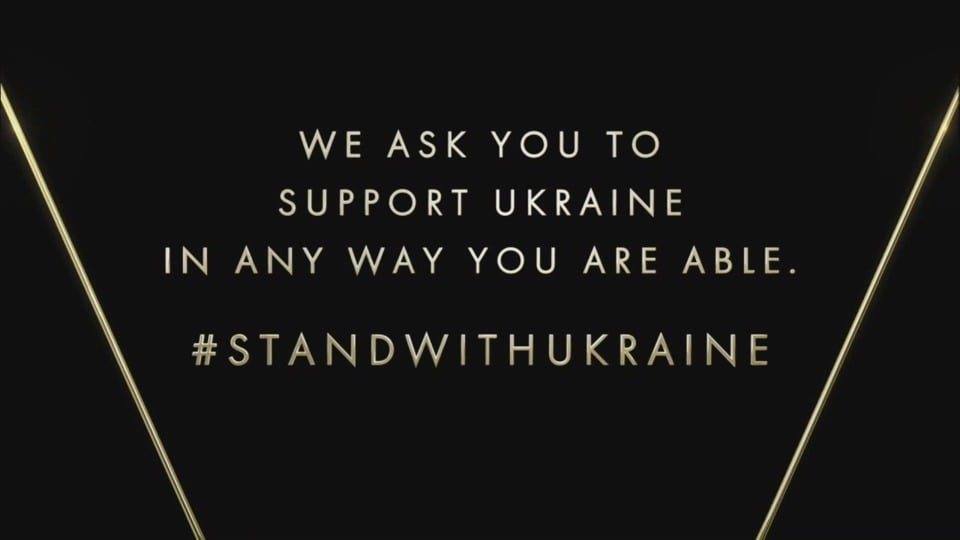 This is also a good time to point out the blue ribbons worn by many of the guests tonight, which are in support of refugees.
Jamie Lee Curtis arrives to the #Oscars red carpet and shows off a blue ribbon in support of refugees. https://t.co/3eglC4UYeF pic.twitter.com/Ewn1t6Z43K

— Variety (@Variety) March 27, 2022
Troy Kotsur wins Best Supporting Actor.
Youn Yuh-jung, last year's Best Supporting Actress winner for Minari, is on stage to present the Best Supporting Actor award.
She apologises for complaining about the mispronunciation of her name last year, because she now has to pronounce the names of the nominees.
The winner is... well, she gives it away before she announces the name with a sign.
Troy Kotsur from CODA is the winner, making history as the first deaf actor to win an Oscar.
The entire theatre is waving their hands in the air in sign language applause and quite simply, this is a MOMENT.
"This is dedicated to the deaf community, the CODA community and the disabled community. This is our moment," Kotsur signs.
Here were the nominees:
Ciaran Hinds, Belfast
Troy Kotsur, CODA
Jesse Plemons, The Power of the Dog
J.K. Simmons, Being the Ricardos
Kodi Smit-McPhee, The Power of the Dog
Encanto wins Best Animated Feature.
Lily James, Halle Bailey and Naomi Scott (a.k.a the Disney Princesses come to life) are on stage to present Best Animated Feature.
And the winner is... ENCANTO.
It was perhaps the most predictable award of the night, but the Disney film is already considered a classic - so it's well deserved.
BRB, going to stream 'We Don't Talk About Bruno'.
Best Animated Feature nominees:
Encanto
Flee
Luca
The Mitchells vs the Machines
Raya and the Last Dragon
Rachel Zegler addresses her invite snub.
Jacob Elordi and Rachel Zegler presented the award for Best Visual Effects (won by Dune, taking its total to six so far!).
First, Elordi said he never imagined he would be standing on the Oscar stage while growing up in Australia.
"And I never imagined I'd be here six days ago," Zegler replied.
ICYMI: Last week, she revealed she had not been invited to the event, despite being the star of Best Picture nominee West Side Story. After a few days, the Academy extended an invitation and gave her this presenter spot.
Regina Hall uses the show as her personal Tinder.
Regina Hall is looking for a boyfriend, and what better opportunity is there to find one than hosting the Oscars?
Hall used her solo monologue to use the ruse of a COVID test to wrangle Bradley Cooper, Timothée Chalamet, Simu Liu and Tyler Perry on stage.
She attempted to get Will Smith on stage too, saying Jada Pinkett-Smith had approved it.
"You're married, but you know what, you're on the list and looks like Jada approved you, so you get on up here," she joked, which got THIS reaction from Smith:
Ariana DeBose wins Best Supporting Actress
The first major award of the night is here, and it's... Ariana DeBose for West Side Story!
DeBose is the second person to win an Oscar for the role of Anita in West Side Story, 60 years after Rita Moreno.
"WHAT IS THIS?!" she screamed upon making it on stage.
Among her thanks, she shouted out Moreno who was sitting in the audience.
"I am so grateful. Your Anita paved the way for tonnes of Anita's like me and I'm so grateful," she said.
She is also the first openly queer woman of colour to ever win an Oscar.
"Look into her eyes, you see an openly queer woman of colour, an Afro-Latina who found her strength in life through art — and that's what I believe we're here to celebrate.
"To anybody who has ever questioned your identity, there is indeed a space for us."
Incredible.
The nominees:
Jessie Buckley, The Lost Daughter
Ariana DeBose, West Side Story
Judi Dench, Belfast
Kirsten Dunst, The Power of the Dog
Aunjanue Ellis, King Richard
Regina Hall, Wanda Sykes and Amy Schumer's opening monologue.
Much has been said about the 'curse' of hosting award shows, especially the Oscars.
So many people suggested Regina Hall, Wanda Sykes and Amy Schumer took a poisoned chalice, but their opening monologue was full of zingers (once they got DJ Khaled off the stage).
"This year the Academy hired three women to host—because it's cheaper than hiring one man."
"This year the Academy hired three women to host—because it's cheaper than hiring one man."https://t.co/1H1Y9jC9bl#oscars pic.twitter.com/hs78koqZRt

— ABC News (@ABC) March 28, 2022
Among the jokes: panning to J.K Simmons when suggesting the toll two year of pandemic had taken on Timothee Chalamet. Kudos to Simmons for playing along.
But my personal favourite was suggesting the Golden Globes will be featured in the in memoriam section.
The biggest applause came right at the end, when Sykes suggested to Florida they were going to have a "gay gay gay" night - a nod to Florida's 'Don't Say Gay' bill.
Yep... we're barely 10 minutes in and we've had our first political moment. There's bound to be plenty more.
Schumer then went solo, offering a Leonardo DiCaprio joke that is bound to get everyone talking.
"Leonardo Dicaprio, what can I even say about him? He's done so much to fight climate change and leave behind a cleaner, greener planet for his girlfriends"

Amy Schumer with a clean shot in her opening monologue at the #Oscars pic.twitter.com/2ck8mwvl23

— MovieRankings.net (@LightsCameraPod) March 28, 2022
Her Being the Ricardos jokes were good too:
"The innovation to make a movie about Lucille Ball without even a moment that's funny," she joked.
"If you're Aaron Sorkin, how do you make a movie about the most iconic female comedian and not one laugh, it's brilliant! It's like making a biopic about Michael Jordan and just showing the bus trips between games."
Beyonce opens the show.
Getting Beyonce to open the Oscars, introduced by Venus and Serena Williams? WHAT A SERVE (tennis pun very much intended!)
Bey performed her nominated song 'Be Alive' from King Richard on a tennis court in Compton, backed by a chorus of local performers.
"I want you to tell these people where we are," she said. "City of Compton!" they replied.
Beyoncé's first award show performance in 5 years #Oscars pic.twitter.com/u6rZ1tc65D

— IVY (@ivyparkspr) March 28, 2022
Bold move to begin with Beyonce. How can we possibly go up from here?
Why the biggest stars arrived early this year.
This year, in an effort to streamline the telecast, the Academy moved a number of awards to a pre-televised ceremony.
These are the more behind-the-scenes awards, like sound design, editing and makeup, and awards for short films. They're all being handed out by Josh Brolin and Jason Momoa.
The Academy's design was controversial, drawing criticism from plenty of A-listers, including Jessica Chastain and Jane Campion.
This is why we saw so many of the huge names arrive to the red carpet early. Most of the A-listers were seated in the theatre in time to cheer on the BTS heroes of their films, while the stragglers remained on the red carpet for interviews and photos.
What hosts do the nominees from the 8 categories get? "Not a Billy Crystal or a Chris Rock. A Jason Momoa and a Josh Brolin." pic.twitter.com/vPYQz9sQgd

— Kyle Buchanan (@kylebuchanan) March 27, 2022
Here's a quick rundown of these winners:
Best Sound: Dune
Best Documentary Short: Queen of Basketball
Best Animated Short: The Windshield Wiper
Best Live Action Short: The Long Goodbye
Best Original Score: Hans Zimmer, Dune
Best Editing: Joe Walker, Dune
Best Production Design: Patrice Vermette and Zsuzsanna Sipos, Dune
Best Makeup and Hairstyling: Linda Dowds, Stephanie Ingram and Justin Raleigh, The Eyes of Tammy Faye
Congrats to Dune - what a sweep!
The fun red carpet moments.
The Oscars red carpet is the biggest and most prestigious of the year.
But that doesn't mean it can't also be fun.
Firstly, the bold people over at E! reportedly asked Steven Spielberg to take part in their Glambot camera, according to Vanity Fair.
Respect to the lady who just asked Steven Spielberg if he wants to do the glam bot. #oscars

— Rebecca Ford (@Beccamford) March 27, 2022
As far as we can tell he... did not.
Then, Timothée Chalamet arrived with a jacket and no shirt.
I fear this is the end of shirts forever.
That sound you hear? Men around the world burning all of their own.
🚨 TIMOTHEE CHALAMET HAS ARRIVED AT THE #OSCARS 🚨 pic.twitter.com/cPFvW6UKoF

— E! News (@enews) March 27, 2022
And look, I simply have to share Jamie Dornan and Andrew Garfield being... adorable.
No thoughts, just Jamie Dornan hugging Andrew Garfield. #Oscars pic.twitter.com/hZOyFv87ds

— TIFF (@TIFF_NET) March 27, 2022
We love a cute red carpet friendship moment.
Sequins, trains and serious glamour: Every standout look from the Oscars 2022 red carpet.
Welcome to Mamamia's Oscars 2022 live feed.
Happy Oscars Day, everyone!
Welcome to Mamamia's live feed for Hollywood's night of nights.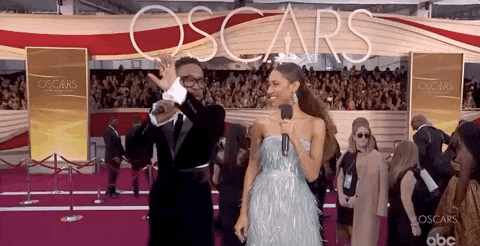 Here, we'll be taking you through all the biggest moments as they happen: from the glitzy red carpet looks, to the most anticipated performances, to the biggest wins of the night.
The red carpet coverage kicks off around 9.30am AEDT, ahead of an 11am AEDT ceremony. Both are streaming live on 7Plus in Australia, if you're keen to tune in.
Some quick FAQs:
Today's show will see all the pretty famous people gathered at Los Angeles' Dolby Theatre. The ceremony will have a host for the first time since 2018 - three hosts, actually. Regina Hall, Amy Schumer and Wanda Sykes will divide up the work. Hall's already hinted at roasting a few people, which is half the reason we all tune in, right?
There are a few possible historic moments up for grabs too: Jane Campion could become the first woman to win Best Director twice (she's already the first to be nominated more than once) and West Side Story's Ariana DeBose is the frontrunner for Best Supporting Actress, which would make her the first ever queer woman of colour to win. Together with Kristen Stewart, their nominations make 2022 the first year two openly LGBTQ+ actors are nominees.
Oh, and there will be a BEYONCE PERFORMANCE.
No biggie.
In some unfortunate news, Lin-Manuel Miranda will miss the show after his wife tested positive for COVID-19. This is particularly of note because there's a high chance Miranda will earn his EGOT - an Emmy, Grammy, Oscar and Tony - tonight.
He's nominated for Best Song for 'Dos Oruguitas' from Encanto, and is the major favourite to win. He already has two Emmy Awards, three Grammy Awards and three Tony Awards, so an Oscar would get him into the very exclusive EGOT club.
While we patiently wait for things to get underway, here are a couple of stories that may interest you:
Chelsea McLaughlin is Mamamia's Senior Entertainment Writer. For more pop culture takes, sarcasm and... cat content, you can follow her on Instagram.
Feature image: Supplied.