Just a word of warning that this article contains spoilers for the TV show, Younger. 
For a show that's meant to be about romance, career and ageism, Younger sure does deal a lot in conspiracy theories.
It's probably thanks to the fact that the premise of the show itself is built on a tangled mess of lies and deceit.
Younger centres around Liza Miller (played by Sutton Foster) a divorced 41-year-old mother of one who has been posing as a 26-year-old in order to secure and hold down a job at the Manhattan-based Empirical Publishing.
While that secret has slowly been leaked out to other characters on the show over the last four seasons, it's one that we the audience have always been in on from the very start. In fact, we are so used to being in the know when it comes to Younger secrets that now there seems to be some information hidden from our view, we just cannot handle it.
At the end of season four, Liza's ex-boyfriend Josh (played by Nico Tortorella) followed his new lady love Clare (played by Phoebe Dynevor) all the way back to her hometown in Ireland and proceeded to become engaged to her, all so she could legally return to the US and they could be together.
Liza, being the good sport that she is, traveled to Ireland to be present at the wedding (and to become a witness for their Green Card application) and ended up spending the night with Josh the night before the vows were scheduled to take place.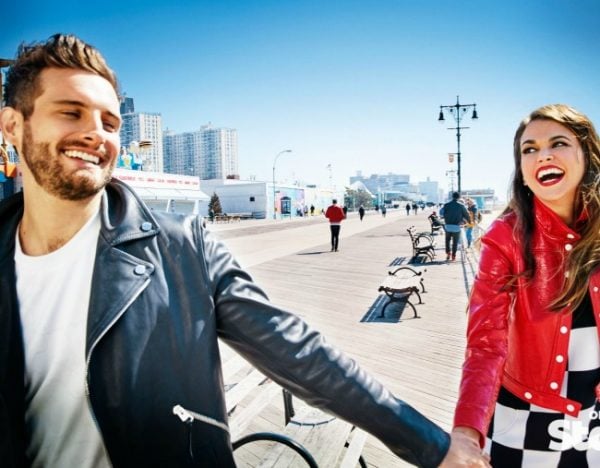 It was that night that he told her that he still loved her and she woke the next morning expecting to hear the news that he'd spoken to Clare and called the whole wedding off... except she looked out the window to see the event in full swing and watched as Josh and Clare said "I do."
Now, Younger fans who are up-to-date on the show's current fifth season, which is airing now on Stan with new episodes dropping weekly, will know that Josh is back in New York and things with him and Clare have pretty much imploded.
But still, there is lingering suspicions about what ACTUALLY  happened on that wedding morning before the ceremony took place.
Here's the theory...
Josh went to see Clare in the morning after confessing his love to Liza the night before and tried to call the whole wedding off.