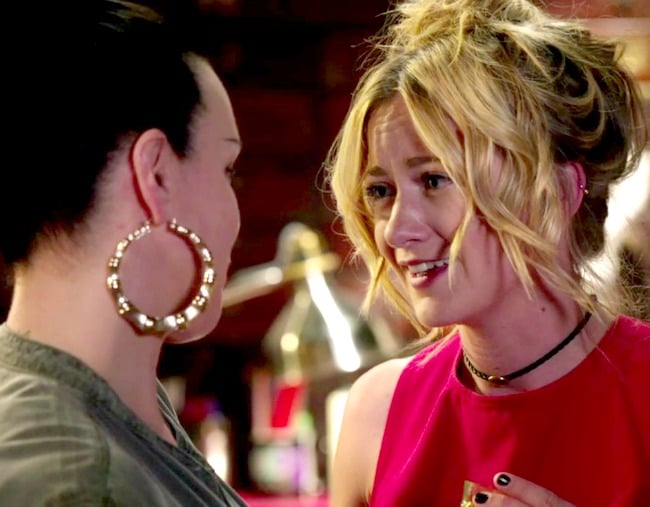 This season, Younger is tearing down romantic comedy character tropes faster than Donald Trump embarking on a slightly inappropriate Twitter rampage.
For those of you who aren't familiar with one of Stan's most popular and binge-worthy shows, Younger is a comedy-drama series that centres around Liza Miller (Sutton Foster), a recently divorced 40-year-old single mother who passes herself off as a 26-year-old in order to snag a job in a glamorous book publishing house.
Along with its frothy New York backdrop, and while rolling out an endless stream of will they/won't they love stories, Younger has managed to upend a female character trope that has plagued movies and TV shows ever since the day Audrey Hepburn first stood outside Tiffany's and slipped on Holly Golightly's sunglasses.
In Younger season four episode two, Maggie (Debi Mazar) and the audience meet the newly introduced character of Montana (Meredith Hagner), a seemingly cool and creative artist who spends her days working as a barista and sweetly sneaking the odd customer a free coffee while she works on making her art dreams comes true.
Both delighted with and accepting of the world around her there in the urban jungle of New York, she is a warm, interesting ray of light. Someone whose over familiarity, quirkiness and eccentric life choices are seen as alluring rather than odd. All thanks to her thin, blonde and Caucasian conventional beauty. If this was an early 2000s rom com, she would be the prize that our unlikely bumbling hero would be attempting to win.
By introducing Montana into the season four mix, Younger essentially married together two types of female archetypes that often show up on our screens in order to push along a male character's storyline and agenda.
Listen to Laura Brodnik explain why Younger season four is the one TV show you should be watching right now on Mamamia's TV podcast The Binge. Post continues...