Just a word of warning that this article contains spoilers for the TV show, Younger. 
Nico Tortorella is well aware they broke a lot of hearts last year, but wants you to know they're just as disappointed in the man they portray on screen as you are.
The 29-year-old actor plays Josh on the hit TV show Younger, which is now in its fifth season.
The character of Josh is a free-spirited, 20-something tattoo artist who is also the erstwhile lover of Younger's protagonist Liza Miller (played by Sutton Foster) a divorced 41-year-old mother who has been posing as a 26-year-old in order to secure a job at the Manhattan-based Empirical Publishing.
In addition to tackling important topics including sexism and ageism, Younger has also proven to be the ultimate frothy, decadent and comforting TV treat, set against a glamorous New York backdrop while also featuring the best-dressed characters on the small screen (which is no surprise since Patricia Field, the genius behind the looks on Sex and the City, is also the costume consultant on Younger).
Season four of the series ended with a bit of an emotional upheaval for fans, with Liza and Josh's on again/off again relationship seemingly done for good after he married his new girlfriend Clare (Phoebe Dynevor) in a quaint Green Card wedding in her Irish hometown as Liza watched on.
Despite the fact that night before the wedding she had been sure that he was about to change his mind.
But alas, he went through with it and by doing so he broke the hearts of fans just as much as Liza's the moment he said "I do".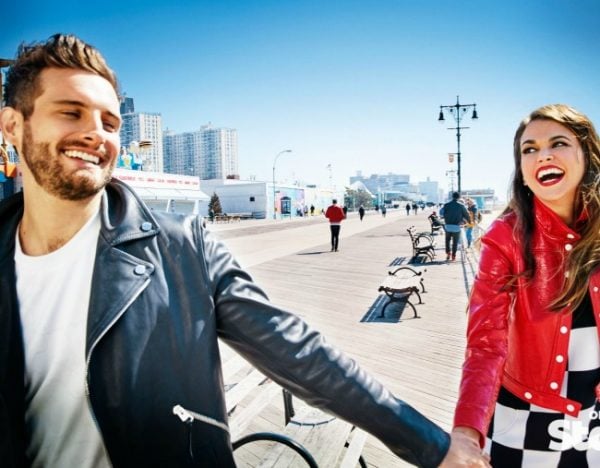 "At the end of season four Josh got married and season five picks up pretty much immediately afterwards," Tortorella told Mamamia. "We now have to deal with the repercussions of what his marriage means for the world of Younger and for the relationships he has with Liza, Kelsey and Maggie. 
"For so long, Josh has just been putting all of his energy into other people and romantic relationships and now that he's married he's really locked down. So he now has more time to focus on himself. It will still be a bumpy road for Josh this season for sure, and things just get more confusing for him.
"But I would have to say that I've been most disappointed in Josh as a character for marrying Clare. I think he was really reaching on that one. Josh has a hard time taking care of himself and he keeps trying to cover this wound he has. I just don't think Clare as a band aide will be big enough to heal him."
"Look, I was also a little disappointed in Josh when his dick caught on fire from some jalapenos and he had to stick his junk in some yogurt to fix it," they said, referring to a very infamous scene from season four where Josh puts a halt to sexy times with Clare when they peppers from their dinner date find their way into his underwear causing a very uncomfortable reaction.
"That scenario was pulled from one of our writers' real lives for sure.
Relieve the biggest moments and scandals from Younger season four with special guest Miriam Shor, the actress who plays Diana Trout herself.
"That scene was actually lot of fun to film but also a lot of work. I was covered in yogurt for hours and running around the room half naked. When you're naked on camera there's a type of banana hammock situation and mine broke when we were filming the first take and there were no more on set.  So I had to jimmy rig the situation.
"I had to really...tie myself up in a few very compromising places...but it was fun. How often do you get to run around naked at work, covered in yogurt and get paid for it?"
In the lead-up to the launch of Younger season five the show's marketing relied heavily on the "Team Josh" and "Team Charles" dynamic in order to whip up a frenzy of excitement among fans who were urged to declare their allegiance to only one of the show's leading men.
However, Tortorella, who is openly sexually fluid and uses the pronoun 'they', said watching the marketing campaign creating competition between the two characters was difficult to stomach.
"I have mixed feelings about it, honestly," they said after a very long pause when asked about the Team Josh and Team Charles social media posts. 
"Peter Hermann outside of Charles is one of the most incredible people on this planet and I just love him so dearly. He is so wise, intelligent and very sweet.
"So it is hard to see the "Team Josh" and "Team Charles" thing all the time because of how incredible Peter is off camera. But at the end of the day these two characters do not really know anything about each other, and at the real end of the day Charles does not know anything about Liza. You also need to remember that Charles is still under the impression that Liza is a 26-year-old assistant and that is wildly problematic.
"I think that the idea of teams is an amazing device for the show, in terms of marketing, but the show is so much more than which guy does she choose. Also, I am a wildly emotional person, I cry every day and I am happy about it. The fact that I can feel the entire spectrum is so beautiful, especially since so many people walk around not feeling anything. So I really feel this." 
On a different end of the scale, one of the things Tortorella values most about playing Josh and starring in Younger is the fact that it has given them a platform to talk about issues surrounding sexual orientation, identity and fluidity.
Tortorella married their longtime partner Bethany Meyer in March this year in a intimate courthouse ceremony during which they each wore an outfit made up of a dress and pants. The couple have been together for more than 11 years in a polyamorous relationship, and Meyer herself identifies as gay.
"It is because of the role I play on Younger that the world  knows me as a straight, cis-gender dude who lives in Brooklyn but in real life I am so much more than that," they said.
"I have privilege because I look the way I do and because of the job I have. Also, because of the kind of marriage that I have that, on paper, looks a certain way to other people but really means something so different to us.
"I do think Younger covers some of the areas that need to be addressed, in terms of ageism and sexual liberation. We have Maggie (a gay character played by Debi Mazar) and we have Lauren ( a pansexual and sexually fluid character played by Molly Bernard) but there are really no positive male at birth characters on the show. I mean characters who are playing on the spectrum of sexuality and gender.
"If I could play another character on the show I would play Lauren, for sure. All because Lauren is pretty much Nico but as a girl in Younger. That is for sure and  in so many ways. I would really like to play the boy version of that character, the boy version of Lauren, on the show.
"I think that the inclusion of different ethnicities could be a lot stronger as well. But you can only tackle so much at a time.
"Younger is a show that has done so much for so many people, in such a great way, but it all depends on who you are talking to."
From the first glance, Younger may seem like a frothy concoction of beautiful people wearing beautiful clothes, but Nico's words prove that the show is so much more than that and it time for us to view it in a new light.
Younger is airing exclusively on Stan with new episodes dropping weekly, on the same day as the U.S. 
For more stories like this, you can follow writer and Mamamia Entertainment Editor Laura Brodnik on Facebook.