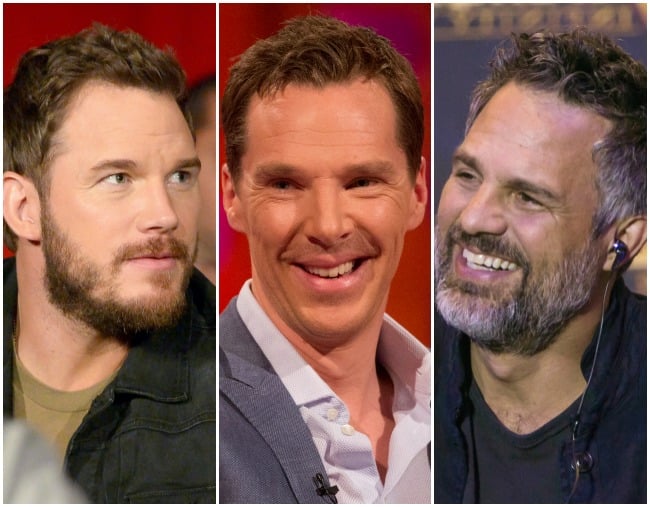 This is my favourite type of investigation.
You see, Steven Weintraub, editor-in-chief of Collider.com, has been a reporter in Hollywood for 12 years.
He's interviewed everyone from Emily Blunt to Alicia Vikander to Bill Murray to Natalie Portman to Jonah Hill, but on Saturday, he announced to his 53,000 Twitter followers that he'd just experienced by far the worst interview he'd ever been a part of.
TELL US MORE PLS.
In a series of since-deleted tweets, Weintraub shared the "completely unprofessional" experience he had with a Hollywood actor, saying he "sat down and one of the actors proceeded to be a complete f**cking asshole…"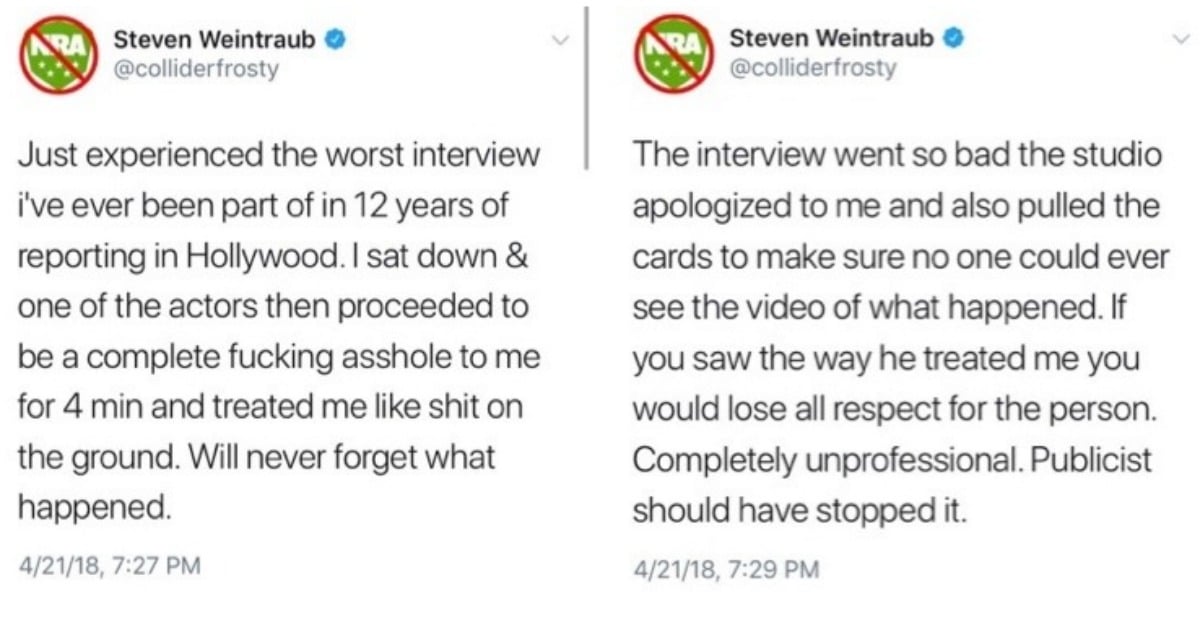 Weintraub said the interview was "so bad the studio apologised to me and also pulled the [SD] cards to make sure no one could ever see the video of what happened," and added that the general public would "lose all respect for the person" if they witnessed the way he treated his interviewer.
While some people who came across the tweet pointed out the possibility that Weintraub had in fact been rude, and the actor may have been retaliating, the reporter denied this was the case.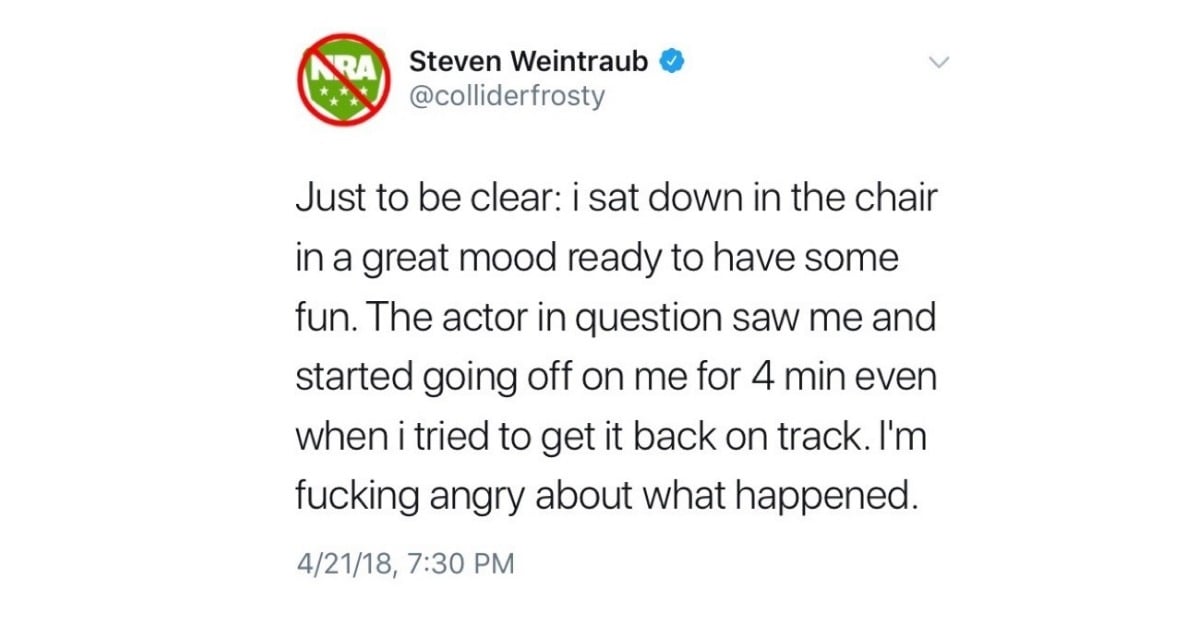 "The actor in question saw me and started going off on me for 4 min even when I tried to get it back on track," he claimed.
Quickly, Weintraub's followers (whom I love unreservedly) deduced that he must be referring to one of the stars of The Avengers, given that these were the interviews he had scheduled on Saturday.
TV host Josh Horowitz was also interviewing the cast of The Avengers: Infinity War, and photos from his Instagram make it clear exactly which cast members were being interviewed.
OoooOOOOOooo let's have a look:
Okay.
So, given Weintraub identified the actor as a "he," he must have been referring to one of the following:
Anthony Mackie
Sebastian Stan
Winston Duke
Mark Ruffalo
Dave Bautista
Don Cheadle
Josh Brolin
Chris Pratt
Benedict Cumberbatch
Tom Holland
Tom Hiddleston
Interesting.
As Weintraub's tweet started to go viral, people started betting on who the rude actor was, because... obviously.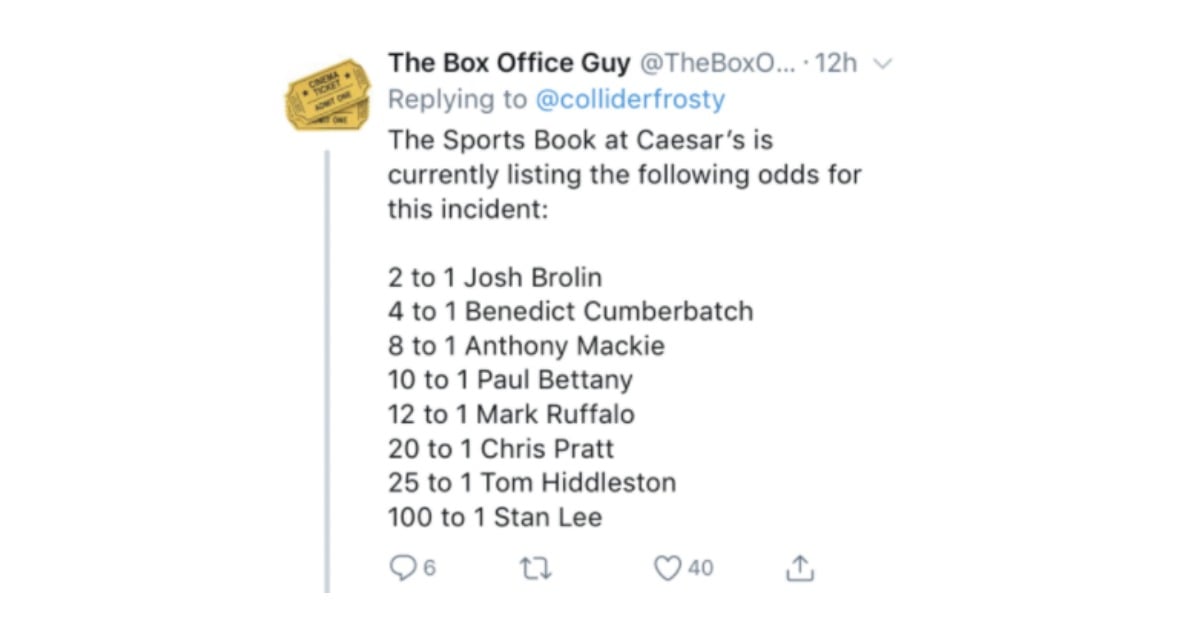 Do we feel strange about Benedict Cumberbatch being the second most likely suspect? Yes.
Does it make us question everything we think we know about Hollywood that both Mark Ruffalo and Chris Pratt are also on the list? Very much so.
Firmly regretting his decision to start a worldwide investigation into rude Hollywood stars, Weintraub then deleted his tweets, and issued an apology.
Yesterday I experienced something that's never happened to me while working in Hollywood. I subsequently tweeted a few things while very upset that I should've kept to myself. While I'm still upset about the experience, I regret airing dirty laundry and have removed the tweets.

— Steven Weintraub (@colliderfrosty) April 22, 2018
But that hasn't stopped the speculation.
On Sunday, Weintraub shared photos of his interviews, with one cast group in particular missing: Anthony Mackie, Sebastian Stan, and Winston Duke. Is that because footage of that interview has been DESTROYED?!
editing and writing. Expect some of this on @collider tomorrow....#avengersinfintywar #Marvel pic.twitter.com/b8LbjA2WRr

— Steven Weintraub (@colliderfrosty) April 23, 2018
Perhaps we'll never know.
Watch: I once interviewed Hollywood stars Zac Efron and Zendaya, and they definitely weren't rude. 
Who do you think was the rude actor? Comment below.