Emily Blunt and John Krasinski are one of Hollywood's most aww-inducing couples. With their celebrity set up (Anne Hathaway set them up), their talk show swooning, and two adorable daughters, they're just too darn cute.
They're also financially savvy as hell.
In 2016, Blunt and Krasinski took on the role of real estate moguls, selling three homes in the space of just a few months.
The first, a three story estate off Los Angeles's Sunset Strip, sold in July 2016 for $8.31 million to Kendall Jenner. The second, a four bedroom home in the Hollywood Hills, sold for $4.481 million. And finally a third, according to Variety, their 5.17 acre home in Ojai California, sold in December for $3.068 million.

Blunt and Krasinski originally listed the four bedroom, four-and-a-half bath Ojai home (which is about an hour and a half drive from Los Angeles) for $5.434 million. But before you feel bad for them only selling it for almost half that, they paid $2.748 million for it in June of 2012, netting them hundreds of thousands of dollars in profit.
It's good to be them.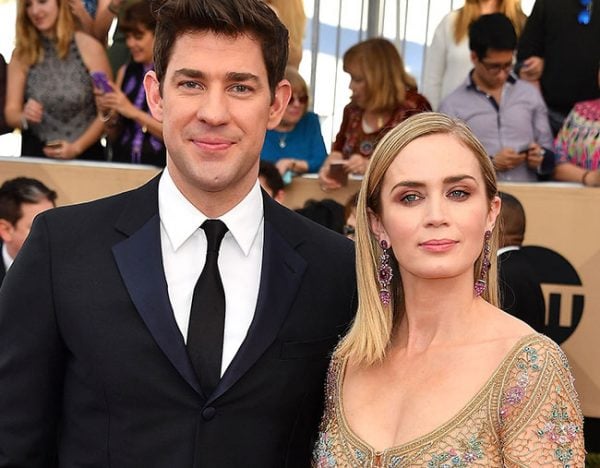 And in typical Blunt/Krasinski fashion, the Colonial style home is classic, adorable, and real.
A curved staircase greets you upon entering the home's foyer. Blunt will soon be starring in Mary Poppins Returns and as we all know the staircase in Mary Poppins was straight, so perhaps she needed a more accurate one to prep on.

The beautiful hardwood floors extend into a formal living room showing off one of four fireplaces in the home.

They continue into a formal dining room as well.

In the kitchen, there's a less formal dining area that looks out onto the backyard.

As well as a multi-level kitchen island that looks perfect for cooking while two small children look on.

Looking out on to the backyard is an office space (not to be confused with a space for The Office) with French doors for an easy escape from work.

And work would be hard when this is right outside:


Back in the house, the bedrooms are comfortable looking



With daughter Hazel's room looking the cosiest of them all.

But now that their second daughter Violet is here, it's on to bigger and better things and homes for the Blunt/Krasinski family.
The couple are now rumoured to be 'flipping' a townhouse in Brooklyn, New York, worth a staggering US$8 million.
The award-winning podcast Mamamia Out Loud is doing their first live show. There will be laughs, disagreements and you can meet the hosts afterwards! We're also donating $5 of every ticket price to Share The Dignity so grab your friends and come along to share the love and laughs, get your tickets here.