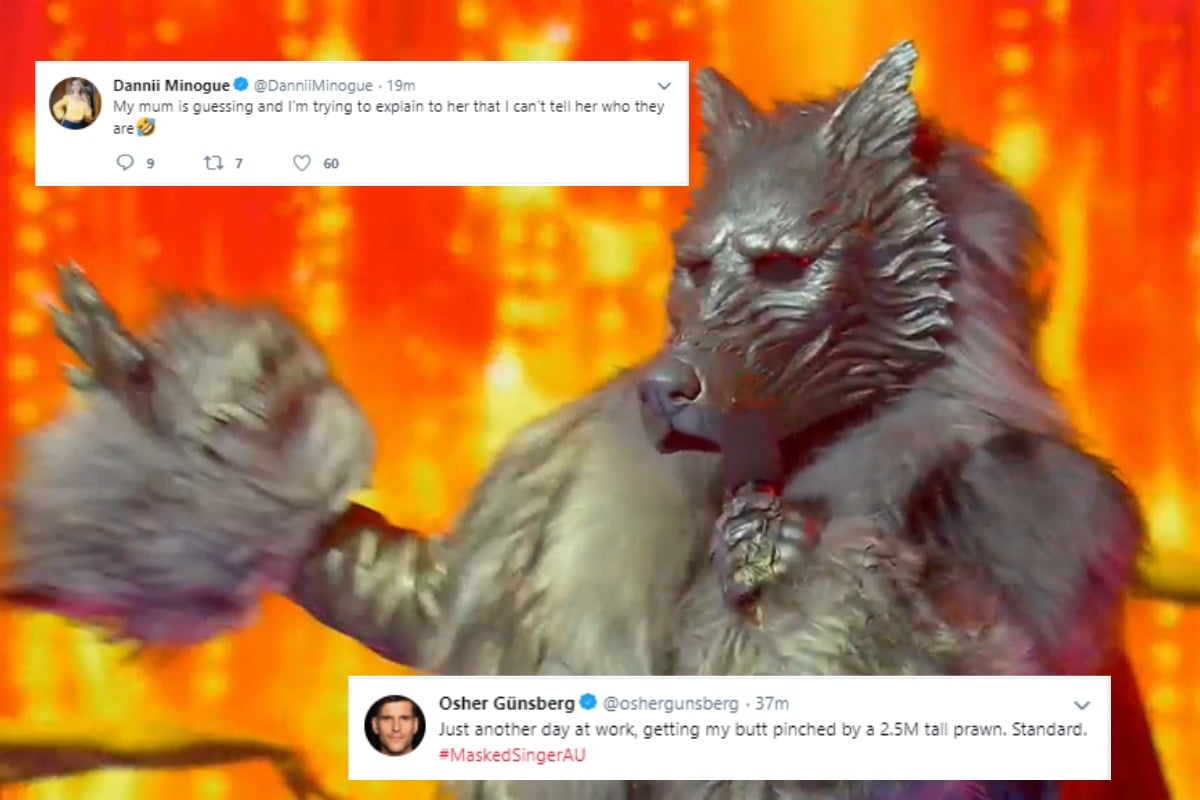 Tonight was the night.
Channel 10's crazy new reality show finally hit our screens and we got to see all The Masked Singer's wild costumes in all their glory.
The first episode was just as we were expecting, hilarious, confusing and… slightly disturbing.
Nevertheless, the show kept us guessing over the hidden identities of tonight's six celebrities, who were unknown to everyone including Osher. Yes, even Osher didn't know.
A promo for The Masked Singer Australia. Post continues below video.
Thankfully we had celebrity judges Dannii Minogue, Jackie O and Lindsay Lohan, who were joined by Dave Hughes at the "cool girl's table", to help us guess who's hiding behind the masks.
We found out it was Lohan's first time in Australia and welcome… what a proud representation of Aussie culture.
In the first round, we saw Prawn battling against Alien. After Prawn took to the stage to sing Elvis Presley's 'Suspicious Minds' and pointed at Minogue, it's believed he could be one of Minogue's exes. Prawn beat Alien's rendition of 'Born This Way' by Lady Gaga, which sadly sent Alien to the elimination round. And um how am I already emotionally invested to this weird show?
The next round saw Robot defeat Octopus by singing James Bay's 'Hold Back The River', which almost brought Lohan to tears. In the final round, Unicorn majestically trotted onto the stage escorted by the creepy FBI agents and sung Ed Sheeran's 'Perfect'. There was no way Unicorn was losing after that entrance, and Wolf was sent to elimination.
That left Octopus, Alien and Wolf to face the verdict of the elimination vote. In the end it was Octopus who received the least number of votes and was forced to reveal their hidden identity.
SPOILER ALERT: Our first ever #MaskedSingerAU was just revealed! Unmasking #OctopusMask in 3…2…1! pic.twitter.com/HRmdSvdYcr

— The Masked Singer Australia (@maskedsinger_au) September 23, 2019