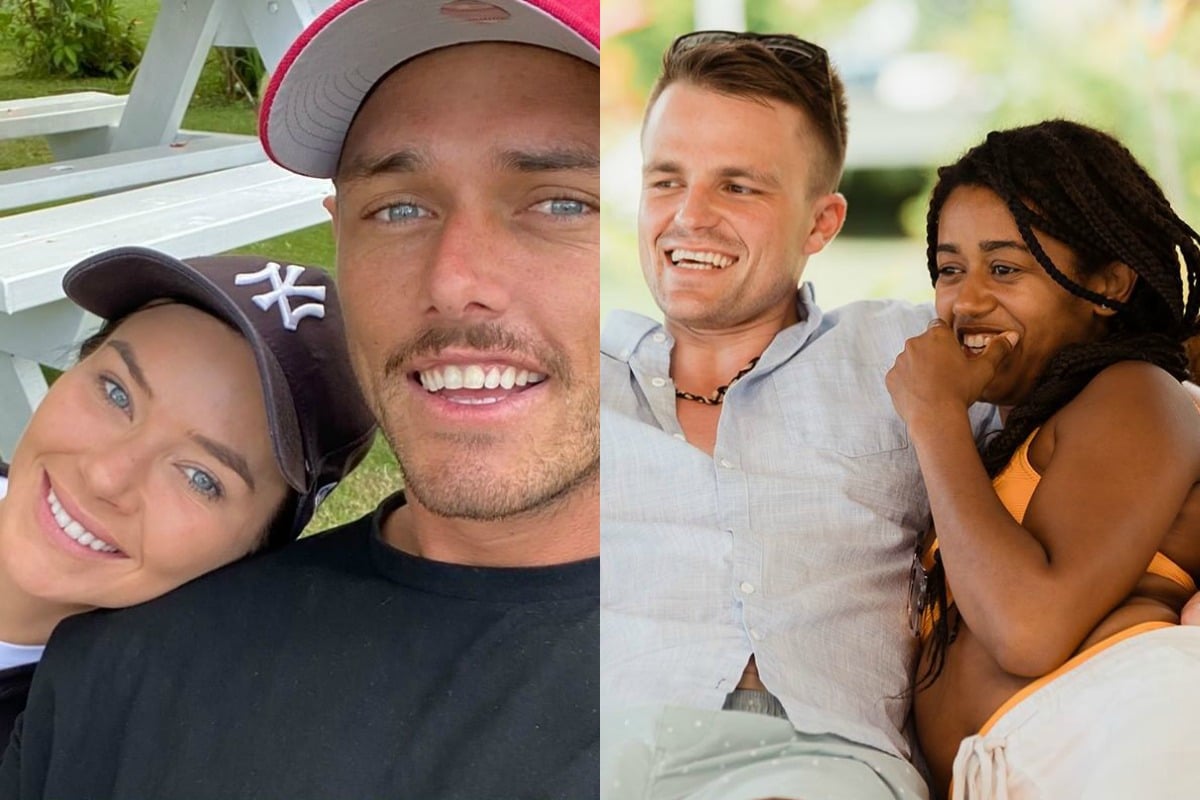 To catch up on all the Bachelor in Paradise Australia 2020 recaps and gossip, check out Mamamia's recaps and visit our Bachelor in Paradise hub page.
It's safe to say that Bachelor in Paradise has taken over our lives and our Instagram feeds in recent weeks.
Watching our favourite Bachie contestants back on our screens wearing Hawaiian shirts is exactly what we need right now.
So far this season, we've already seen endless drama, lies, walkouts and little bit of romance.
But we're no strangers to the perils of reality TV romances, we know that not all the couples will stand the test of time.
So, here's all the evidence about which Bachelor in Paradise couples are still together today.
Timm and Brittany.
They were one of our favourite couples in Paradise but now Timm Hanly has confirmed he is no longer dating Brittany Hockley after leaving the show together last night.
"I'm in a relationship, I'm super happy," Timm told Hobart's Hit100.9 Jimmy & Nath this morning.
When asked if he was in a relationship with Brittany, he responded: "Nah, it's awkwardly not."
He went on to explain that their pair "just didn't work" but "I'm in a really good place now and I'm happy."
The news comes after Timm was seen out and about in Melbourne last month with a woman who was quite clearly not... Brittany.
In pictures shared by the Daily Mail, Timm was seen hugging and kissing a brunette woman, who was later identified as his on and off ex-girlfriend Briana De La Motte.
"This is the girl I was with for like six years before The Bachelorette and we got back together a few months ago," he said on the radio show.
"I think I was just a bit of a loose cannon back then and timing wasn't right."
Brittany explained on her Life Uncut podcast earlier today that Timm was a very different person inside and outside of Paradise.
"Everything he said to and made me feel, the way he was speaking, the things he promised me, none of that translated to the outside world. None. And I was so gobsmacked at the person he became the second we walked outside those doors," she said.
She shared that the pair ended up getting into an argument after Timm went out partying one night and didn't contact her.
"He just wanted to party. He in no way wanted to be in a relationship with anyone... So I was there with him and he basically just left me alone and went partying hard. He just didn't come home one night."
"The next day we had this really big argument I said 'Is this who you are?... cause this isn't the person I signed up for.'
"I said if you want to be with me you need to step up and you got to treat me with some respect and he basically just said 'no, no I can't. This is who I am and I'm not in a place to be with you.'
"And I was like 'why did you ask me five days ago to leave Paradise with you because all you want to do is be with me?'... I just felt like none of it was real like it was just a big trick," she continued.
A few days later, Brittany said she reached out to him but he didn't respond. It was only until Bachelor In Paradise aired that he contacted her and later apologised.