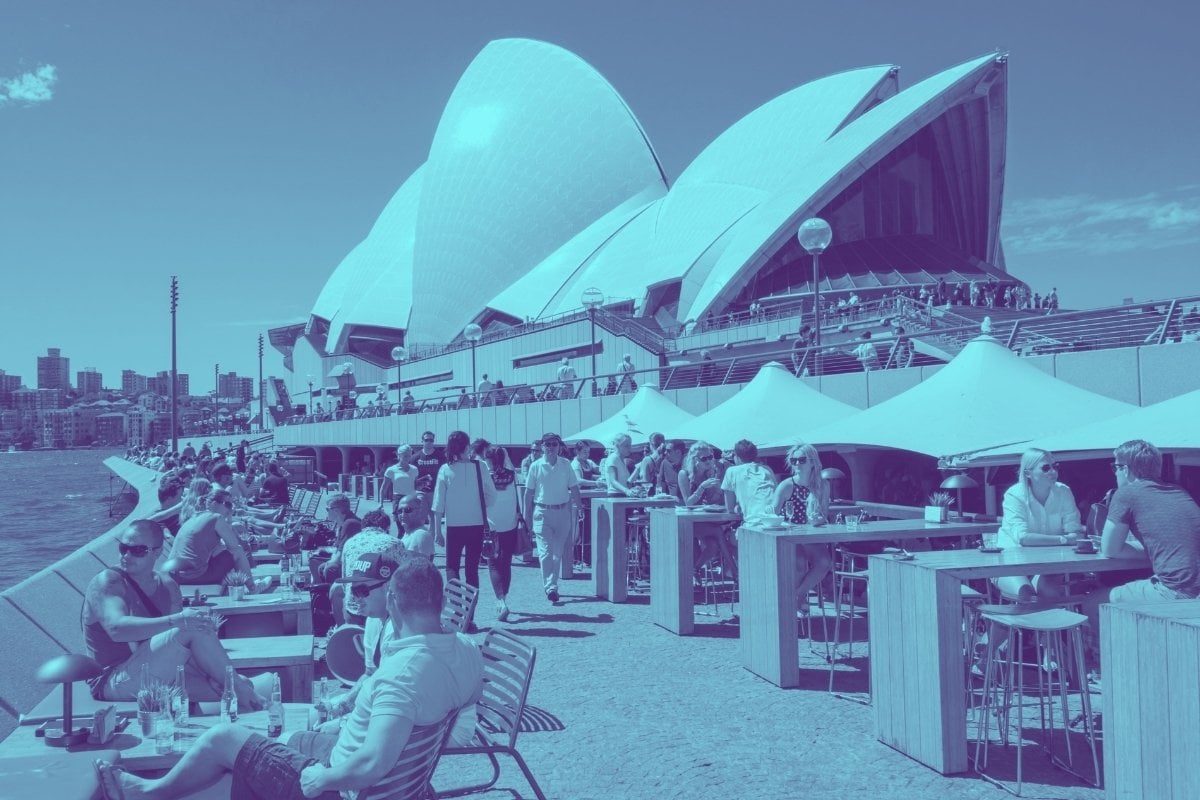 Fully vaccinated residents of NSW will likely benefit from eased restrictions in late October, under a plan announced on Thursday by the state's premier, Gladys Berejiklian.
All of NSW is currently under stay-at-home orders in an effort to contain soaring cases of the Delta variant of COVID-19, which emerged in Sydney back in June. 
But under the new 'roadmap' out of restrictions, those New South Welshmen who've received both doses of a coronavirus vaccine will be back to sipping drinks in bars, dining at restaurants, and even working out at gyms before summer.
Here's what you need to know about what will change in NSW.
When is lockdown ending in NSW? And what is reopening?
For several regional areas including Mid North Coast, the North Coast, the Riverina and Murrumbidgee, lockdown will end at 12:01am Saturday. That means the reopening of schools, hospitality venues, shops and more under strict capacity rules. (See here for details.)
For the rest of NSW, however, there is no set date for the end lockdown. 
The easing of restrictions instead hinges on 70 per cent of the state's eligible population (currently, those aged 16 and over) being fully vaccinated.
Speaking to the media on Thursday, Premier Berejiklian said that the Monday after that milestone is reached the following will change — but only for fully vaccinated people over 16 and those with a medical exemption.
Gatherings:
Up to five visitors will be allowed in a home (not including children 12 and under).
Up to 20 people can gather in outdoor settings.
Hospitality and retail:
Hospitality venues can reopen subject to one person per 4sqm inside and one person per 2sqm outside, with standing while drinking permitted outside.
Retail stores can reopen under the one person per 4sqm rule.
Beauty services:
Hairdressers and nail salons can open with one person per 4sqm, capped at five clients per premises.
Gyms and sport:
Gyms and indoor recreation facilities can open under the one person per 4sqm rule and can offer classes for up to 20 people.
Sporting facilities including swimming pools can reopen.
Recreation and events:
Major recreation outdoor facilities including stadiums, racecourses, theme parks and zoos can reopen with one person per 4sqm, capped at 5,000 people.
Up to 500 people can attend ticketed and seated outdoor events.
Indoor entertainment and information facilities including cinemas, theatres, music halls, museums and galleries can reopen with one person per 4sqm or 75 per cent fixed seated capacity.
Weddings, funerals and places of worship:
Up to 50 guests can attend weddings, with dancing permitted and eating and drinking only while seated.
Up to 50 guests can attend funerals, with eating and drinking while seated.
Churches and places of worship to open subject to one person per 4sqm rule, with no singing.
Aged care:
Up to two visitors will be permitted.
Travel:
Caravan parks and camping grounds can open.
Carpooling will be permitted.
Residents will be permitted to travel around the state.
Masks:
Masks will remain mandatory for all indoor public venues (except for children under 12), including public transport, front-of-house hospitality, retail and business premises, on planes and at airports.
Hospitality staff will be required to wear a mask when outdoors.
Work:
Employers must continue to allow employees to work from home if the employee is able to do so.
Employees of reopened venues will need to be fully vaccinated.
When will schools reopen in NSW?
Schools will reopen on October 25, no matter whether the state has hit the 70 per cent threshold. 
"It is really important for school communities, for students and teachers to have a fixed date they open to provide certainty," the Premier said.
"But for adults, we have the capacity to be more flexible and make sure that that date of starting the reopening isn't triggered until there is 70 per cent double dose vaccination."
When will NSW reach 70 per cent fully vaccinated?
As of Thursday, 42.5 per cent of eligible NSW residents are fully vaccinated, while 75.5 per cent have received their first dose.
At current rates, NSW should reach the 70 per cent fully vaccinated milestone around October 19.
How will people prove their vaccination status?
Entrance to venues will be based on a 'vaccine passport'/QR code system. 
The final details are yet to be released (a trial rollout is reportedly due to begin in some areas next month), but these 'passports' will likely be stored on the NSW Services app.
The Premier said on Thursday that, "If you want to go and buy something which is regarded as a non-essential shop, you will put up the QR code and if it is not a green light saying you have been vaccinated, you won't be welcome inside."
Listen: The Quicky speaks to an expert epidemiologist to discuss what the realistic options are for all Australians as the outbreak continues to spread. (Post continues below.)