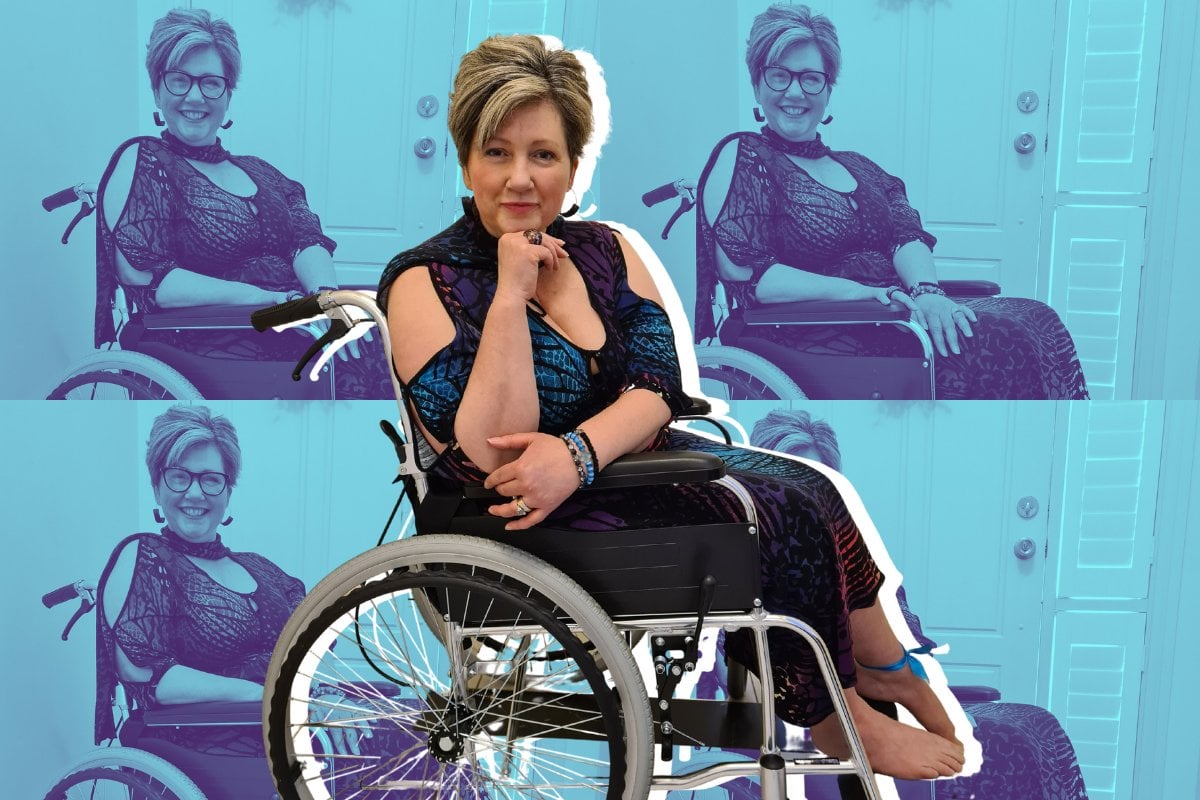 Dear business owner,
I am writing to you to enlighten you about how your business makes me feel. Let me explain first who I am, so you can get the full picture.
I'm a mother, a wife, a friend, a daughter. I am also someone who has had Stage 4 Cancer for over four years, and this year I was diagnosed with Motor Neurone Disease. 
I also have a large circle of friends and family who like to eat out and enjoy life together. We are busy "making memories" - and would like to do so in your establishment - but since becoming wheelchair-bound this year, things have sadly changed. 
Listen to The Quicky's episode on the reality of life with a disability in Australia. Post continues after audio.
Simply getting a cuppa with a girlfriend is now a big undertaking.
I'm not even going to get into the logistics of what it takes to get dressed, in the car, find a park, get back into my wheelchair and even make it into your fine establishment, because frankly it's a big task and I'm often exhausted before I've even had my first sip of your thoughtfully brewed coffee.  
Understand, I've made a big commitment to spend money at your business, and because of my experiences I've learnt that my preparation needs to start long before I even pick out my outfit. 
In fact, I now start my preparation weeks before I commit to trying your venue.
These preparations include phoning you and your staff and asking you the following questions:
1. Do you have wheelchair access?
2. Do you have a disabled toilet?
Fairly basic questions, I would have thought - especially in this day and age where being inclusive is something we are all aware of and embrace. 
Here are some of the answers I've received:
1. "Yes, we have a ramp out the back, but sorry no disabled toilet or parking space." 
2. "No, we don't have a ramp, but you can dine outside on the footpath. But yes, we do have a larger toilet than normal that I'm sure you could use."
Try to do the brain gymnastics with those answers.
Heads up: Answers like this usually stop me from wasting my time trying your establishment. 
Now from some of you, I do get the all important 'green light' - a "YES" to both questions! 
Brilliant - I'm booking a table.
However, I've sadly learnt through some pretty horrific instances that my two questions are clearly not enough to ensure I have a safe, clean and comfortable experience at your business. 
My most recent experience in a disabled toilet was at a restaurant. I'd rung ahead as usual to ensure the place where I was taking seven other people would also suit my special needs. The friendly staff member assured me they had a suitable inside table for us, and a disabled toilet within easy reach to use after our meal. On arriving I double checked that the disabled toilet was still available and was assured it was, I just needed to ask for the key. 
After enjoying a lovely meal and drinks, it was time for me to ask for the key. Our first clue that things weren't up to scratch was that we couldn't even get into the toilet without our waitress needing to move an outside heater and dozens of pairs of staff shoes that littered the entryway.