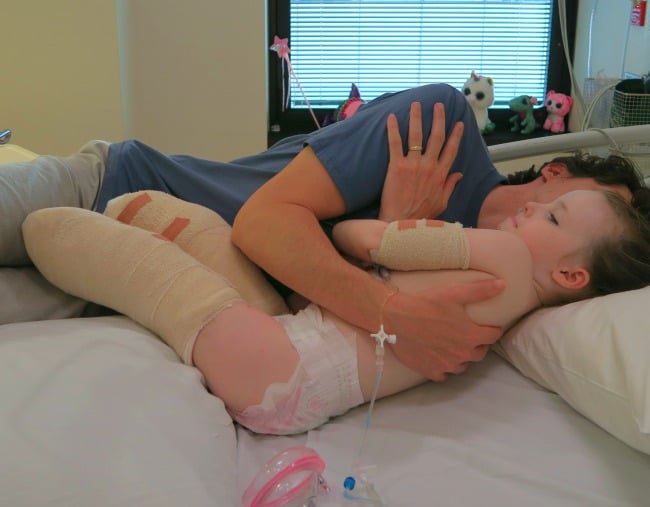 For most of last year, Mia Wilkinson was much like any other four-year-old Aussie girl. She loved to do gymnastics jumps, to splash in the pool and, best of all, she'd just mastered riding a bike.
But in October, the Brisbane girl became devastatingly sick with life-threatening sepsis. It would take just 48 hours for the illness to stop Mia's heart, to put her on life support, and to prevent blood from ever flowing again to her hands and feet. Mia, now age five, will live the rest of her life as a quad amputee.
She is one of the 18,000 Australians who are diagnosed with sepsis annually. It's an illness that kills about 5000 people each year – more than the national road toll. And of those that survive sepsis, half are left with a disability or a lifelong impairment.
Mum-of-three Amy Wilkinson recalls the first sign something was wrong with Mia was on the afternoon of Friday, October 13. Mia had a tummy ache and had become lethargic. By the evening, she was vomiting and had some diarrhoea.
On Saturday, she woke up sicker than her parents had ever seen her, so they took her to the GP. She was diagnosed with gastro and given anti-nausea medication.
Still, things only worsened, and that afternoon Mia was disorientated, unable to focus and incoherent. She also developed pain in her legs preventing her from standing or putting any weight on them. Amy said this is when she and husband Peter began to feel "scared".
"This wasn't right. This isn't how children behave," Amy told Mamamia.
They went to hospital, where she was diagnosed with influenza B, before being sent home with a gastro pamphlet.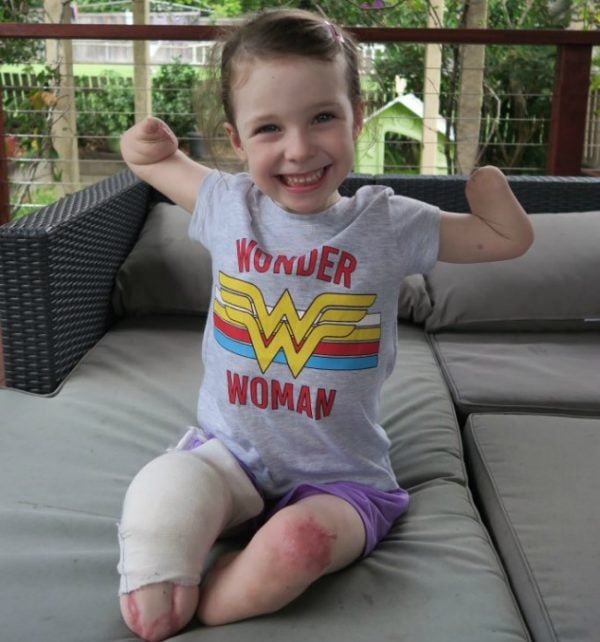 Then on Sunday, Amy spotted a light, purple rash on her daughter's leg.
She immediately rushed Mia to the hospital emergency department. It's a decision that saved her daughter's life.
"The nurse walked us in, she saw something we didn't. It escalated very fast from there," Amy said.
"We had no idea how bad things really were until we arrived at the hospital.
"We'll never forget that scene. Mia was on a bed in the middle of the room surrounded by doctors, nurses and equipment."
Mia was transferred to intensive care, where medical staff struggled to get the IVs in because of her low blood pressure.
"We found ourselves trying to hold Mia still while the nurses tried and failed to get a needle into the veins in her hands. Mia hated it. It haunts us that the last time Mia could feel us touch her hands was when we were holding them down trying to help the people trying to save her."
Mia was soon diagnosed with sepsis - her body's immune response to influenza A, influenza B, respiratory syncytial virus and an invasive streptococcal A bacterial infection.
Amy said Mia was sedated on life support for six days, with the support of a breathing machine, a dialysis machine and dozens of different medications to keep her alive.
Amy and Peter were terrified they were losing their little girl.
"You feel helpless, you don't know what's going on, and you feel like you're watching your child dying," Amy said.
On October 25, Mia's lungs were finally able to function on their own, and she was woken up. Her parents were relieved their daughter had survived the ordeal. She was returning to her bubbly self, but it had become clear that she would need amputations - this was still only the start of her journey.
One of the effects of the medications that treat sepsis is a reduction in blood flow to a patient's arms and legs. So while the drugs were keeping Mia alive, they were contributing to the death of her hands and feet.
Amy and Peter said they watched as her hands turned a really dark, purple-like black while she was asleep. After waking, they continued to blacken, shrivel and die.
A scan showed there was no blood circulating past her mid-calf and mid-forearm.
"To see such definite cut off points on the scan images was devastating. The scans confirmed our little girl would lose so much," Amy and Peter said.
"We told her that she would need to have her hands and feet amputated. She asked us why. We told her that her hands and feet were sick and they would make her sick again."
Mia's arms were amputated on November 10, and legs on January 3. Amy and Peter both recall the first surgery as being the hardest.
"After her hands were amputated, she was crying, 'I didn't want them to take my hands'. I was just crying with her. As a parent, you just want to protect your kids," Amy said.
Peter had a different recollection.
"I was in the ward with her and she was crying, and I asked her what's wrong. She replied, 'how will I play with (big sister) Ellie?'. I said, 'we'll get you some new hands, and they won't be the same as your old ones, but we'll find a way'," Peter said.
And 'finding a way' is exactly what Amy and Peter have set out to do for their daughter.
Despite her hardship, Mia remains as bright and cheerful and beautiful as ever. Her wounds have healed, and she started Prep in January. Her resilience never fails to amaze her parents.
Her weeks are still punctuated by various medical appointments, but she has learnt to write with her arms, use her iPad, feed herself, crawl around the house, and zoom about in her power wheelchair.
"The last 10 months have been filled with so much heartbreak and challenges but also so many inspirational achievements... We are so proud of our little girl and love her to the moon and back."
She recently started the process of prosthetics, but her parents know the road ahead is both long and expensive. They want to be able to give their daughter the best technology possible, particularly when she reaches an age where she asks for new arms and legs.
To do so, they launched Movement for Mia to help fund prosthetics as well as lifelong medical treatments, house and car modifications, and other equipment. They have a fundraising goal of $100,000, and they have currently hit about half of their target.
They also hope to raise awareness of sepsis, warning "this could happen to any family".
"Parents need to know about sepsis – it takes lives but it can be overcome if detected early," Peter and Amy said.
A report released recently by the George Institute for Global Health states that sepsis treatment across Australia's health system is far too fragmented, resulting in a poor level of public awareness.
The report, Stopping Sepsis, sets out a national action plan with four key recommendations, including establishing a national public awareness campaign; providing more community and peer support services for victims; implementing a national clinical standard for sepsis detection and treatment; and, setting up a national sepsis body to drive the campaign and coordinate research.
To support Mia Wilkinson's cause, please visit Movement For Mia.
For more information on sepsis, visit the Australian Sepsis Network.