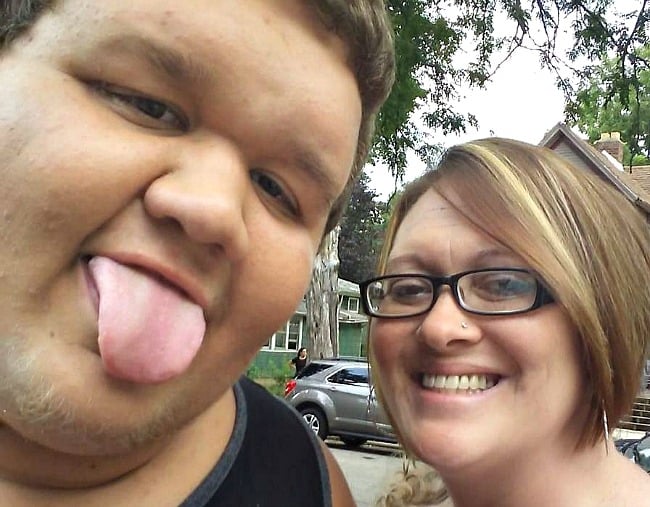 With her 18-year-old son fighting for his life in hospital, Michigan woman Crystal Fisher texted her manager at PS Food Mart to explain that she wouldn't be able to make her shift in 48 hours' time.
"Hi Dawn, this is Crystal. Just letting you know my son is still on life support so until he is out of the bad I will not be able to make it to work…"
A short time later, came the reply: "This isn't how we do things, so I'll accept that you're quitting."
The exchange that followed has attracted more than 42,000 reactions and 18,000 comments since Fisher shared the screenshots to Facebook.
The images capture the boss, identified only as Dawn, telling Fisher, "I've been more than accommodating during this allowing schedule changes and such. There is no reason you can't work and I will not tolerate drama."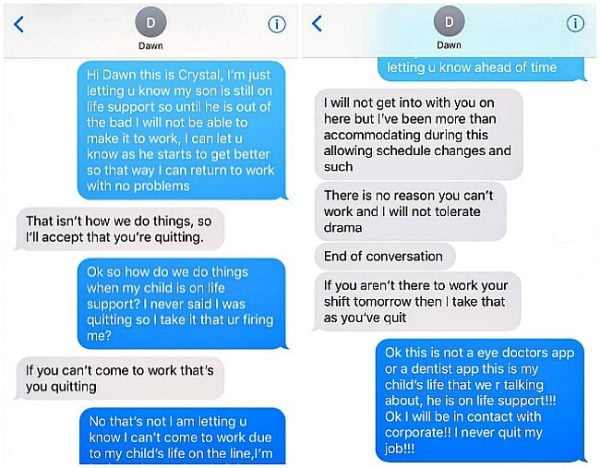 Fisher told local West Michigan news outlet, WWMT, that she had rushed her son, Jason, to hospital in Oaklawn on Thursday, and he was transported to C.S. Mott Children's Hospital in Ann Arbor that evening.
She said it's unclear what led him to become unwell, but doctors suspect cellulitis sepsis.
"They wouldn't let me in the room," she told WWMT. "I didn't know what was going on, how my son was or nothing. Finally, a doctor came out and said they had to put him on life-support."
Fisher said her manager at the Folk Oil-owned petrol station showed "no compassion or sympathy at all" in the subsequent text message exchange.
According to her screenshots, Fisher wrote, "Would you be able to go to work and function if your child was on life support?"
"Yes I would, I still have bills to pay," the manager replied. "We don't get to come and go as we please at Folk Oil. I have a store to run and that's my focus."
In a statement posted to social media, PS Food Mart and Folk Oil Company said the companies were in "complete agreement" that the manager's treatment of Fisher was "not acceptable".
"We investigated and have found that the situation was handled improperly and without the compassion that we value as a company. For that, we are very sorry," the statement read.
"As a result of this finding, we took quick action and that manager is no longer employed by PS Food Mart. We have also reaffirmed to our employee that she will be able to take all the time off that she needs during this difficult period.
"We'd like to thank the public for their concern."