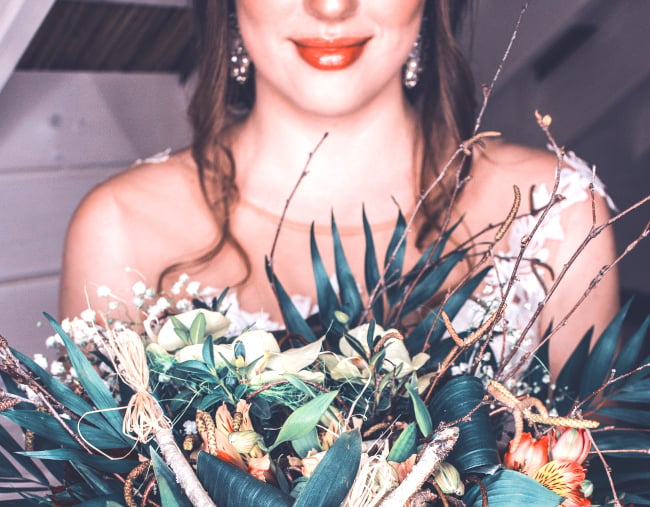 Picking out your wedding flowers has to be up there at the top of your wedding to-do list along with 'find a wedding dress' and 'don't become a bridezilla'.
For some brides, flowers are their thing.
Others aren't really sure where to start, aside from walking into a florist or falling down a Pinterest/Instagram rabbit hole.
In a casual conversation with a colleague about wedding flowers (as you do), she mentioned how the timing of her wedding meant she couldn't have her dream bridal bouquet.
'I'd always wanted red roses for my wedding, only I got married in February… my florist told me I had bugger all chance of getting them thanks to Valentine's Day,' she said (or something to that effect).
This kind of wedding planning dilemma begs the question:
What flowers are in-season and readily available during your wedding month?
To find out (and to help you avoid disappointment), I asked the flower fanatic and floral designer behind Lilli-Anthus Floral Design, Leigh Sexton, for the flowers you can depend on for your bridal bouquet and wedding flowers based on the month you're getting hitched in.
Side note – here's everything you need to know about planning your epic wedding party from people who've been there, done that. Post continues after audio.
Want to hear to more? Subscribe to Hitched here.
The Adelaide-based florist and wedding/event stylist said with more and more beautiful products coming from overseas (think Amsterdam, Japan and South America), it means floral designers are able to get their hands on stunning blooms out of season. There is never a guarantee on quality, though.
"The lines are very blurred on seasons sometimes, as it's all weather dependant and some varieties can be grown later or earlier if grown in a glasshouse," she told Mamamia.
That said, here's Leigh's round up of the most popular and readily available flowers for each season:
Best wedding flowers for summer
Getting married in December, January or February? Ask your florist about the below:
Hydrangea
Peonies
Delphinium
Queen Anne Lace
Amaranthus
Lisianthus or Prairie gentian
Tuberrose