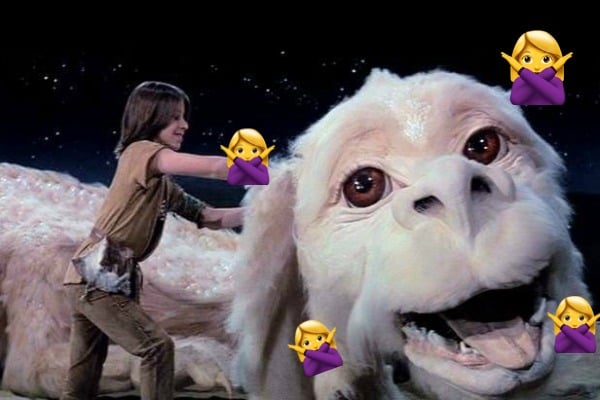 When you think of the film The Neverending Story, does your heart fill with warmth and nostalgia, or are you left with a chill down your spine from the profoundly terrifying subject matter portrayed within it?
Maybe it just instantly inserts the theme song into your mind to be stuck for the rest of days.
(Honestly, we fear we might be humming it on our death beds).
Watch Dustin and Susie sing the Neverending Story theme song on Stranger Things Season 3. Post continues after video.
If you do have fond memories of the 80's German fantasy film, you may want to avert your eyes so not to taint these memories. Because it's f*cked.
And we have strong feelings about it.
Here are eight extremely valid reasons why:
1. It's deeply, deeply depressing.
Darkness looms within every scene of this cinematic classic.
It follows the story of a grief-stricken 10-year-old who attempts to save a crumbling fantasy world from disappearing into a void of pure nothingness.
So it basically revolves around an impending slaughter of hopes, dreams and imagination, which is cool.
In one scene that was almost certainly written by stoners, the Rockbiter is transfixed by his hands, staring obsessively and remarking that they are indeed big, strong hands.
Then, he recalls how they failed him the time he tried to save his friend from falling into The Nothing, as he slipped from his grasp.
Oh.
'The Nothing' is the inevitable end every character knows is lurking, which casts a shadow over… all of them.
"The Nothing will be here any minute. I will just sit here and let it take me away to," The Rockbiter says in one scene.
See you at the My Chemical Romance concert, buddy.