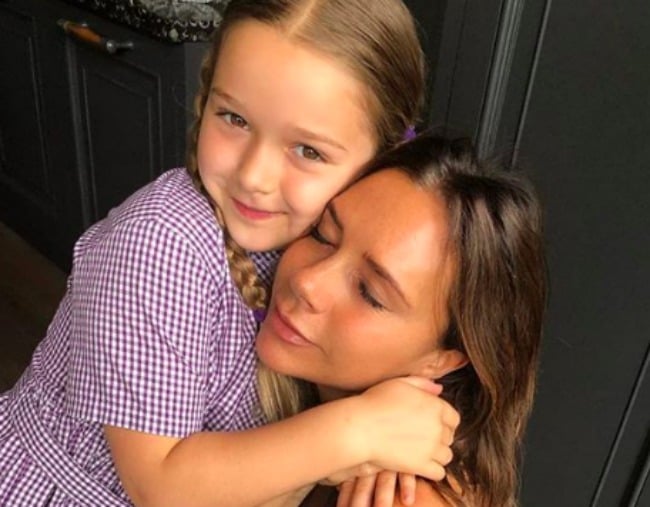 For mum-of-four Victoria Beckham, there's one inspiring piece of advice she likes to give her six-year-old daughter Harper every single day.
Speaking at the Forbes Women's Summit in New York last week, the fashion entrepreneur shared how she encourages her youngest child to chase her dreams.
According to Harpers Bazaar, Victoria shared: "I say, 'Harper, you're a girl, you can achieve anything. You can do anything that you want to do.'"
Victoria, who has long been a campaigner for women, went on to explain why she constantly shares this message with her daughter.
"She knows she can do everything and probably more than her brothers can. We talk about it a lot. She wants to be an inventor and she's very proud of that. She's a strong smart woman – little woman," she said.
As a strong supporter of UN Women, Victoria added: "Regarding girl power, I am still banging on that drum, and I'm not going to stop."
Six-year-old Harper is David and Victoria Beckham's only daughter. She has three older brothers, 19-year-old Brooklyn, 15-year-old Romeo and Cruz, 13.
Victoria also opened up about how the fashion world didn't take her seriously at first – a factor which has moved her to constantly encourage her daughter to chase her dreams.
"I was a Spice Girl married to a footballer," she said. "But the clothes spoke for themselves."
44-year-old Victoria also laid to rest rumours that she has split with her husband of 19 years, footballer David Beckham, praising him for his constant support.
"I'm so lucky that I have the support of an incredible husband. He has always encouraged me to follow my dreams and passion," Victoria shared at the summit.
"We really are equal in everything we do at home with the children. He makes it possible."
The pair recently issued a statement, telling the world that they weren't getting a divorce after a false rumour that a divorce was in the works spread online.