1. David Beckham just mocked how wife Victoria Beckham looks on a treadmill and… well… he has a point.

Look. We don't mean to judge Victoria's exercise style, as we do know exercise to be an individual experience for all, but we have to ask: What are you doing with your arms, Posh?
Take a look for yourself.
David Beckham trolling Victoria on the treadmill ???? ???? pic.twitter.com/cIw33lGEmA

— Heart (@thisisheart) May 30, 2018
As evident in the video, Victoria's arm movement is rather unconventional, and isn't quite what we'd expect from the suave, put-together businesswoman. Even her husband seemed somewhat surprised by the out of character behaviour – so much so, he kindly filmed it for the rest of us to witness. We can always count on you, David.
Who needs arm weights when you have Victoria Beckham and good old fashioned gravity?
2. It's official: Kim Kardashian does not give a crap what anyone thinks about her weight loss endorsements.
So remember the backlash when Kim Kardashian accepted sweet cashola to advertise appetite suppressant lollipops on her Instagram account to her millions of young, impressionable followers? Well, perhaps she herself has somehow forgotten, because behold, ladies and gentleman, for she has done it again.
How I maximize fat loss https://t.co/Bvgpz1QerJ

— Kim Kardashian West (@KimKardashian) May 29, 2018
KIM, PLEASE. We know you accredit your huge success to your savvy business skill set, and we certainly acknowledge its existence, we do. But approximately zero people asked for this. Okay, maybe one person did… if Kris Jenner counts.
We also know our advice probably won't have much of an impact at this point, so we'll just leave you with this tweet that perfectly reflects how 99 per cent of the public feel right now (the other 1 per cent being Kris Jenner and her expansive social circle):
Your timing I swear… pic.twitter.com/e8k7vQhU7z

— WitchyKilljoy (@JJovana) May 29, 2018
3. Farrah Abraham's daughter drinks 'gold-flaked apple juice'. Yes. That's right. Gold-flaked.

For those unfamiliar with 26-year-old Farrah Abraham, the Iowa native came to the public's attention when she was cast on a little reality TV show called 16 and Pregnant in 2009.
And now Farrah and her nine-year-old daughter, Sophia, are currently staying at seven-star luxury hotel (apparently five stars is so mediocre now) the Burj Al Arab Jumeirah hotel in Dubai. Most importantly, they're sipping on 'gold-flaked' apple juice.
Yep, we hear it's the new apple pop top in children's juice trends.
According to tourist website Lovin Dubai, a bottle of the liquid gold will set you back $200 AUD, proving that this nine year old's beverage habits are much more extra than yours.
While we take a strictly 'you-do-you' approach to parenting and think both Farrah and Sophia can sip on all the gold-flaked fruit juice their hearts desire, at $200 a bottle, we can't help but think of all the avocado toast that we would buy.
But each to their own.
4. Jackie O's real name is uttered so infrequently, not even Kyle Sandilands knew it.
You might know her as one half of radio power couple Kyle and Jackie O, but Jackie 'O' Henderson isn't actually the real name of the 43-year-old.
According to her IMDB profile, the presenter's real name is actually Jacqueline Ellen Last; she actually acquired the moniker we know her by today through a previous marriage.
In 1994 Jackie married her then radio co-host Phil O'Neil and kept his surname after their divorce. Although she later married her current husband Lee Henderson in 2003, media articles dating back to the late-2000s still continued to reference her as Jackie O'Neil.
And there you go… a brief history on the many names of Jackie O. Wasn't that a whirlwind?
5. Why so many people have very strong feelings about Meghan Markle's 'nude' tights.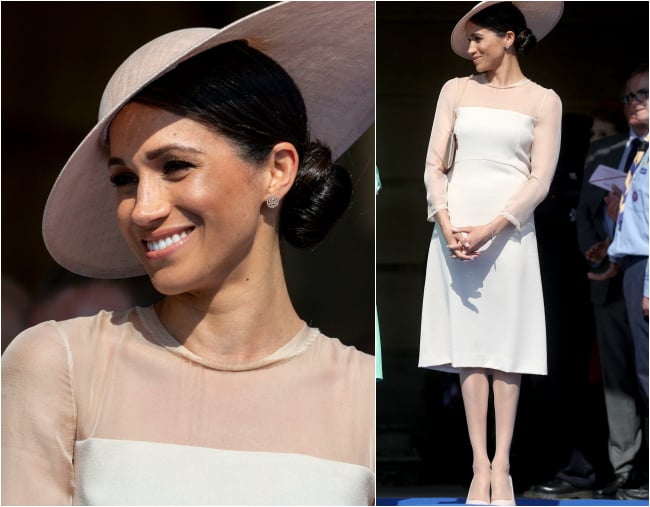 Meghan Markle stepped out in pantyhose for Prince Charles' 70th birthday last week and we are still talking about it.
Why? Well, at first it was because she never wore pantyhose before she became a royal (as we pointed out here). But now the debate has moved on to the colour of said pantyhose.
People are not happy Meghan is wearing tights (because it's rumoured to be a mandate from Queen Elizabeth) but they are far more unhappy that her tights do not match her skin tone.
You can read the full story here.