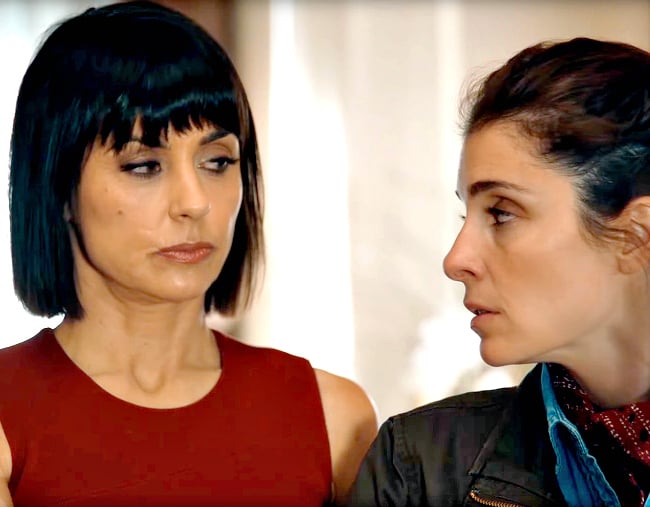 UnREAL has always been one of my favourite shows, but I felt the love waning a little during season two of the popular series.
I spent all 10 episodes of season one lying in an incredibly uncomfortable position on the couch, jaw grazing the carpet as I watched the likes of Quinn, Rachel, Chet, Jay and Jeremy being truly horrible humans for the first time.
Then somewhere along the way, I'm ashamed to say I drifted out of season two a little, my attention divided between the show and my Instagram feed.
But the second Rachel's scuffed up converse stepped back onto the Everlasting set for season three, I fell laptop first back into the wonderfully effed up world of UnREAL. Because this show is back with vengeance.
Watch the trailer for UnREAL season three below. Post continues after video.
The third season of former Bachelor US producer Sarah Gertrude Shapiro and Marti Noxon's behind-the-scenes look at reality TV dating starts six months on from where season two left us.
After a very messy incident – UnREAL fans will know what I'm on about but if you also dipped out of season two, just know it was reeeeally messed up – Shiri Appleby's Rachel retreated to a simpler life of repentance on a farm. With sheep.
Which is going great, until her former boss Quinn pays her a visit to ask her to return to work on Everlasting.
She agrees, thinking her sense of zen will be able to withstand the pressures of creating reality TV love.
It doesn't take long for the rush of success and power to lure Rachel back into doing things she deep down knows are wrong.
But remember, I kind of wasn't paying attention in season two, you say. Do I have to go back and re-watch it before digging into season three?
Short answer, no. Because the latest series stands on its own just fine.
Side note – UnREAL seems awfully similar to The Bachelorette. Is there a link there? We discuss, on The Binge. Post continues after audio.
The thing that makes UnREAL season three so bingeable is having the two female leads, Rachel and Quinn, reunited.
At a special live Stan event during her recent tour of Australia, Quinn's portrayer Constance Zimmer told Mamamia's Entertainment Editor Laura Brodnik that Rachel and Quinn are the show's true love story. And that the relationship between these two characters is at the crux of what makes this show so good.
Although the power dynamic between them shifts back and forth, Zimmer says it's when they're on the same team that the show really sings.
Oh, and this year Everlasting's suitor isn't a suitor at all. She's a suitress.
Finally UnREAL's fictional narrative has caught up with what we've been used to watching on The Bachelorette for years, featuring Everlasting's first ever female lead in Serena (Caitlin Fitzgerald).
And for a show that, as Zimmer put it, has typically focused on and poked fun at the women, the characterisation of the male contestants is something we haven't seen from UnREAL before.
So if, like me, you unintentionally found season two of UnREAL just a bit too, well, un-real, come back for season three. Because it has really heated up.
You can watch season three of UnREAL on Stan right now, with new episodes dropping weekly. The first two seasons of the show are also available to stream. 
To listen to the full interview with UnREAL star Constance Zimmer, make sure you subscribe to Mamamia's entertainment podcast The Binge before the special episode drops next week so you don't miss out.