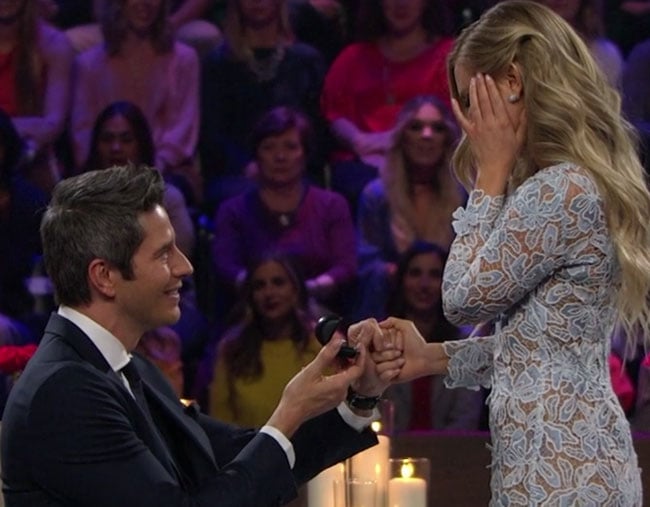 Just over 24 hours ago, the world watched on as the latest US Bachelor, Arie Luyendyk Jr., propose to 27-year-old Becca Kufrin.
Then we watched in horror as he… un-proposed… surprising Becca with the revelation he was in love with another woman (his runner-up, in fact) and that he would rather "take his chances" rekindling that relationship than stay engaged to her.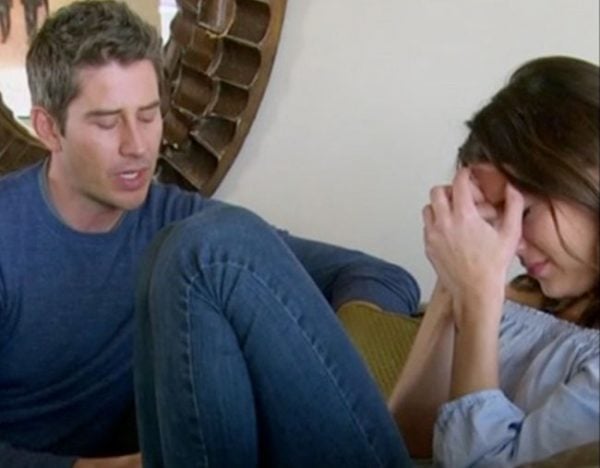 Of course, the entire thing was filmed and aired for millions of people to see.
While it may have felt like Arie had done enough to win the world's wrath, he wasn't done yet. Oh no.
Because last night, on the show's famed After The Final Rose special, Arie once again dropped to his knee and proposed.... this time to Lauren Burnham.
Watch Arie propose to Lauren on The Bachelor: After The Final Rose in the video below.
"I've made some bad decisions," Arie began, taking Lauren's hands in front of a live studio audience.
"But the best decision was running back to you. I can't imagine a life without you... I truly believe you are my soulmate.
LISTEN: Notorious hookup show Bachelor in Paradise is coming to Australia, and we can't wait for the drama. Clare Stephens and Laura Brodnik discuss on The Binge. Post continues after audio.
"I want to do this in front of everyone because I want to you show you that I should have done this a long time ago...Will you marry me?"
As approximately three people in the audience applauded, Lauren replied: "Definitely".
It was not what anyone was expecting: two days, two women and two proposals. And all while Arie's ex, Becca, was waiting in the wings, watching the whole thing unfold.
Naturally, Twitter had a few things to say about the whole mess:
#TheBachelor I hope Arie had to pay for this engagement ring.

— Joseph Jaffa (@JJaffa) March 7, 2018
I feel disrespected for Becca! They really let him propose while she is in the same building, it is never ending!!!! #thebachelor pic.twitter.com/g9V36QPAFT

— Lyinda ???????? (@LyindaLynn) March 7, 2018
He just proposed in front of his ex-fiance though.... #TheBachelor

— Amanda Blakeslee (@AmandaReneex3x3) March 7, 2018
Everyone in the audience at #AftertheFinalRose #TheBachelor pic.twitter.com/c91Gl2dSYg

— Katie Beck (@katiezbeck) March 7, 2018
I cannot think of a more tacky way to get engaged #thebachelor #afterthefinalrose

— Emily Wessel (@EmWess) March 7, 2018
It was certainly not the ending anyone could have predicted 48 hours ago. And many were hoping that the second part of the Bachelor finale would feel a little more like... justice.
Some (okay, mostly me) were praying that Lauren would unceremoniously dump Arie on live television. But instead, she praised him for handling the entire "situation" so "respectfully".
"The one thing that is present right now to me is just his bravery and his honesty, and I think that he did an amazing job at handling this whole thing," Lauren said on the TV special.
"He couldn't have gone about it in a more respectful way, and I'm really proud of him."
But perhaps Becca did get the payback she so desperately deserved: she's just been announced as the US's very next Bachelorette.
Plus, she dodged a bullet and didn't have to marry Arie. ¯\_(ツ)_/¯
At Mamamia, everyday is International Women's Day.
Through Dress for Success' Empower Hour campaign, it takes just a few minutes to change a woman's life forever. Donate an hour of your pay this International Women's Day and set a woman on her path to success by visiting empowerhour.org.au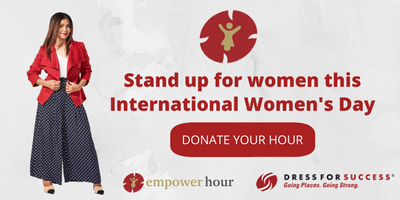 Mamamia has also partnered with Room to Read, where you can keep a girl in school for just $1 a day. Educating women and girls is widely understood to be the most powerful and effective way to address global poverty.
You can help make the world a better place for women and girls by donating at www.roomtoread.org/mamamia