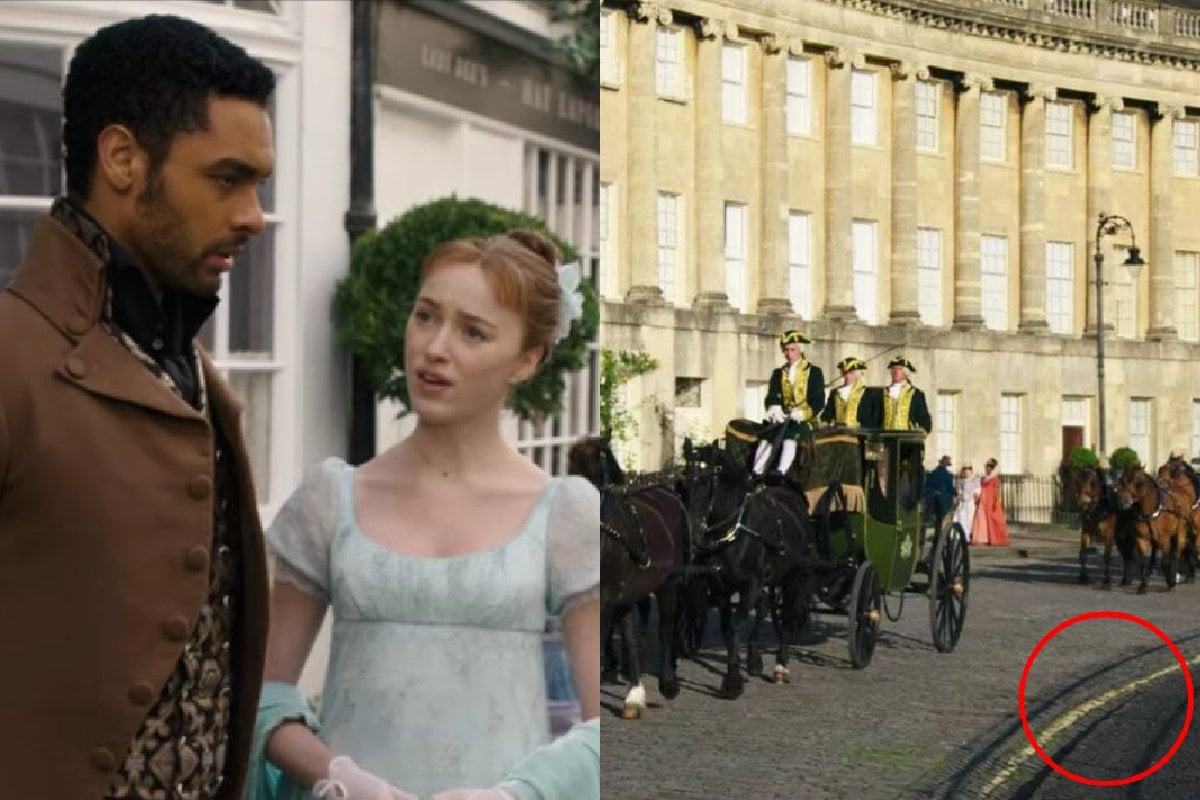 Even the biggest TV shows and movies in Hollywood aren't immune to editing fails.
From glaring continuity errors and wardrobe fails to rogue coffee cups, little details can often go unnoticed in the filming and editing process.
But thanks to some keen-eyed viewers, we've been able to spot these not-so-subtle mistakes. And once you've noticed them, you can never unsee them. So we hereby apologise for potentially ruining the following TV shows and movies below (you can never watch them the same way again).
From Bridgerton to Game of Thrones, here are 10 of the biggest editing blunders.
Bridgerton and the many anachronisms.
While most of us were focused on the love story unfolding between Daphne and oh-so-beautiful Simon, some viewers spotted some accidental modern details in Bridgerton.
Sharing their findings to Twitter, various users spotted yellow parking lines, fruit and posters that would not have been around in 1813 London.
"Anyone else watching #Bridgerton and thinking... 'Those are seedless grapes in that fruit bowl... They wouldn't have been around in the 1800s... They should've used a seeded variety for historical accuracy," one user wrote. "Nope??? Anyone??? Only me???"
While another pointed out more accidental details.
"That's nothing. You will also spot a Primark poster, a single yellow line parking restriction and a parking sign on a lamppost. Downpipes on the front of buildings which would not have been there and a modern day doorbell," they wrote back.
Oh dear, modern yellow no parking lines on the street in the tv drama 'Bridgerton'.
I've worked on a few films/tv shows as historical consultant and art department, I remember our lot painting over modern white lines on a street or covering the whole street with earth ;) pic.twitter.com/AN4v6kqhCB

— Fake History Hunter (@fakehistoryhunt) January 24, 2021
The opening scene of the show captures a horse-drawn carriage driving along the road. If you look carefully, you'll spot the yellow parking lines that wouldn't have been introduced in England for another century.