Much has been said about the cosmetic surgery undergone by the female Married At First Sight contestants this season.
From Sarah to Davina to Tracey, their facial nips and tucks have been the topic of lots of discussion.
But it's not just the women getting the needles.
Turns out Telv has also dabbled with anti-wrinkle injections, with his experience shared on Melbourne's Manology Clinic's Instagram page.
And just like the women, his experiment with the little downtime cosmetic touch up is indicative of a wider trend in society today.
Brotox.
"​We've noticed that the stigma surrounding cosmetic injectables has slowly decreased over the​ past five years and with this ​Laser Clinics Australia has seen more and more men seeking out anti-wrinkle injectable treatments," LCA's Cosmetic Doctor, Dr Jonathan Hopkirk told Mamamia.
In Australia alone, $350 million worth of anti-wrinkle treatments to both genders were given last year.
The "huge increase" in male clients was the very reason Manology Clinics, a cosmetic aesthetic clinic specialising in non-surgical procedures for men, was pened in November last year.
"We noticed a huge influx in the last five years… I'd say a 35 per cent increase in male clients who were coming in the evening or requesting last appointments because they felt a bit uncomfortable and awkward walking into a female clinic," Cosmetic practitioner Nicky Tzimas told Mamamia.
Interestingly, both clinics say men are often introduced to it through their partners.
"In clinics, we have seen a trend emerge where women are bringing​ in their husband or partner for cosmetic injectable consults and then subsequent treatments," Dr Hopkirk said.
"The concept​ of wanting to look and feel your best as a male it is no longer seen ​as​ emasculating – or something to hide,​ if anything it's seen as empowering."
For those not being brought in by partners, Tzimas says it's almost like a "secret society" of men getting their 'brotox' without their wives or anyone else knowing.

Listen: We need to debrief on the very NSFW skincare trend coming out of Korea…Post continues after audio.

According to Dr Hopkirk, general concerns for men are deep upper facer lines which are there as a result of having generally very dynamic muscles in these areas, such as frown, forehead, crow's feet.
"A lot of habitual expressions lead to creases in the skin becoming more embedded. Treating frown lines and forehead wrinkles with anti-wrinkle injectables is, for the most part, the most common treatment performed on males at Laser Clinics Australia," he said.
Tzimas says fat under their chin and jaw definition are also frequent concerns.
And while botox is largely the same for men and women, there is one slight difference.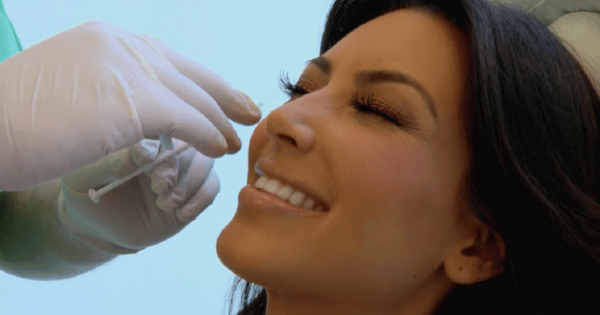 "The science behind cosmetic injectables working at the level of the nerve in turn blocking signals getting through to the muscle to tell it to move is the same," Dr Hopkirk said.
"Temporary relaxation of the muscle (approximately 3 months) may require higher doses of anti-wrinkle injectables due to males having slightly more dynamic facial muscles. Once the optimal dose for the individual is established the treatment and process is essentially the same for both genders."
Bottom line? Botox is no longer taboo. Chances are you, or someone you know, has it whether they're telling you about it or not.
It may be non surgical, but if you are curious about botox - or brotox - it's always best to do your research and book with a qualified professional.
 
Want to win some skin care goodies? Like to have your opinion heard? Take our short survey now for your chance to a win a skin care pack.