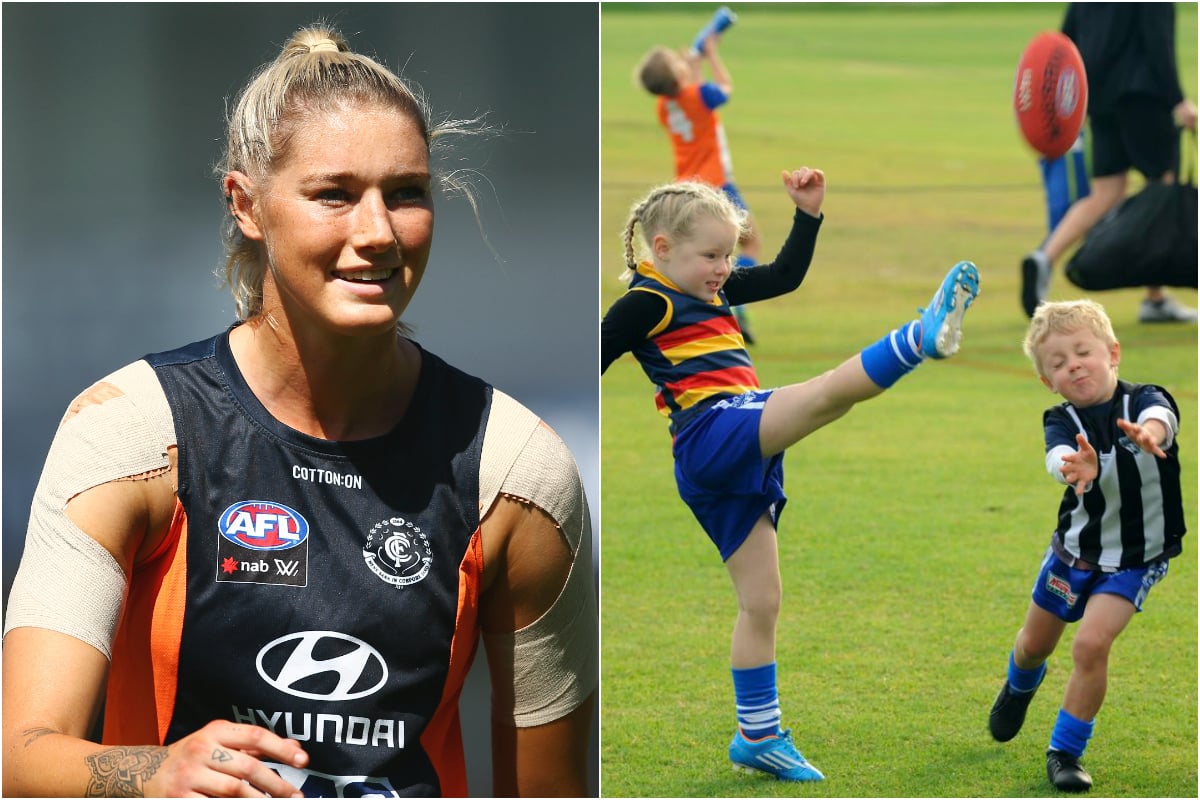 Earlier this week, a photograph was posted to Facebook of AFLW player Tayla Harris mid-kick, foot pointing to the sky. Yet rather than admire the power and athleticism of the Carlton forward, a number of trolls targeted it with a series of disgusting sexist comments, comments so vile that Channel 7 felt compelled to remove it from its AFL page.
In the wake of it all, Tayla would be forgiven for getting upset. For throwing a few choice insults. For getting down-right p***ed.
But instead, she's launched a challenge. Not to the strangers who seemed to think it was OK to sexualise and objectify her, but to the rest of us who saw the photograph for what it was: a sports star at her best.
Here's a pic of me at work… think about this before your derogatory comments, animals. pic.twitter.com/68aBVVbTTj

— Tayla Harris (@taylaharriss) March 19, 2019
It's called the #TaylaKickChallenge, and it's another step in her effort to drown out the trolls.
In a video posted to Twitter, the 21-year-old invited fans to share images or footage of themselves imitating her now-famous drop punt.
"Good morning everybody… except online trolls," she said, with a smile. "I've got a brand-new pair of Nike footy boots that I will sign and give away to anyone who can do the best impersonation of my kick.
"Just post a photo or video. Make sure to hashtag 'taylakickchallenge' on your post and I'll pick a winner and send out the boots."
I'll choose the best impersonation to win a pair of @Nike boots ????????#TAYLAKICKCHALLENGE pic.twitter.com/4I528XSuhh

— Tayla Harris (@taylaharriss) March 21, 2019