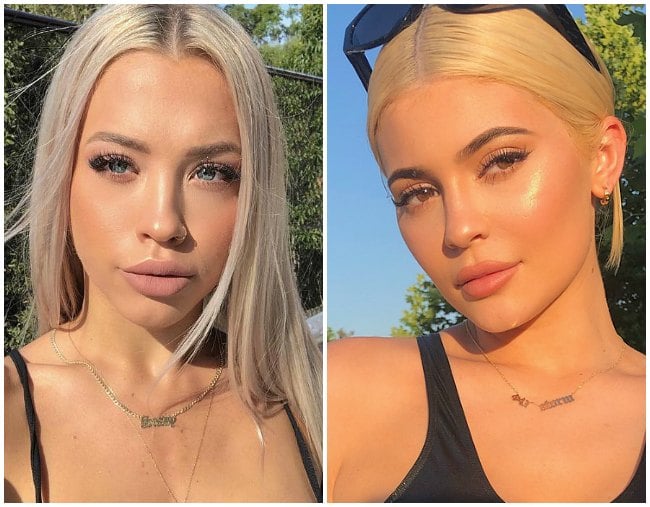 Instagram influencer Tammy Hembrow made headlines on the weekend after she left Kylie Jenner's 21st birthday party face-down on a stretcher.
Days later, the Australian fitness model shared a video explaining that she was now okay, but had been over-exhausted before the boozy bash. Now, it seems like her hosts weren't too pleased with the night's events.
According to the Daily Mail, Kim Kardashian, Kourtney Kardashian, Kendall Jenner and Kris Jennerhave unfollowed the the 24-year-old mum-of-two, while sisters Kylie Jenner and Khloe Kardashian are still following her.
It's understood Tammy was first introduced to the Kardashian-Jenner clan as a model for Khloe's Good American active wear company in 2017. Although at the time she had already made a name for herself on Instagram, the Queenslander has now amassed more than 8.6 million followers on the photo-sharing platform.
In her YouTube video after Kylie's 21st, Tammy named overworking and exhaustion as the reasons behind her collapse.
"I've been throwing myself into work way more than ever and I have my kids majority of the time… literally been non-stop on the job kind of thing," she said.
"I probably, definitely shouldn't have been drinking because of how jet-lagged and exhausted I was and I already wasn't feeling well.
"I was in LA I was running off pretty much 30 hours of no sleep."
Curiously, a number of eagle-eyed fans also spotted a rogue price tag dangling from an ottoman in the background of Tammy's video. However, before anybody jumps to any conclusions, it seems like it was just a slip of the mind, and it appears in the exact same place of another video Tammy filmed two months ago.
See if you can spot it in Tammy's video:
Mamamia has reached out to Tammy Hembrow for comment.
What do you think of the Kardashia / Jenner's reaction to Tammy Hembrow fainting? Tell us in a comment.