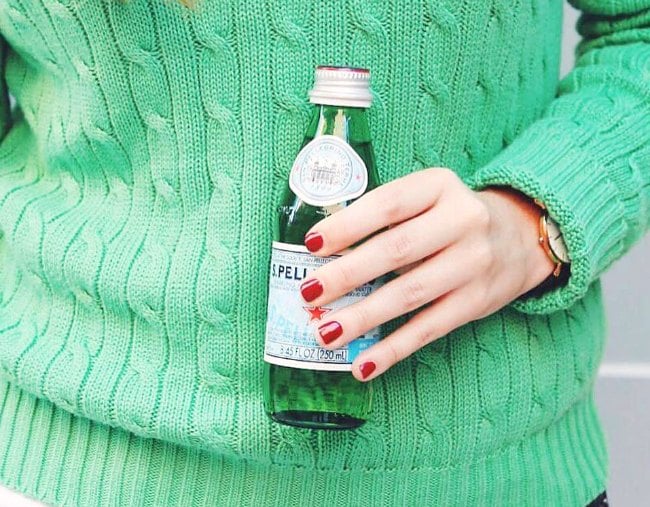 Put down that fancy moisturiser, toss out your serum, and say good riddance to face masks. Apparently the miracle, cure-all skincare ingredient has been hiding right under our noses.
Quite literally if you're a fan of a vodka soda.
When it comes to multi-step skincare routines and innovative products, Korean women are all over it, but their latest skincare hack promises smaller pores, better active ingredient absorption, deeper cleansing and increased collagen for firmer and plumper skin. And all you need is a bottle of carbonated mineral water.
Speaking to the Coveteur, Alicia Yoon – owner of online skincare boutique, Peach & Lily, and the woman who's been credited with bringing Korean beauty to the US – said she's an avid fan.
"Mineral water is popular in Korea as a base and simple treatment in a lot of ways," she said to the Coveteur, noting its many uses.
For example, some women use sparkling water as a base for DIY face mists, others add it to their baths or use it as a toner. If you want to go all the way you could even fill an entire pot with a bottle of San Pellegrino (or similar) and dunk your entire head as an all-over face and scalp treatment.
"The idea is that instead of using just plain mineral water, they use carbonated water as well, creating a treatment that is even more nourishing and beneficial," says Alicia.
Why is sparkling water beneficial for the skin?
According to the Korean skincare expert, the bubbles cleanse the skin, while the mineral content keeps the cells between collagen fibers strong, firming and plumping the skin.
This treatment should be suitable for all skin types – those with sensitive skins can dilute the excess carbonation with plain water to dull down the fizz.