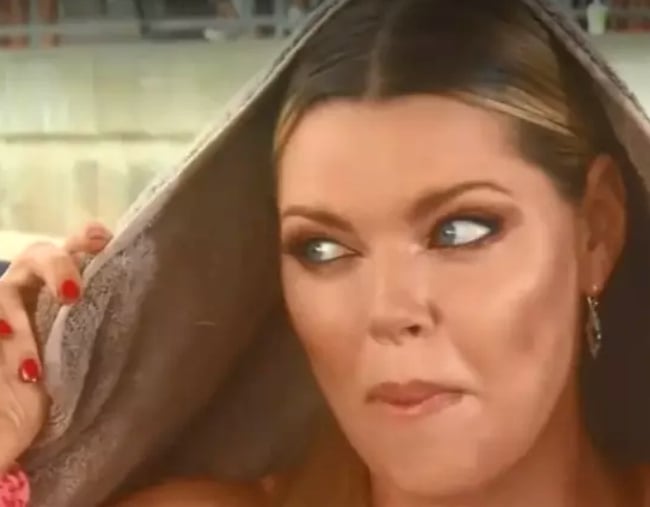 1. A rogue comment from Sophie Monk made things rather awkward between Karl and Georgie on the TODAY Show.
So remember that time Karl Stefanovic got caught having a whinge on the phone about his TODAY Show co-host Georgie Gardner that we all semi-got over?
Well, Sophie Monk just brought it up again on live TV.
You see, the former Bachelorette and media personality came on Wednesday morning's show filmed live from the Gold Coast to talk about how great her home town is ahead of the upcoming Commonwealth Games.
And then, somehow, the conversation took an awkward turn.
While weathering the bloody terrible Gold Coast weather, Georgie asked Soph about how the vibe is on the Gold Coast these days, to which she answered, "You know what I've noticed? There's no traffic. My Uber got here in like four seconds.
"I didn't say anything in the Uber, though… I've stopped since that whole thing because I bitch too much."
Yeeeeeep!
Long story short, no one was harmed. Except perhaps for Karl's ego.
Watch the whole moment unfold in the video below. Post continues after video.
2. This is Bachelor in Paradise's Blake's excuse for calling Laurina "Lenora". We just… don't… buy it.
Speaking of things we kind of remember, how about Tuesday night when Blake Colman accidentally called the love of his life Laurina Fleure 'Lenora' during the rose ceremony?
Now, fellow contestant Jake Ellis has confirmed what led to this embarrassing mistake. (Other than genuinely not knowing Laurina's name wasn't Lenora.)
"To back Blake up, he was very crook at that rose ceremony," Jake told news.com.au on Wednesday.
"He literally just got out of bed to walk in and give that rose. We all had a bit of a flu going around, and he was a bit delirious. But god, it was hilarious."
So basically he had man flu. Righto mate.
Zara McDonald and Michelle Andrews debrief on all the Bachelor in Paradise draaaama on our Bach Chat in Paradise podcast below. Post continues after audio.
3. Adele got ordained to marry two of her best friends in her own backyard.
Remind us to give Adele a call whenever we decided to get married, because news surfaced this morning the singer married British comedian Alan Carr in January.
"She's known me and Paul for ages," Carr told British morning television, "and she said 'I want to do your special day. Let me do everything.'
"And she did everything, and she got ordained, and she married us."
Oh, and she sang for them, let them marry in her LA backyard and and AND sent them to Las Vegas first to see Celine Dion perform.
Carr described Adele "the kindest, most sweetest, loveliest person ever", which is understandable and exactly the kind of compliment we would give a mate who organised our weddings for us.
4. Matt Damon and Chris Hemsworth spent Easter together and we don't know why we care but we absolutely do.

Errrrm, if my name was Ben Affleck I'd be turning away right about now.
You see, Matt Damon has a new best friend. His name is Chris Hemsworth.
Look, Matt Damon and his new best friend Chris Hemsworth were hanging out in BYRON BAY TOGETHER:
This means Matt Damon got on a plane and flew half way across the world to see his new best friend.
Then, his new best friend's wife posted this on Instagram:
Did you see that? Read that? Favourites.
See ya, Affleck. You've been replaced.
5. Jenna Fischer responds to wardrobe malfunction in the most brilliant way.
Jenna Fischer, who played Pam Beesly-Halpert in The Office, just had a lil' wardrobe malfunction… on live TV.
But she responded to it like the hilarious queen of comedy that she is.
You see, Fischer was about to appear on Jimmy Kimmel Live when the zipper broke on her dress.
"I waited a little too long to get dressed and my zipper broke and I panicked," the 44-year-old explained to Kimmel.
So instead of wearing said dress, Fischer walked out on stage wearing jeans and a towel and holding the dress she was planning to wear.
For more on this story, read all the details in our first story about Jenna Fischer's wardrobe malfunction.