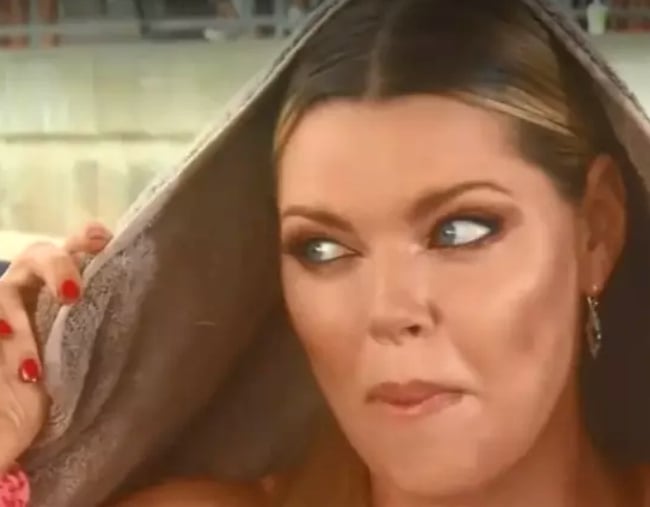 1. A rogue comment from Sophie Monk made things rather awkward between Karl and Georgie on the TODAY Show.
So remember that time Karl Stefanovic got caught having a whinge on the phone about his TODAY Show co-host Georgie Gardner that we all semi-got over?
Well, Sophie Monk just brought it up again on live TV.
You see, the former Bachelorette and media personality came on Wednesday morning's show filmed live from the Gold Coast to talk about how great her home town is ahead of the upcoming Commonwealth Games.
And then, somehow, the conversation took an awkward turn.
While weathering the bloody terrible Gold Coast weather, Georgie asked Soph about how the vibe is on the Gold Coast these days, to which she answered, "You know what I've noticed? There's no traffic. My Uber got here in like four seconds.
"I didn't say anything in the Uber, though… I've stopped since that whole thing because I bitch too much."
Yeeeeeep!
Long story short, no one was harmed. Except perhaps for Karl's ego.
Watch the whole moment unfold in the video below. Post continues after video.
2. This is Bachelor in Paradise's Blake's excuse for calling Laurina "Lenora". We just… don't… buy it.
Speaking of things we kind of remember, how about Tuesday night when Blake Colman accidentally called the love of his life Laurina Fleure 'Lenora' during the rose ceremony?
Now, fellow contestant Jake Ellis has confirmed what led to this embarrassing mistake. (Other than genuinely not knowing Laurina's name wasn't Lenora.)
"To back Blake up, he was very crook at that rose ceremony," Jake told news.com.au on Wednesday.
"He literally just got out of bed to walk in and give that rose. We all had a bit of a flu going around, and he was a bit delirious. But god, it was hilarious."
So basically he had man flu. Righto mate.