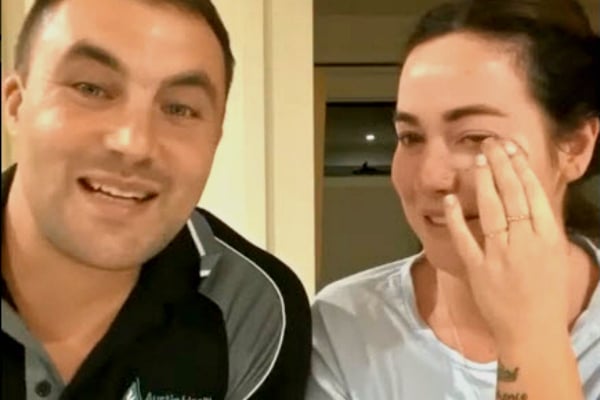 Like thousands of parents in the same boat, emotions were high for Sophie Cachia whose eldest son started school today.
This morning the mummy blogger, influencer and businesswoman shared a series of photos of five-year-old Bobby, who was all smiles in his uniform. However, things looked a lot less calm the night before.
Although they recently confirmed their split, Sophie appeared in an Instagram TV video alongside Bobby's dad, Jaryd Cachia, in which she shared her conflicting feelings around Bobby starting school.
Watch Sophie and Jaryd Cachia talk about sending their son, Bobby, to school for the first time. Post continues below.
What started out as "really raw organic and authentic conversation" between the parents ended up with Sophie crying – the first time she had done so.
"I don't know what I'm feeling. I don't think I'm feeling sad, I think I'm feeling nostalgic, looking back at baby photos," she began.
"I remember giving birth to him," she continued, tearing up. "I feel him as a baby still and now he's this boy. He's got his hat and he's got his bag on and he's ready to go. I'm not sad at all because I'm going to miss him at home because I will. I'm just nostalgic and feeling really sentimental. It's our first of firsts."
Jaryd appeared less worried, saying: "I haven't thought about anything I've been scared of for him just because he's been so happy and excited."
While Sophie admitted that she was more prone to thinking "about the worst things," the mum-of-three relayed her anxieties – something parents of school-age kids will be able to relate to.
"What if no one plays with him? And what if people tease him? This is not supposed to happen. We live very close to Bobby's school. My biggest fear is that I'll drive past and I'll see him in the playground on his own," she said, half-joking but evidently crying.
"Or what if he doesn't like his sandwich I make him and he doesn't eat anything and he's hungry? What if everyone else has really yummy food and my lunch box sucks? What if he can't find a toilet? Oh my god. What if his shoe comes off and he can't put it back on? What if he loses his jumper and he's freezing cold and he's too scared to tell the teacher because she might tell him off?"
"I'm nervous cause of everything a parent could possibly ever worry about is going [through] my head but I have confidence in him as a person and in his teacher and he's going to be fine. I just don't know how he's going to remember where the toilet is."