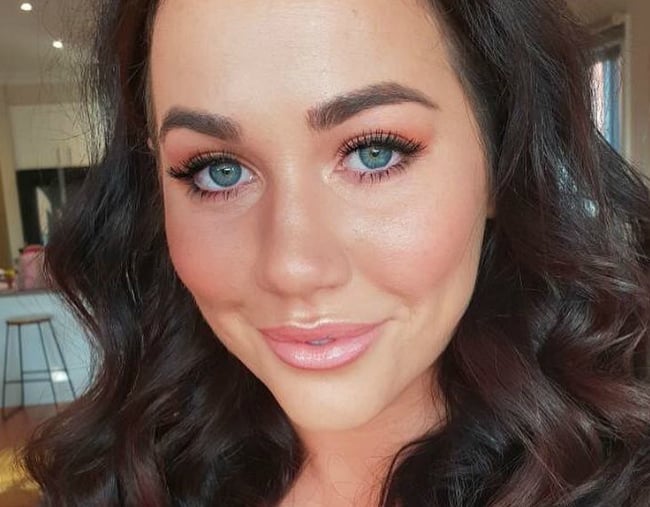 For Sophie Cachia, the decision to undergo breast reduction surgery was 10 years in the making.
Eight days after the "life-changing" operation, the 27-year-old entrepreneur has opened up about the experiences that led her to surgically reduce her "double F" cup breasts to a 12C.
In a live Q&A video posted to Instagram on Saturday, the mum-of-two described how her large breasts came to define her from a very early age.
"As long as I can remember my adult life has been surrounded by 'Sophie with the big tits' – that's what I guess I've been known as," she said.
"I feel like my boobs almost did define me in a way. Because everyone just knew Sophie's got the big boobs."
Sophie said that at 14 or 15 years old her breasts started to rapidly grow from a C cup to a double G cup almost "overnight". And it came with all sorts of problems for the body-conscious teen.
"My friends would laugh at me when I'd wear three bras for PE class at school."
"I actually get really upset [thinking about this]. Going bather shopping as a teenage girl when you've got G cup boobs over ten years ago was a really bad time.
"And I think of those times and I think, 'that's why you got your breast reduction'."
The blogger and author said she has also found clothing and bra shopping to be hard and expensive and that her big boobs impacted on her ability to comfortably play sport.
Sophie said things became so difficult that at 18, her mum took her into a doctor's office for a consultation on breast reduction surgery.
"She saw the tears, she saw the teasing, she saw how many people would gawk at me… she saw the heartache."
However, although she "wanted" the surgery, Sophie wasn't sure she was ready for it. And 10 years later, the decision was no less difficult.
"I definitely knew it was something I wanted to do. It didn't make it any less daunting though. And it didn't make it any less scary," she said.