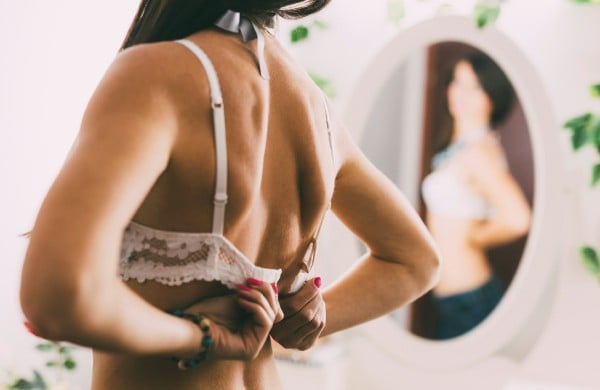 My relationship with my body is anything but "typical". So far, I've hated my body at every size – and not just because of my size.
Until recently, the only time I can remember people commenting on my body has been to tell me I was too big. My mum routinely told me, "You're beautiful just the way you are," but still, there was another story unfolding during those years. This other story slyly beckoned for my attention. It told me, "You'll be happier and healthier when you're smaller." Mostly, this referred to my breasts.
Many people find getting a breast reduction to be the most liberating, best decision they ever make.
But my story isn't as glamorous.
There are seven different breast shapes. Which one are you? Post continues after video…
Before I get too far along, I should acknowledge that there was a period (about three years after my first procedure) when I did feel satisfied with my breasts. During that time, I'd flaunt my "professionally-crafted, perfect breasts" and watch people's jaws drop when I told them I was once a 34H.
I'd run and flip without having to wear two sports bras. The tugging sensation my shoulders endured for so long was mostly a phantom feeling. I felt lighter and more confident. I wore tank tops!
Due to complications in the recovery process, I had to have a second surgery.
I became convinced that I was subjecting myself to more agony than I bargained for.
I wished I'd never gotten a breast reduction in the first place.
Yes, I'm smaller, but I'm not happier for it.
What I remember most vividly about this saga are the tears. I cried for years. I cried out of fear, disappointment, frustration, anger, and resentment.