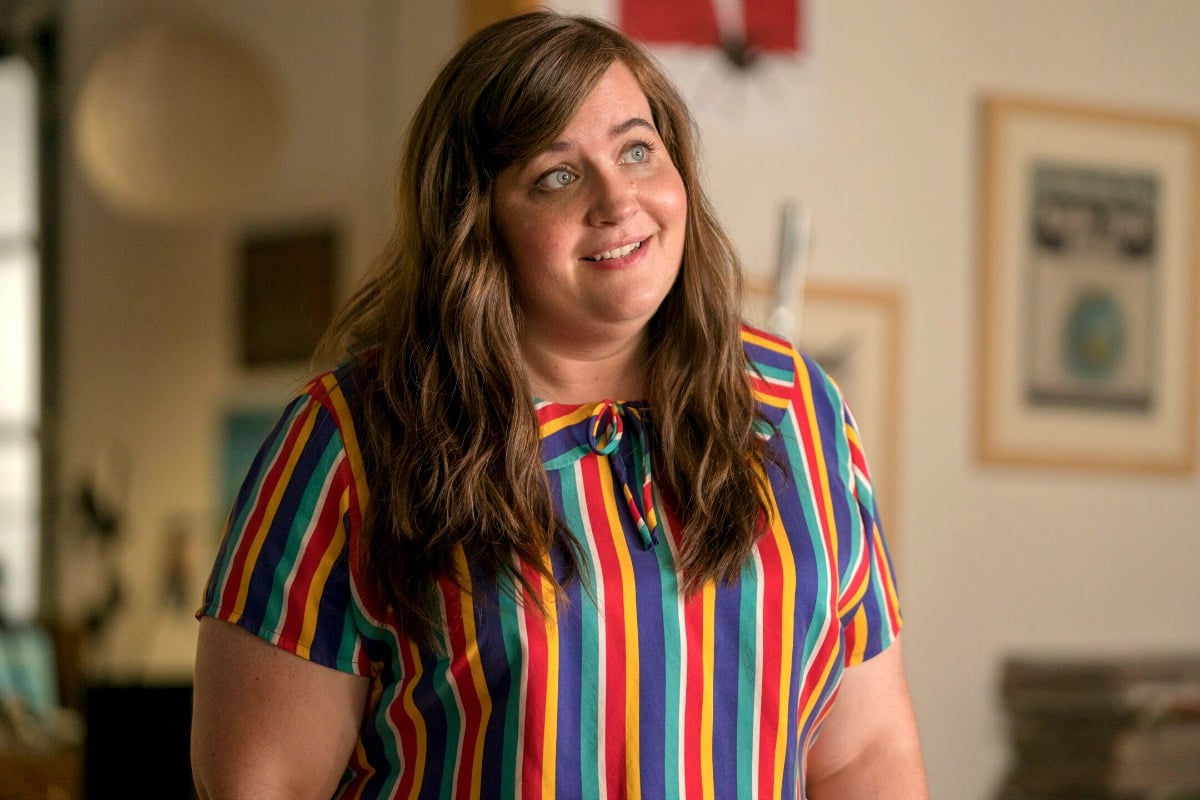 Shrill may come across as a fashionable and funny TV tale, but it's also responsible for deftly killing off some of TV's most stomach-churning tropes.
The popular dramedy, which is now in its second season, is based on Lindy West's book Shrill: Notes from a Loud Woman, and stars Saturday Night Live veteran Aidy Bryant as Annie Easton, a plus-size woman who sets out to change her life, but never her body.
In season one of Shrill, Annie, a writer living in Portland, shakes up her life after going against her body-shaming editor's wishes and covertly publishing an opinion piece called "Hello, I'm Fat" on the company website which quickly goes viral.
Buoyed on by her newfound writing rhythm, Annie systematically begins to change up other parts of her life, doing everything from walking away from her useless boyfriend Ryan (Luka Jones) to baring her body at a pool party for the first time and even tracking down a vicious online troll who was mercilessly tormenting her.
What Shrill never allows itself to do is engage in any sort of make-over style narrative with the character of Annie and for series star Aidy Bryant, who also serves as co-writer and producer, that was the one hard and fast rule she allowed no one to break during production.
Listen to Laura Brodnik talk to Shrill star Aidy Bryant about season two, real-life trolls and the magic of bringing Annie to life on screen.
"From the beginning, we felt very strongly that the show should not include any external makeovers," Aidy Bryant told Mamamia." It was meant to be an internal makeover for Annie, about how she valued herself.
"For a while, there were conversations about whether this would be clear enough to the audience.  People would say 'well, maybe we'll just dress her frumpy and then she starts to dress cool?' and we said no to all that.
"It was important to me that she was already a fully formed person, she just doesn't believe in herself sometimes. I wanted her to be a very dynamic and real character. Sometimes with fat characters on TV, they are just 'the friend'. They are very one dimensional, completely sexless and don't have any emotional depth. But to that we just said 'no, this person has many sides'.
"So even though it is a comedy, there were some very raw moments."
One of these 'raw moments' is a scene in season one of Shrill where Annie has a confrontation with a complete stranger in a coffee shop over her weight and exercise habits. To many viewers, especially those who walk through the world in straight-sized bodies, this may have seemed like heightened, just written for TV moment, but for Aidy, it was simply a moment pulled from her real life.