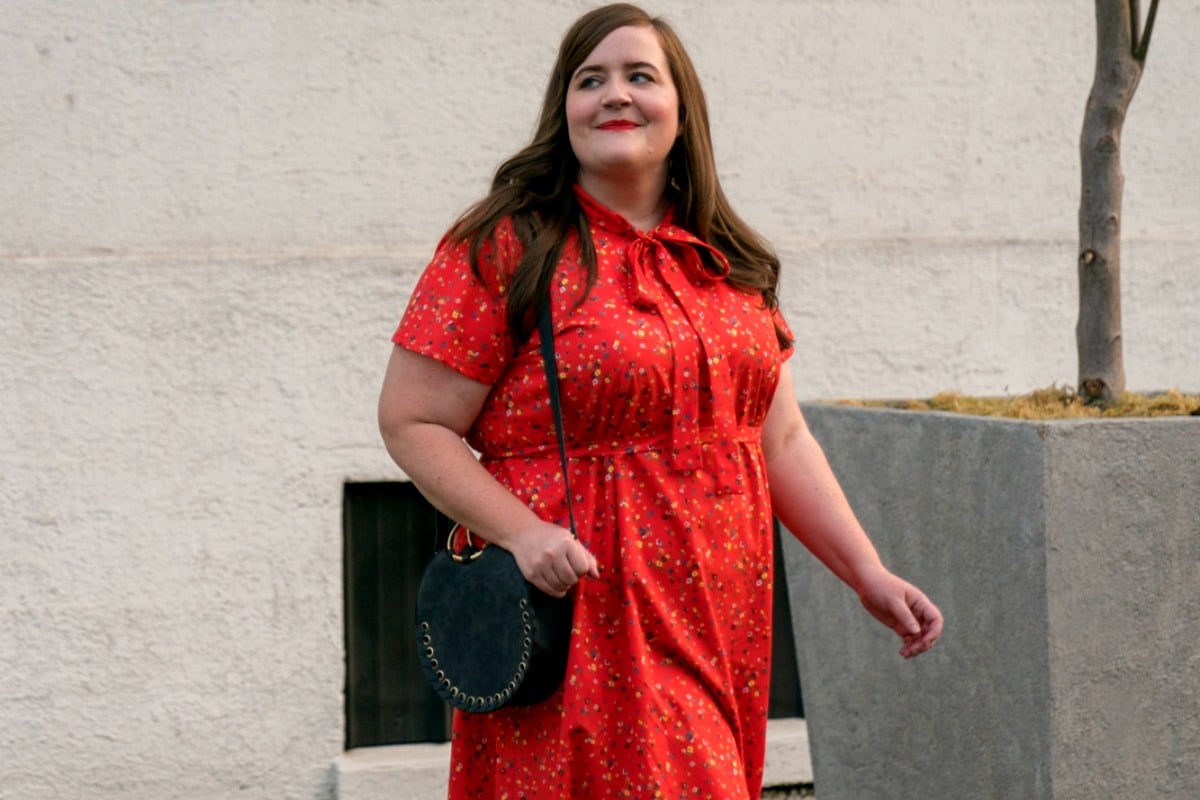 As a TV series, Shrill treads very dangerous ground.
Over the years plus size women in pop culture have been treated about as well as Uber drivers who list themselves as being "great at conversation".
They're either depicted as the jolly sidekick, the character sadly struggling with food addiction or in some extremely poor cases, such as with Netflix's truly hellish Insatiable, as an opportunity for an actress to don an ill-fitting fat suit and grasp at cheap humour.
Thank the Gods above that Shrill, the TV series based on the popular memoir Shrill: Notes From a Loud Woman by Lindy West, is able to skew far away from these tired old stereotypes and tell a different kind of story. Depicting the narrative of a plus-size woman on screen in a way I have never seen before, by utilising sleek humour paired with brutal honesty.
In the premiere episode of Shrill, a dramedy loosely based on West's life, our leading lady Annie (played by Aidy Bryant), is slowly introduced to the audience through the eyes of the people around her as she moves through a number of situations that mirror the path so many plus size women walk each day
We get a glimpse into her professional life, where as a writer at an alternative magazine she is stuck editing endless calendar listings because her article ideas are not taken seriously by her jerkish editor Gabe  (John Cameron Mitchell), because at this point in the series she lacks the strength to stand up to him.
Annie's mother Vera (Julia Sweeney) attempts to help her daughter lose weight (a service she clearly has not asked for) and chastises her over not appreciating the expensive diet food she has provided. It's a scene that gently explores the unique type of internal pain that comes from being body-shamed by your own family, even in a way that's meant to be well-intentioned.
Then, of course, there's Annie's quasi-boyfriend Ryan (Luka Jones), whose main passion in life is his truly appalling podcast about Alcatraz, followed closely by having sex with Annie sans a condom before politely asking her if she wouldn't mind sneaking out the back door and hoisting herself over the fence so his roommates don't catch sight of her.
This storyline all comes to a head when Annie faces an unexpected pregnancy and during a heart to heart with her no-bullshit best friend and roommate Fran (Lolly Adefope), she explains why she allows Ryan to walk all over her, saying "Maybe if I was just sweet enough, and nice enough, and easy-going enough, with any guy, that that would be enough for someone."