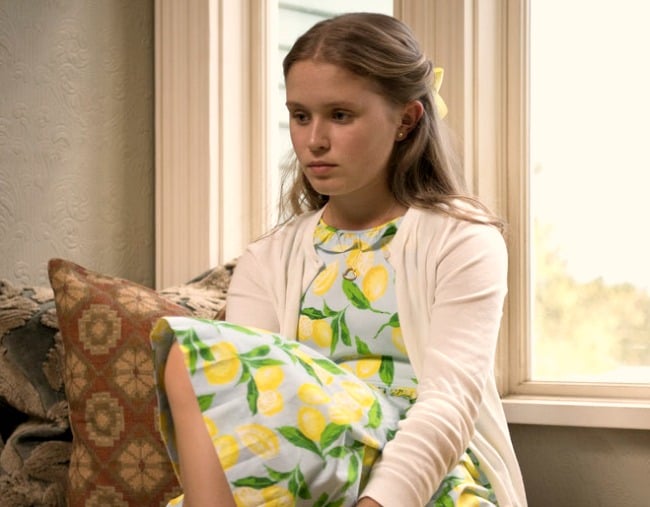 There are few things in life more complicated and volatile than a teenage girl, and I say that as someone speaking from lived experience.
The idea of young women expressing complicated emotions unfortunately often presents itself through teenage characters in TV and film portrayed as bitchy, petulant and manipulative. They are either constructed as impish brats or cunning Lolitas, with no care taken to flesh out the characters or to embrace the idea that going through a difficult stage of life doesn't necessarily make you an evil person.
The unexpected upside to this, however, is that when a teenage character with a true touch of evil does indeed come along it's even more shocking to witness. All thanks to the fact that a truly horrifying demeanour and soul will always trump a hint of teenage angst.
If you've been watching the grisly, slow burning new Foxtel drama Sharp Objects you'll be familiar with the beguiling and unsettling puzzle that is Amma Crellin, played by Australian actress Eliza Scanlen.
Sharp Objects follows Camille Preaker (played by five-time Oscar nominee Amy Adams), a disheveled and functioning alcoholic news reporter who returns to her hometown of Wind Gap, a small town teeming with haunting memories and vicious gossip.
Camille is sent there on a mercy errand by her concerned editor who wants her to follow up on the murder of a young girl and the recent disappearance of another, and then turn the whole situation into a juicy human interest story which will also help her heal her own wounds.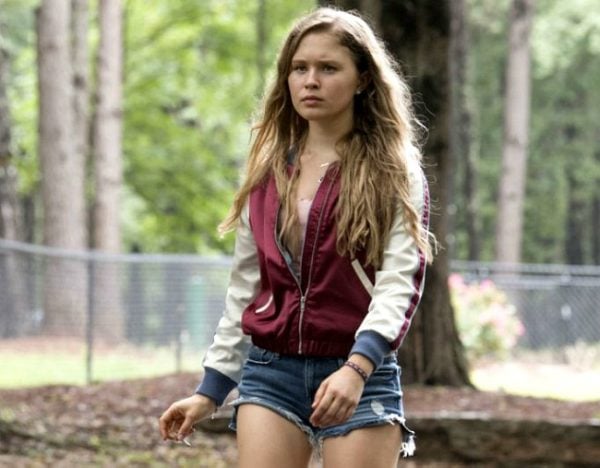 Back on home soil Camille is forced to reacquaint herself with her estranged family, which means staying in her old-world family home with her mother Adora Crellin (Patricia Clarkson), her overbearing socialite mother and her little sister Amma, who she does not recognise upon their first meeting as she had not seen her since she was a baby.
When the debut synopsis and trailer for Sharp Objects were first released there were a whole lot of expectations in the air. Expectations around the reimagining of Gillian Flynn's iconic novel of the same name, Amy Adams' return to TV and speculation around how the series would compare to Big Little Lies since it was constructed under the watchful eye of the same director.
What no one really expected however, was the chilling effect Eliza's Amma would have after her move from the page to the small screen.
If you've read the book, you are already well aware what game the slightly twisted Amma is playing at, but if you're watching her story-line unfold on screen for the first time you are no doubt already feeling a chill down your spine each and every time a new episode comes to an end.
That's because Amma is the kind of teenage character we have never really seen on TV before, she is neither the heroine nor the victim or even a straight up antagonist.
One moment she is a pouting child who appears like a deranged baby doll come to life, and the next moment she is a shrewd and manipulative young woman with a streak of cruelty that vibrates through her as she slips on a pair of roller skates and rolls a lollipop around in her mouth.
The latter part, her more shrewd and adult behavior, only happens when her mother's back is turned, of course.
For 19-year-old Eliza, playing the mesmerising yet devilish character of Amma has been a unique kind of challenge. Not only is this her first big Hollywood role, after cutting her teeth as Tabitha Ford on Home and Away in 2016, but it also saw her square off against screen veteran Adams during her auditions.
"I was at school here in Australia at the time of my first audition for Sharp Objects, studying for my HSC," she told Mamamia. "It was after I finished school that I got the call that HBO wanted to fly me to LA to do a screen test with Amy Adams and director Jean-Marc Vallée . I kept it all a secret from most people in my life because I had this idea that once I started telling people about it it would become too real.
"Being in that first audition with Amy was surreal because it was also a moment of understanding that all of these formidable actresses and actors are just people. They all love the craft and all they want out of this career is just to make stories. It was nice to be able to go in there and do my job, even if it was with Amy Adams."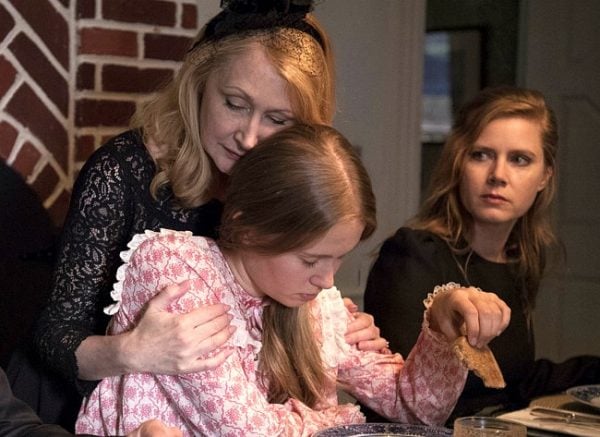 Sharp Objects is an intelligent thriller that also has the power to make you feel nauseated and intrigued all within the same scene.
The broken bodies of dead little girls are regularly displayed on screen as townspeople gather round to stare at them and there are numerous scenes that take an unflinching look at Camille's ongoing self-harm, acts that have left her body littered with scars where she has cut words into her own skin.
Among all this violence, pain and death is Amma, a character who leers on the edges of the story-line just enough so that you suspect she knows a whole lot more than she is letting on.
Sometimes she is giddy and excitable to the point of being manic, while other times she is so conniving that you begin to fear her actions and words more than the killer who is yet to be unmasked on screen.
There is one particularly unsettling scene in Sharp Objects where Amma drags Camille to a party with her and than slowly uses her own tongue to slip a drug into her sister's unknowing mouth. It's a show of dominance and only adds to the power of Amma, along with the fact that all of her high school friends seem terrified of her.
"Amma parties a lot and all of those scenes were quite confronting to film because I'm not that person," Eliza said of the scenes where Amma is at her most confrontational. "She does a lot of things that are quite dangerous and life threatening and I can't be like that. I'm a bit of a scaredy cat.
"I remember being that age and wanting to rebel but having parents who stopped me. It's all very intense and Amma's rebellious side is her way of acting out. It's a release for her because she is so restrained at home. She's got this huge expectation from her mother to be this polite, demure southern belle. That expectation just makes her even more rebellious and precocious.
"This role really got me out of my comfort zone and even though it is a crime show, it is also about confronting flaws and that's something that is really scary to do."
"Camille's past is revealed little by little as the show goes on and I think that final reveal will be the most shocking moment for the audience. Each episode only really lends you small bits of information and so you become part of Camille's world. She hides it all so well."
Both Sharp Objects and the character of Amma are ticking time bombs building to a big reveal in the series finale that is sure to have devastating consequences.
If you're looking for a gruesome and gritty drama to sink your teeth into, Sharp Objects should be your first choice on the menu.
Sharp Objects is available to watch now on Foxtel and Foxtel On Demand.  New episodes drop weekly.