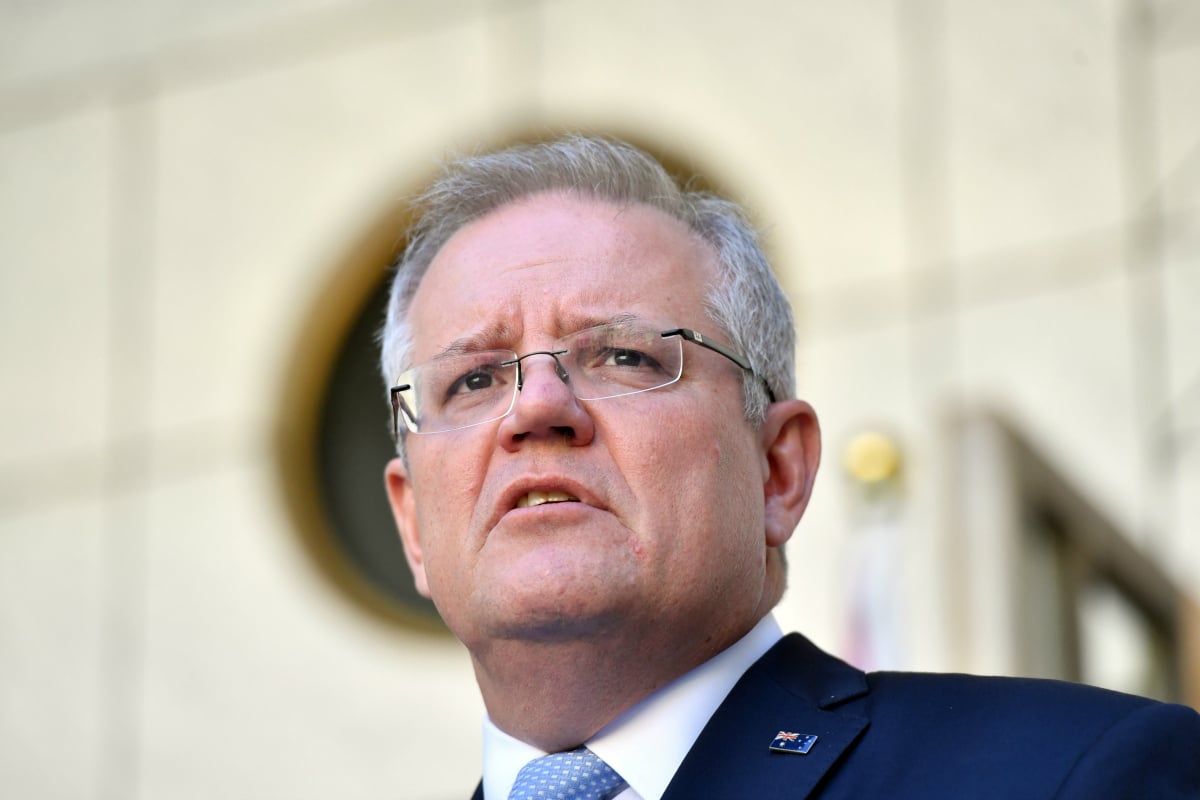 Prime Minister Scott Morrison has addressed the press after Tuesday night's meeting with the National Cabinet, delivering Australia's latest response to the COVID-19 pandemic.
Further restrictions have been placed on businesses and other non-essential facilities, and these new rules will come into place from midnight tomorrow (Wednesday, March 25).
Here's what we learnt.
Further social distancing measures will be put in place.
From midnight tomorrow the following services and businesses will no longer be able to operate:
– "Food courts will not be allowed to continue. But getting takeaway from those food outlets in those shopping centres, that can continue because takeaway is able to be done," said Morrison. However, retail spaces will still be allowed to operate as long as they adhere to social distancing rules.
– "In the retail space, auction houses, gathering together in auction rooms, that can no longer continue. Real estate auctions and open house inspections, in particular, open house inspections, that cannot continue."
– "Outdoor and indoor markets excluding food markets like Flemington, because that is essential to ensure the food supply across the country. They will be addressed specifically by states and territories in each of their jurisdictions. States and territories have very different arrangements in terms of the types of markets they have and they'll be making those decisions specific to their states and territories," said Prime Minister Morrison. However, he specified that the goal is to avoid "large gatherings brought together by particular organised events… That is the principle the states and territories will be seeking to follow."
– "The following now won't be able to continue: Beauty therapy, tanning, waxing, nail salons and tattoo parlours," Morrison told media. However, allied health services like physiotherapists will still be allowed to operate.
– "Hairdressers and barbershops can continue the services but it is very important to strictly manage the social distancing and limitations of the number of people in their premises, so that's four square metres per person. On top of that, to restrict the amount of time a patron is in the premise to no more than 30 minutes. And preferably less."
– Amusement parks and arcades will be closed as of midnight tomorrow.
– Community and recreation centres, health clubs, fitness centres, yoga, barre, spin facilities, saunas, wellness centres will also be closed under these new rules. Boot camps and personal training sessions are still allowed, however, they must be limited to a maximum of 10 people and social distancing arrangements must be enforced. Social, sporting-based activities and swimming pools will also no longer be allowed to operate under these new rules.
Restrictions to weddings and funerals.
– "Weddings can continue to be conducted where it is just the couple, the celebrant and the witnesses. No more than five people and the four square metre rule has to be observed within the venue in which that is taking place. But, large gatherings for weddings, sadly, won't be possible under these new arrangements."