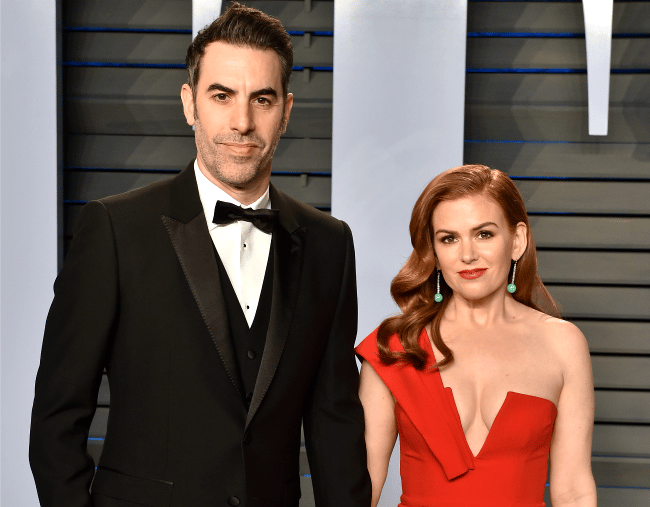 Sacha Baron Cohen's new TV show Who Is America? was always going to cause a stir, but in this case the biggest amount of raucous outrage is coming from the show's "guests" and not so much from the audience.
Who Is America? which is available to watch in Australia on Stan, is an American political satire mockumentary series created by Baron Cohen and features him interviewing real people while dressed up as four different characters.
There is Dr. Nira Cain-N'Degeocello, a liberal Democratic activist who wishes to "heal the divide" in America and Rick Sherman, an ex-convict artist who uses bodily fluids in his artwork.
Also along for the ride is Erran Morad, an Israeli anti-terrorism expert who believes the NRA's plan for arming school teachers does not go far enough to curtail gun-violence. He also wants children aged three to 16 to be armed with guns for their own protection.
Rounding out the group of characters is Billy Wayne Ruddick Jr., Ph.D, a far-right conspiracy theorist and self-proclaimed citizen journalist .
Who Is America? is very much an extreme example of the "gotcha" comedy genre.
Baron Cohen leads his guests into taking part in a series of sketches where they reveal their true feelings on a range issues affecting America, often with snicker-inducing yet unnerving stances on political issues coming out of their mouths.
Part of the humour comes from Baron Cohen interviewing people (including politicians) under false pretenses and while he does goad them into saying ridiculous things, the show's creative team have confirmed that everything that comes out of their mouths is legitimately in their own words.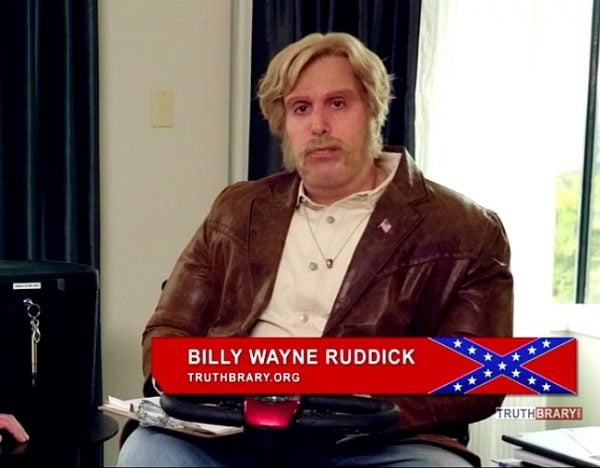 Former politician turned commentator and reality television personality Sarah Palin is one of the show's unwitting stars and has called out Baron Cohen for "tricking" her into an interview
Palin called Baron Cohen "evil, exploitative [and] sick" and claimed he fooled her into appearing on Who Is America? by posing as a wounded military veteran.
In a Facebook post Palin wrote: "Yup – we were duped. Ya' got me, Sacha. Feel better now? I join a long list of American public personalities who have fallen victim to the evil, exploitative, sick 'humor' of the British 'comedian' Sacha Baron Cohen."
However, a statement from Showtime Networks, the company behind Who Is America? clarified that Baron Cohen did not present himself as a disabled war veteran as some have claimed.
"There has been widespread misinformation over the past week about the character of Billy Wayne Ruddick Jr., Ph.D., performed by Sacha Baron Cohen on the SHOWTIME comedy series WHO IS AMERICA?" read the statement.
"Baron Cohen did not present himself as a disabled veteran, and viewers nationwide who watched the premiere on Sunday can now attest to that. In Sunday's episode, during an interview with Senator Bernie Sanders, Baron Cohen in character as Dr. Ruddick was asked by the Senator if he is disabled, and he stated that he is not and uses a mobility scooter to conserve his energy.
"In addition, Baron Cohen never presented himself as a veteran of the U.S. military to former Alaska Governor Sarah Palin during the booking process or during the filming of her interview, and contrary to her claims he did not appear in a wheelchair.
"In both the interview with Governor Palin and the interview with Senator Sanders, he did not wear military apparel of any kind."
Aside from that particular controversy, the biggest question on everyone's lips is "is Who Is America? as funny and as groundbreaking as it set out to be?"
The answer is that it's a bit of a mixed bag.  While some of the scenes fall a bit flat, others are extremely thought-provoking.
Once scene in particular that stands out above the rest is the one where Baron Cohen portrays Israeli anti-terror expert Morad and gets a range of politicians to endorse the idea of training children as young as four in the use of "pistols, rifles, semi-automatics and a rudimentary knowledge of mortars".  It shines a terrifying spotlight on an issue that is all too real.
Who Is America? is a provocative comedy series that promotes discussion, and for that reason alone it is well worth the watch.
Who Is America? is streaming exclusively on Stan in Australia, with new episodes premiering Mondays at 2pm, the same day as the U.S.