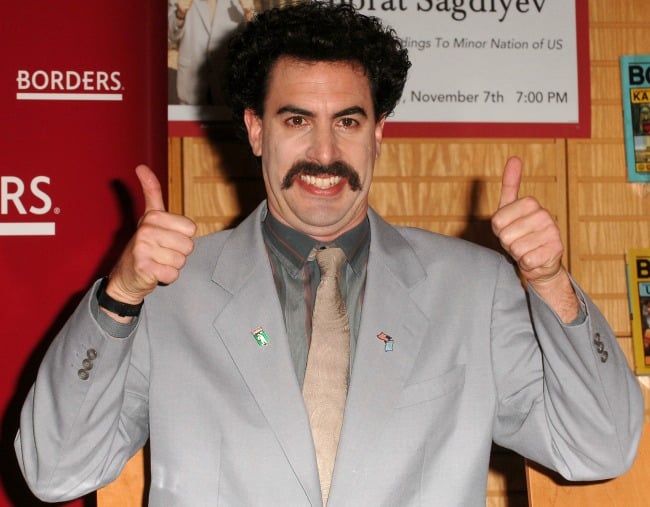 In breaking TV news that is sure to surprise and delight, comedian Sacha Baron Cohen will soon be releasing a brand new satirical half-hour series coming to Australia via streaming service Stan.
Baron Cohen is famous for creating a roster of iconic moments and incendiary characters that include Ali G, Borat, Brüno Gehard and Admiral General Aladeen.
His work on the series, entitled WHO IS AMERICA?, marks Baron Cohen's return to series television for the first time in more than a decade.
The series, which he wrote, directed and produced, has been in the works for more than a year and will comprise of seven episodes. WHO IS AMERICA? will explore the diverse individuals, from the infamous to the unknown across the political and cultural spectrum, who populate that unique nation. 
President and CEO of Showtime Networks Inc. David Nevins, said the new series is sure to cause a stir.
"Sacha is a comedic genius who shocks you with his audacity, bravery and inventiveness," Nevins told Mamamia in a statement.
"He is the premier provocateur of our time, but not for the sake of 'gotcha' moments. Behind the elaborate setup is a genuine quest for the truth about people, places and politics.
"Nobody knows how to cause a stir like Sacha Baron Cohen, and it's going to be fascinating to watch what happens when WHO IS AMERICA? is released on the world."
Baron Cohen is a two time BAFTA and Golden Globe winning creator, and an Oscar nominated actor, writer and comedian of television and film.  His film credits include Talladega Nights: The Ballad of Ricky Bobby,  Les Miserables, Hugo and Anchorman 2: The Legend Continues.
The first episode of WHO IS AMERICA? will premiere on Stan this Sunday, July 15 at 3pm. New episodes will then drop weekly, the same day as the US.