On Saturday there were 1200 people lucky enough to spend the day outside St George's Chapel as Community Champion guests of the royal wedding.
We say lucky enough not because they got a chance to be up close to the likes of Oprah, George and Amal Clooney and get a good look at the newlyweds themselves. But because of the serious profit they've been able to turn out of their attendance.
You see, each one of these non-VIP (sorry!) guests was given a commemorative gift bag, presumably for them to treasure forever as a memento of this wonderful day in their lives.
Only some people have chosen not to keep theirs, but to sell them on to other royal fanatics – and make some major cashola in the process.
Yes, in the days since the wedding there have been dozens of royal wedding gift bags listed on eBay for hundreds, thousands and even tens of thousands of dollars.
One woman the Daily Mail spotted, Claire Oliver, sold hers for £21,400 – that's AU$38,000, as in enough to buy a family car and still have change for a month's worth of petrol.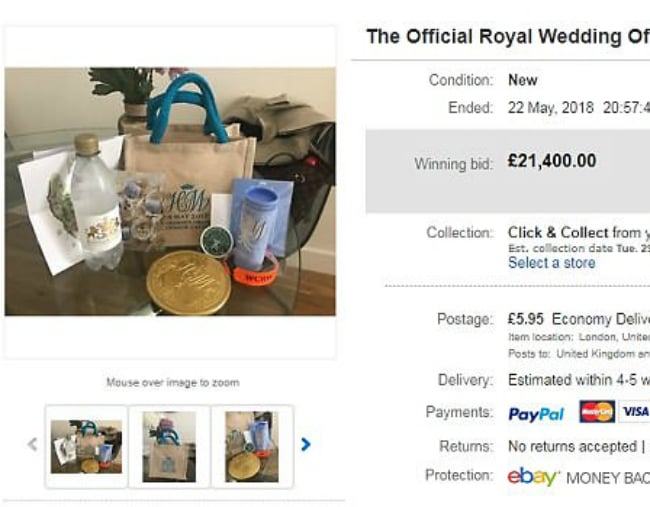 And it's not the only bag selling for a ridiculous markup - one bag selling on the site has the highest bid currently at $14,000 (£8000). Others we saw were selling for around the $600 mark.
So what do buyers get for their thousands of dollars?
Well, there's a fridge magnet, a Windsor Castle water bottle, shortbread, a large chocolate coin, a spectator badge, the Order of Service (AKA wedding program), map and guide to the day and wristband, all inside a hessian bag printed with Prince Harry and Meghan Markle's initials.
Call us crazy, but we're not totally sure that's worth $38,000.
Then again, maybe it's more of an investment, and in 20 years time when they're selling for $500,000 a pop we'll have wished we put in a bid.
Mamamia is funding 100 girls in school, every day.
So just by spending time with Mamamia, you're helping educate girls, which is the best tool to lift them out of poverty.
Thanks for helping!