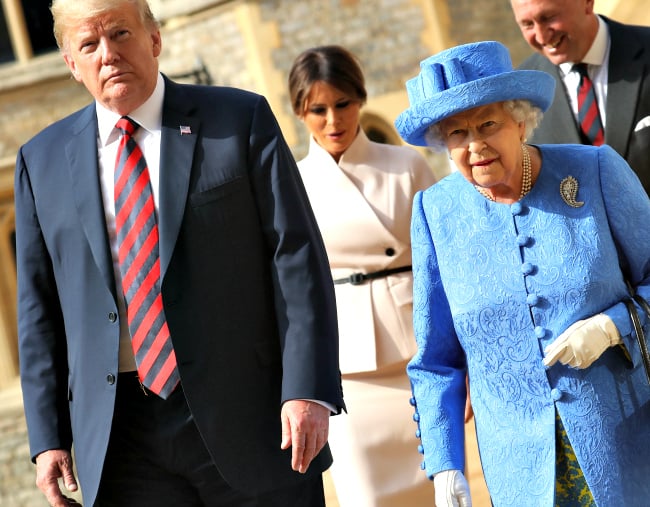 The British people are not very happy with President Donald Trump right now.
It's understandable, no? The 72-year-old's done some extremely crap things of late.
Threatening abortion rights. Separating small children from their families. Getting chummy with not one, but two evil dictators.
But above all else (well, above many things), there's one atrocity the people of Britain cannot, will not stand for.
You simply do not mess with the Queen.
Of course, that's exactly what Trump did when he and first lady Melania Trump met Queen Elizabeth II at Windsor Castle on Saturday, the last of Trump's official engagements during his visit to the United Kingdom.
Watch their awkward exchange below. Post continues after video.
For the Brits, royal protocol is not something to be taken lightly, or in Trump's case, ignored completely.
In typical style, he took a metaphorical chainsaw to it instead, failing to observe traditions during his brief meeting with Liz.
And boy, did the people notice.
Here's a run down of the royal rules Trump broke when he met the Queen.
He was late.
This is just not on.
According to the BBC, those who meet with the Queen are expected to be on time.
Trump was not. He kept the 92-year-old waiting by herself, on stage for 15 bloody minutes. She was even seen checking her watch TWICE before the President finally arrived by helicopter.
So rude.
Just turned on the news to see the Queen awkwardly waiting for Trump, who is late. Can someone remind me why we are putting ourselves through this national humiliation ? What do think we are going to gain.

— Malcolm Turner ???????? (@TurnerMalcolm) July 13, 2018