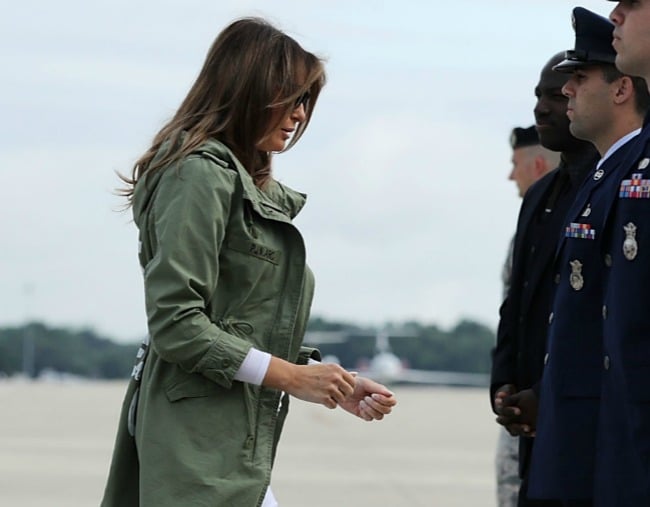 Melania Trump has worn her most tone-deaf piece of clothing to date, probably even the most tone-deaf piece of clothing ever.
As she boarded a private jet at Andrews Air Force Base in Maryland on the way to visit immigrant children in Texas today, she wore a green parka with the words: 'I really don't care, do u?' emblazoned on the back.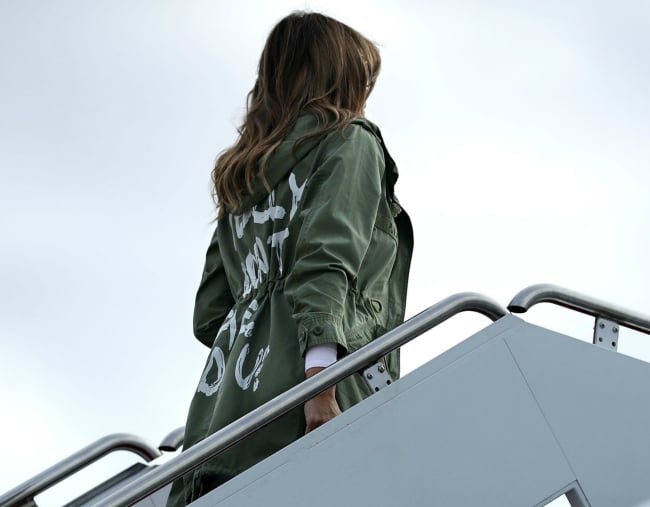 The First Lady couldn't have picked a more inappropriate jacket to wear to a children's immigration detention centre if she tried.
The Zara jacket, which costs just $52 (US$39) has since drawn criticism from pretty much everyone as completely and utterly tone-deaf, given the fury surrounding her husband Donald Trump's policy that ripped children from their parents as they tried to cross the US-Mexico border. On Thursday Trump signed an executive order that ended policy of separating children from their parents at the US-Mexico border. The children's parents will still be detained - but now their children will be detained along with them.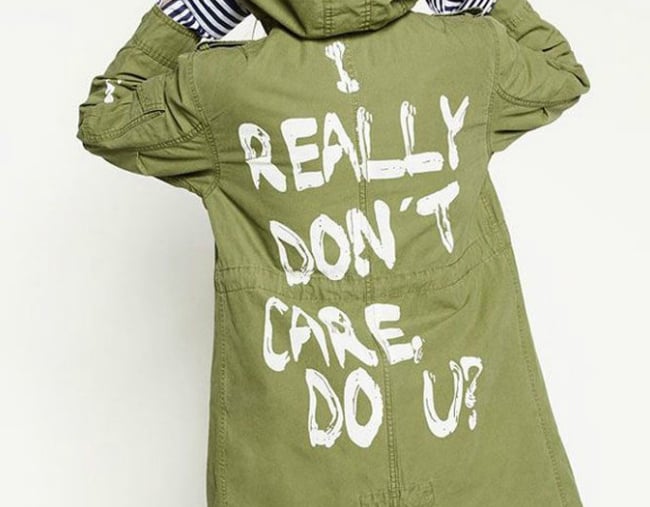 Melania's spokeswoman Stephanie Grisham, however, denied the jacket had any meaning behind it and refuse to apologise for offence it may have caused.
"It's a jacket. There was no hidden message. After today's important visit to Texas, I hope this isn't what the media is going to choose to focus on."
(But even if there really was no ill-intention behind this chosen piece of clothing, you would think someone in her position would have more self-awareness.)
When Melania exited Executive One Foxtrot in McAllen, Texas, she was wearing a cream-coloured jacket instead.
Donald Trump has responded to the backlash on Twitter, suggesting that her jacket refers to his wife not caring about what the "Fake News Media" reports.
"I REALLY DON'T CARE, DO U?" written on the back of Melania's jacket, refers to the Fake News Media. Melania has learned how dishonest they are, and she truly no longer cares!

— Donald J. Trump (@realDonaldTrump) June 21, 2018
Meanwhile, others on Twitter shared their disbelief, or in some cases, lack thereof.
Hmm. Hate to say it but I'm starting to think Melania Trump, the lady who married Donald Trump knowing he was Donald Trump, might not be a great person

— Patrick Monahan (@pattymo) June 21, 2018
I honestly cannot believe this… at a loss for words, which is shocking given the current shitshow. Our country is currently on life support.https://t.co/5SR7TJkEIP

— William LeGate (@williamlegate) June 21, 2018
Melania Trump would have worn her "Haha! Never Going To See Your Parents Again!" jacket but it was in the wash.

— Michael Tannenbaum (@iamTannenbaum) June 21, 2018
Some even suggested this decision was not a faux-pas, but a deliberate attempt to send a message.
It's 78 degrees with humidity of 96% in McAllen, Texas—where Melania visited.

It's 83 degrees with humidity of 62% in DC.

Neither area requires a jacket.

This was deliberate.

— jordan (@JordanUhl) June 21, 2018
Let's get one thing straight: Melania Trump did not accidentally wear a $30 jacket she just happened to have around with all her other very expensive designer clothes on this trip.

This was intentional.

— Denizcan Grimes (@MrFilmkritik) June 21, 2018
Others used the image of the Zara jacket to create art, using the recognisable image of the little girl crying at the US-Mexico border.
Donald and Melania Trump. Those two deserve each other, but America does not deserve them. pic.twitter.com/ofNve22uo0

— Cornelia (@PaladinCornelia) June 21, 2018
This isn't the first time Melania's choice of fashion - or words - have been criticised as tone-deaf.
In August, she wore a pair of very high heels to board a plane to visit Hurricane Harvey victims. And earlier this week she tweeted about discussing ways to "positively impact children" with the King and Queen of Spain.