For many brides-to-be, the matter of who they are going to ask to be their bridesmaids is a time-consuming dilemma. Luckily for Meghan Markle, there was a perfect (though very small) bridal party inclusion for her wedding on Saturday, none other than Princess Charlotte.
I know what you're thinking. Princess Charlotte? A bridesmaid? She isn't old enough to catch the bouquet or get inappropriately drunk at the reception?!
Well according to an Instagram post by Kensington Palace, Princess Charlotte really was a bridesmaid on Saturday, not a flower girl as many assumed. It's not the first time Princess Charlotte has been a bridesmaid, as she was a bridesmaid at her aunt, Pippa Middleton's wedding in 2017.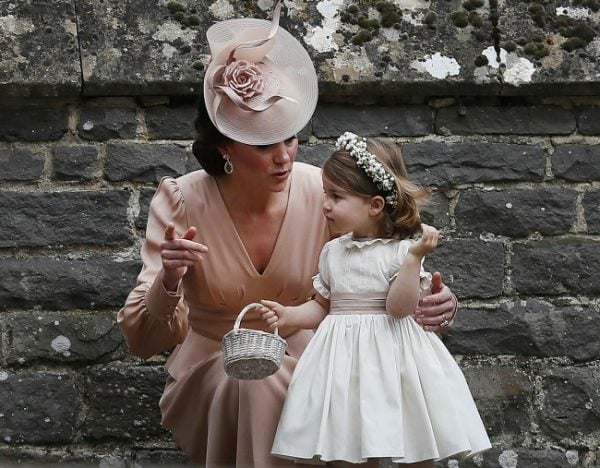 But when you see a bridesmaid who is 3-years-old it can result in people feeling... confused.
"I was a flower girl at 5, I'd call a child party member a flower girl or boy," says Mamamia Strategy Manager Alice Moore.
"I thought 'bridesmaid' was maybe an English thing, it's definitely flower girl," adds Mamamia Personal Assistant Peta Camilleri.
According to Brides magazine, the difference between a flower girl and a bridesmaid is related to age. The magazine says that girls under the age of 9, and over the age of 4, are traditionally flower girls, while girls between 9 and 14 can be junior bridesmaids, and women over the age of 14 are traditionally bridesmaids.
But does a flower girl have different responsibilities to a bridesmaid?
According to The Knot, the main role of the flower girl is to scatter rose petals down the aisle. Glamour says that the most important responsibilities of a bridesmaid are to attend all major parties (such as the Bachelorette party) and also be in charge of organising and paying for some of these parties. They are also meant to be the major emotional support for the day.
Okay... so we don't imagine Princess Charlotte organised and paid for a bachelorette party, but she didn't throw flowers down the aisle either, so what is going on here?
In an interview with Town and Country in December last year, royals expert Marlene Koenig explained the tiny bridesmaids.
"If you look at the royal weddings since Queen Elizabeth's, you will find that most of the bridesmaids are early teens or children," she says.
"It would be unusual for a royal bride to have a woman in her late 30s as a maid or matron of honour. The Duchess of Cambridge having her sister, Pippa, was unusual."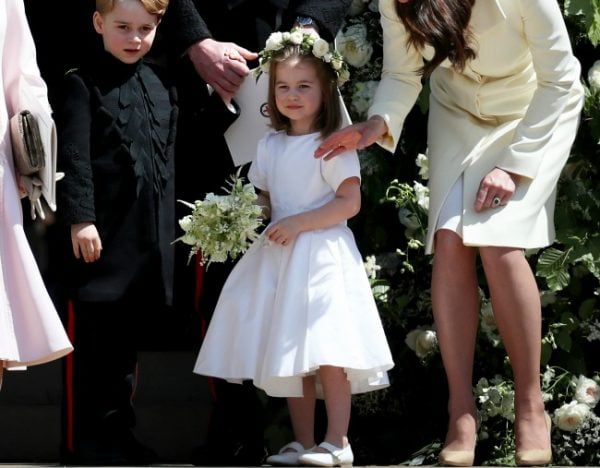 According to The Mirror, Meghan Markle decided not to have any adult bridesmaids on her wedding day, and Princess Charlotte wasn't the only little girl who got to live the dream.
The other bridesmaids included two of Prince Harry's goddaughters Florence van Cutsem and Zalie Warren, Remi and Rylan Litt who are the daughters of Meghan's close friend Benita Litt, and the youngest child of Markle's stylist and best friend Jessica Mulroney, Ivy Mulroney.
In case you were wondering why the Duchess didn't have a maid of honour, when Prince William served as best man, The Telegraph says it's because she has too many friends, and couldn't choose.
"She has a very close-knit circle of friends and she didn't want to choose one over another," a palace spokesman said.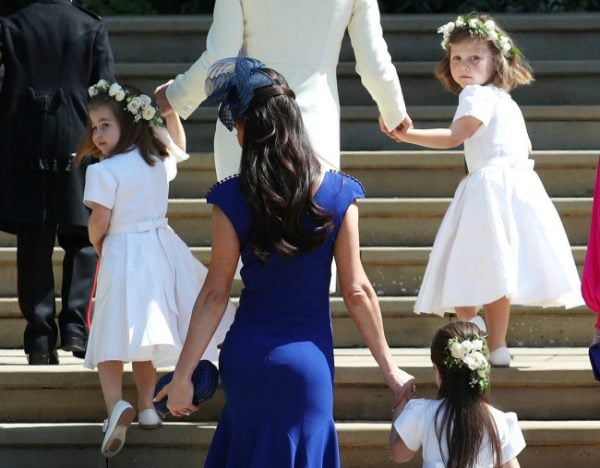 The tiny bridesmaids at the royal wedding on Saturday were dressed in gorgeous dresses, designed by Claire Waight Keller, the same woman that designed Markle's wedding dress. The shoes of the bridesmaids were a gift from the bride herself and were monogrammed with the wedding date and the initials of each bridesmaid.
Tiny bridesmaids are the cutest, can this please be a thing for non-royals now?