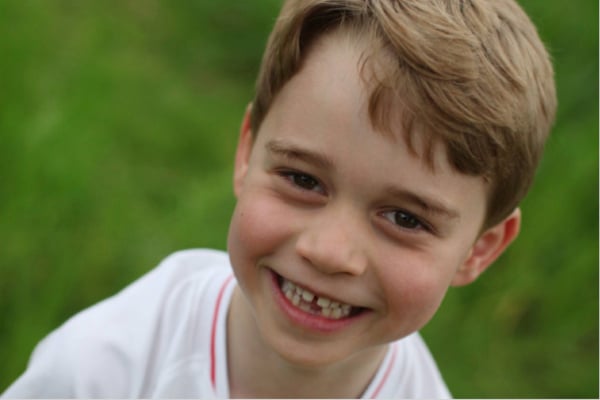 To catch up on all things royal family, make sure you check out our Royal Hub. We've got you completely covered.
Look. He's just a child.
Prince George is an adorable kid who was born into a weird family, just like the rest of us. And just like the rest of us, every year, on the first-born Windsor's birthday, his mum takes some borderline-embarrassing photos of him and shares them on social media.
Us commoners do it, too. "Can't believe it! Stop the clock! #mastersix" is on your Facebook feed at least once a day and you know it.
Royal kids are actually… normal kids. Post continues after video. 
But while no-one gives a toss about our baby pictures, Prince George's annual social media outing is VERY important.
Because:
We can decode the photos for everything they tell us about our favourite topic: Who's warring with who on the latest episode of The Windsors right now?
And if you're thinking, 'What would little innocent George know about palace intrigue and warring houses, anyway?' well, you just haven't been trying hard enough to unearth royal gossip. Unlike, say, us.
Because, as the first-born Baby WillKate and an heir to the throne whose right to rule leapfrogs actual adults, George is all-seeing. Just check out Gary Janetti's Instagram if you don't believe me.
And today's release of his sixth birthday portraits, taken, as ever, by his multi-talented mother Catherine, Duchess Of All Things, is practically screaming at us: 'If you think that Meghan is relatable, you ain't seen nothing yet.'
Listen to Mamamia's brand new entertainment podcast, The Spill. Post continues below. 
Through the years, Prince George's portraits – and those of his two siblings, Charlotte and Louis – have looked like ads for the kids' clothes that time forgot.  Royal children are dressed in a sartorial niche that lands somewhere between Little Lord Fauntleroy and The Others. We're talking smocking, and knickerbockers, and collared shirts buttoned to the very top button, and Mary-Janes.