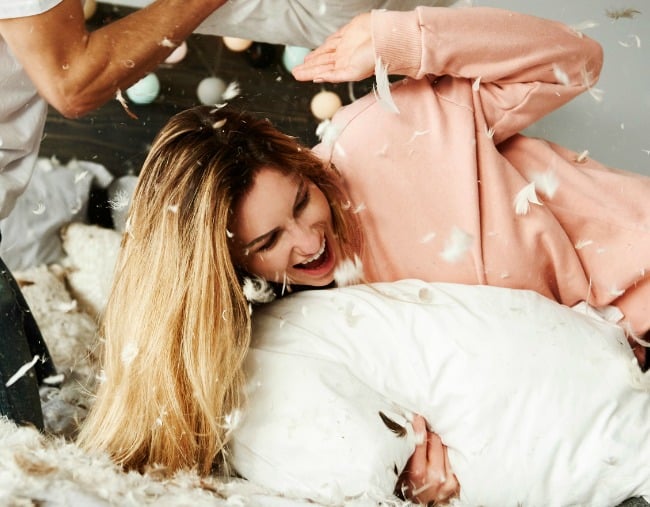 STOP EVERYTHING.
We need to talk about boys. Boys and pillows, specifically.
Has anyone ever noticed that men always have flat pillows? Have you ever wondered why?
One Twitter user did this week and it sparked a furious internet debate, because of course it did.
Every man i know sleeps with flat pillows. Fucking weirdos. Where are the fluffy pillow men.

— Gina Guillotine (@nintendo6664) August 27, 2018
"Every man I know sleeps with flat pillows," user Gina Guillotine wallowed, before asking "where are the fluffy pillow men".
1. SAME and 2. why have we never discussed this before?
From the bottom of our hearts, thank you, Gina, for bringing this to our attention.
The tweet divided users, with people fessing up to either being team flat (um, no) or team fluffy. People got technical, people got angry, and some men even stepped forward to claim the title of a 'fluffy pillow man'. We believe them to be liars.
Behold some of the best tweets below:
i literally do not fucking trust people who sleep w like 1 flat pillow… like wtf where is ur neck support? ur comfort? also ppl who can sleep without a blanket???? what??? bitch u live like this????????

— deadbeat wine dad (@kaisalad) August 28, 2018
Nah, fluffy pillows are nice in theory but they don't give you anywhere to put your arm and it's weird. Flat pillows give you room to slide your arm under your pillow making your arm comfortable without destroying your neck. Plus fluffy pillows flatten out too fast

— NeoSorosbot (@Buddha6883) August 28, 2018
My ex owned like one flat horrible pillow on a double bed and didn't understand why I hated staying over.. men are fucking weird https://t.co/xhmguGEfZh

— Clarke Griffin???? (@murdurjudasNO) August 28, 2018
I get attacked for having a flat pillow every other day https://t.co/q2cG4yq3zr

— mizzyyyy (@amirc__) August 28, 2018
Where are the flat pillow women more like ???? my fav pillow is not flat tho is it?

— DG 33♌️ (@DannyGold21) August 28, 2018
yes thank you for that groundbreaking suggestion ???? if your head sinks into the fluff you still can't breathe even if your head is to the side but with a flat pillow that never happens

— timmy gillaspy (@timmy_gillaspy) August 28, 2018
Hullo, I am one of the fabled fluffy pillow men. I don't understand those other men, the flat pillow men. They are odd.

— Tom Lizama-Russell (@tombydand) August 28, 2018
????????‍♂️ fluffy pillow man right here. Straight up, if you try to host me for a night and you break out paper thin pillows, just know we are not friends any longer. The only use flat pillows have is to be wedged in between the bed and head board to fill in the hole there.

— Ryan Paulsen (@rpaulsenphoto) August 28, 2018
We are practicing for the moment when we have to give the fluffy pillow up to our wives. We sleep like cavemen so u can sleep like a queen

— Alex Dupkin (@adupkin14) August 28, 2018
(Okay, we like Alex, he can stay).
The original poster perfectly summed it up with this:
Listen up FOOLS, you dont sleep with your heads and neck tilted at an angle, THEY SQUISH INTO THAT SWEET SWEET FLUFFY PILLOW AND ITS LIKE SOMEONE IS gently holding AND HUGGING YOUR HEAD FROM ALL SIDES.

— Gina Guillotine (@nintendo6664) August 28, 2018
Preach.
One question remains unanswered: where are the fluffy pillow men? We demand to know.