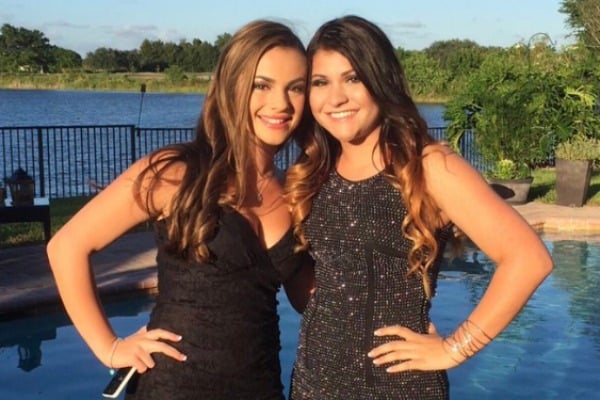 Warning: This post deals with suicide, and may be triggering for some readers.
Two school friends smiling widely into the camera, both in their final year of high school, both with their whole lives ahead of them.
Lives which were cut short by an unfathomable act of evil.
The photo shows former Marjory Stoneman Douglas High School students Sydney Aiello and Meadow Pollack, both victims of the Florida school shooting which claimed the lives of three staff members and 14 students last Valentine's Day.
Meadow was killed in the gunman's open fire, but Sydney, 19, who manage to escape, took her own life last weekend, crippled by survivor's guilt and post-traumatic stress disorder.
A little more than a year after this photo was taken, both are gone.

In February, Meadow was killed in the Parkland shooting. This week, Sydney took her own life.

Please consider donating to her family to help cover some of the funeral costs. https://t.co/qxeUeFLhx1 pic.twitter.com/xSnMPAU0bD

— Kenneth Preston (@kennethrpreston) March 21, 2019
Yet another tragic loss for the Marjory Stoneman Douglas community to mourn.
Sydney's mother, Cara Aiello, told CBS Miami her daughter had struggled immensely with her mental health in the year following the tragedy. While she reportedly never asked for help, her PTSD left her afraid of being in a classroom, making it difficult to attend college classes to become the medical professional she aspired to be.